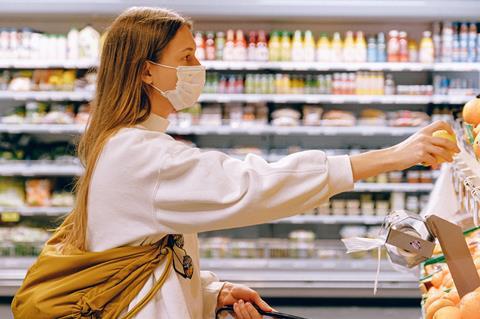 Shoppers must wear face coverings in supermarkets and other shops in England from 24 July, the prime minister has announced.
Failure to follow the new rules will lead to a fine of up to £100, which will reduce to £50 if paid promptly.
Enforcement of the new compulsory policy will fall on police, but shopworkers are also expected to encourage the policy, according to No 10.
The move comes after a weekend of apparent contradictions from the government, with Boris Johnson, who was pictured wearing a face mask for the first time last week, raising the possibility of a "stricter" insistence on face covering in confined spaces. Michael Gove then told The Andrew Marr Show on Sunday it would not be mandatory.
Wearing face masks in shops is already mandatory in Scotland and coverings have also been required on public transport in England since 12 June.
A No 10 spokesman said: "There is growing evidence that wearing a face covering in an enclosed space helps protect individuals and those around them from coronavirus.
"The prime minister has been clear that people should be wearing face coverings in shops and we will make this mandatory from 24 July."
Helen Dickinson, CEO of the British Retail Consortium, welcomed the move to protect public health and said she hoped it would make shoppers more confident about returning to the high street.
But she cautioned that shopworkers should not bear the brunt of enforcement.
"While retailers will play their part in communicating the new rules on face coverings, they must not be the ones enforcing these rules," Dickinson said.
"With hundreds of incidents of violence and abuse directed at retail staff every day, we welcome the announcement that enforcement will be left to the authorities, rather than potentially putting hard-working retail colleagues in harm's way. We look forward to further clarity over whether the wearing of face coverings will apply to shop staff. If so, there must be flexibility for colleagues who are in stores all day and can already benefit from other safety measures such as protective screens and two-metre distancing."
Read more:
James Lowman, CEO of the Association of Convenience Stores, said it was "disappointing" the advice had been leaked and suggested over a few days, causing confusion among consumers and retailers.
"We are pleased that the legal responsibility for enforcing this policy will rest with the police rather than shopworkers, but in reality it will be retailers and their colleagues trying to communicate and explain this to people with different views and approaches to complying with this policy," he added.
"We have produced a poster for retailers and guidance for people working in shops, and we will work with the government, local enforcement and members to implement this successfully."
Retail trade union Usdaw welcomed the mandatory wearing of face coverings in shops, but warned it could only be effective alongside existing social distancing and hygiene procedures.
General secretay Paddy Lillis said: "We now need a public information campaign to explain the correct use of face coverings, that some people are exempt from wearing face coverings and the importance of maintaining existing social distancing and hygiene measures."
James Bielby, CEO of the Federation of Wholesale Distributors, added the definition of a shop was "absolutely crucial".
"If the UK government follows Scotland then customers in a cash & carry environment are largely exempt, but businesses may recommend the wearing of face coverings to all as part of good practice," he said. "It is also clear that enforcement should not be the responsibility of colleagues and should be a police matter."
However, the Metropolitan Police Federation warned requiring the public to wear face masks in shops would be almost impossible for police to enforce.
Chairman Ken Marsh told the BBC's Today programme this morning: "Shopkeepers need to step up to the plate and take some responsibility. They can quite easily put signs up on their doors: 'No mask on, no entry, this is private property'.
"That's the first point we need to get across because this cannot all be laid on the shoulders of the police yet again.
"The second point is it will be nigh-on impossible for enforcement because you won't have a police officer on every shop door because there isn't enough of us.
"If a shopkeeper calls the police because someone hasn't got a mask on, they haven't got the power to detain them so that person can just walk away.
"We'll be driving around and around London looking for people who aren't wearing masks, it's absolutely absurd."