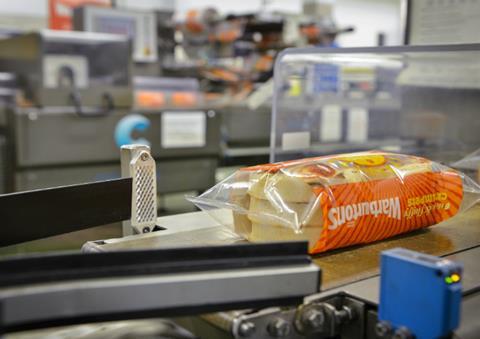 Fears of a UK crumpet shortage caused by the ongoing CO2 crisis have been allayed after Warburtons returned to full production following a temporary interruption.

The bakery giant received deliveries of the gas to its Enfield and Burnley plants late yesterday, meaning a good supply of crumpets is now set to land in stores by the end of this week.

Last Thursday, Warburtons revealed it had been forced to suspend production at three of the four UK bakeries that produce its crumpets due to Europe-wide shortages of CO2, which is used in packaging to extend product shelf life.
One of the bakeries was set to resume operations late last week having sourced a "small supply" of the gas, but production was still "significantly under capacity" Tearmh Taylor, corporate & consumer affairs manager at Warburtons, told The Grocer at the time. It meant the company was producing "nowhere near" the 1.5 million crumpets a week it usually made.

However, Taylor today (4 July) announced that "after a tricky couple of weeks, we have finally received a supply of CO2 and production has returned to normal at all sites". Warburtons crumpets would be "back on Britain's shelves this week ready for our customers to enjoy" she added.
Fresh concerns
Despite an improving picture for crumpets, however, the CO2 crisis continues to plague the food and drink sector, with The Grocer revealing yesterday that one of the three gas plants currently operating in the UK had ceased production due to a power outage caused by summer wildfires.

In a letter sent to customers and seen by The Grocer, Air Liquide UK, which supplies CO2 from a facility at Ince, Cheshire, said its gas supply situation had now "worsened significantly" due to a "sudden and unexpected power outage which affected large parts of Cheshire, including our CO2 facility".
The Cheshire facility could be closed for up to a week, prompting fears yesterday evening that pork giant Tulip would have to keep animals on farm - leading to concerns over stocking density and animal welfare.

However, a spokesman for the Danish Crown-owned processor confirmed to The Grocer today it had managed to secure last minute CO2 deliveries into its Spalding and Ashton abattoirs.

"We did have concerns when we heard of the closure of the Air Liquide plant, but we were able to secure delivery into those plants and have adequate stock for the next week and beyond," he said. "But it remains a fluid situation and we remain in close contact with our gas supplier."
Brechin plant
The Brechin abattoir Tulip operates in partnership with Scottish supply group Quality Pork Ltd remained offline, the spokesman confirmed, with Tulip transporting up to 400 animals to the Ashton slaughterhouse every day, while some pigs were also being slaughtered at smaller Scottish abattoirs.

"Slaughter numbers are much lower than Brechin's capacity of more than 6,000 pigs a week, and farms are having to keep pigs for longer that they normally would, so if this situation continues it could potentially pose additional challenges for us," he added. "We continue to speak to the Scottish government and Defra but ultimately it's the gas companies that are in control."