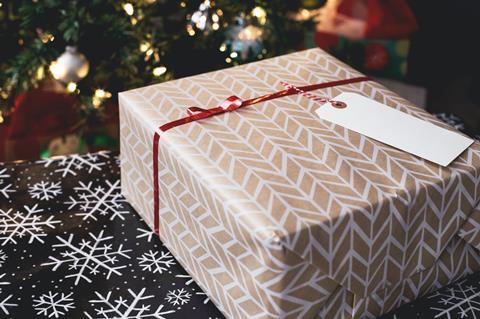 Morrisons, the John Lewis Partnership (JLP) and M&S have taken steps to make their own label Christmas ranges more environmentally friendly.
JLP and Morrisons have gone glitter free ahead of the festive season, eliminating its use across their own brand greetings cards, crackers, plants and wrapping paper.
JLP and Morrisons said they have made the commitment due to glitter taking hundreds of years to degrade if it ends up on land or in water, while M&S ended the use of glitter in its cards and gift wrap last year.
Morrisons, which said the move will save 50 tonnes of plastic, has extended it across its non-seasonal cards and wrapping paper as well.
The retailers are also upping sustainability through reducing plastic use and increasing recyclability of materials used. Gift wrap at JLP and Morrisons will now be made from sustainable Forest Stewardship Council-certified paper and be printed using soluble inks. Morrisons crackers, gift wrap and cards, as well as M&S's cards and gift wrap, are also now recyclable.
M&S is saving over 19 tonnes of plastic, meanwhile, by removing the plastic packaging on its calendars, diaries and single cards where it adds no protection, and has switched to card packaging for multipack cards and crackers.
Toys inside Morrisons own label crackers are plastic free too, and instead made from wood, paper or metal, while M&S's crackers will include reusable options such as origami kits, bottle openers and mini kitchen utensils.
This follows several environmentally conscious steps the retailers have taken in recent years.
Morrisons claimed to be the first major retailer to complete the removal of black plastic from all its own-brand food and drink packaging in November 2019, and rolled out plans last month to scrap all plastic bags from its checkouts after claiming many shoppers only use them once. It also increased its target to lower its use of plastic packaging for its own brand products from 25% to 50% in May.
JLP scrapped glitter from its plants and flowers last Christmas as part of its wider pledge to make all its own brand packaging widely reusable, recycled or home compostable by 2023. M&S went glitter-free on its gift wrap and cards last year, and more than three-quarters of its plastic packaging is currently widely recycled while it works towards its goal of 100% by 2022.