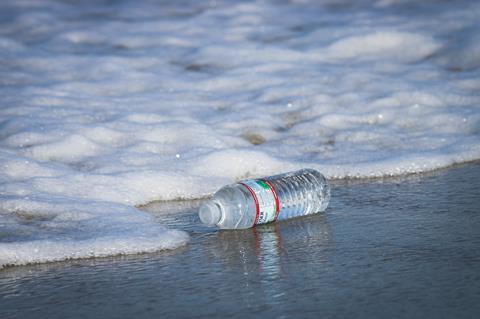 This month, France took the radical step of banning plastic packaging on fruit & vegetables. The ban, which came into force on Saturday 1 January 2022, is part of a wider programme to phase out plastic in France, which has already banned plastic straws, cups and cutlery, as well as styrofoam takeaway boxes.
It comes amid widespread consensus that we must urgently tackle the collection and recycling of plastic so it does not end up in our oceans. Not only to save precious marine life, but also to tackle the climate emergency.
The grocery industry obviously has a pivotal role to play in this. Which means we must do more than simply acknowledge the issue and instead take decisive action.
The sector has made a start. Last November, five major supermarkets joined forces to halve the food system's environmental impact by 2030. WWF's Retailers' Commitment for Nature, signed by Co-op, M&S, Sainsbury's, Tesco and Waitrose, sets out a clear blueprint for reduction across seven areas: deforestation and land-use conversion, marine stewardship, land stewardship, sustainable diets, food waste, and – crucially – packaging.
This is clearly a great step forward and welcome news. But, when looking closer at the pledge around packaging, there's clearly scope to go further. The pledge includes a commitment to 100% recycled content by 2030. In reality, however, it just means there will be a requirement of 30% recycled content within all plastic packaging. This simply brings signatories in line with government legislation – as from April 2022, a new tax will apply to UK plastic packaging that does not contain at least 30% recycled plastic.
The new legislation will still help. Currently, none of the top 10 fmcg companies use more than 9% recycled plastic across their product ranges. But this lack of action is why less than 10% of the plastic ever produced has been recycled and just 14% of plastic packaging is collected for recycling globally. It's a massive issue that is having a terrible impact on communities and our oceans. And we can certainly do better.
There are a number of reasons for the slow adoption of recycled plastic in packaging. In the past, it was claimed that appropriate rPET was difficult to source. 'Appropriate' could mean a number of things including the form it takes, the volume required, whether it is traceable, or how people in the supply chain have been treated. These are complex issues and need to be taken seriously if we aren't going to replace one problem with another.
However, we know these problems can be overcome. Take Prevented Ocean Plastic, which is a high-quality, certified recycled plastic material made from discarded plastic collected from coastal areas at risk of ocean plastic pollution. Used by supermarkets and brands around the world, it meets regulatory health and safety standards and is traceable back to source. In fact, it's already stopped more than one billion plastic bottles from reaching the ocean.
Moreover, as of today (11 January), Prevented Ocean Plastic South East Asia, a partnership between Bantam Materials, Polindo and Circulate Capital, will expand recycling infrastructure to underserved communities across Indonesia to prevent plastic leakage and support local livelihoods. Over a 10-year period, the venture will help prevent 400,000 tonnes of plastic from entering the ocean, avoiding 800 000 tonnes of GHG emissions while also creating 1,000 direct jobs and supporting new income opportunities for thousands of bottle collectors.
With a solution already proven to work, what's missing now is the demand for it in packaging. The industry must wake up to the benefits of using a higher percentage of recycled materials. Not only will it protect our oceans but it will also play a major part in tackling climate change.
Responsible businesses must be the driving force behind this. Meeting government legislation simply isn't enough.