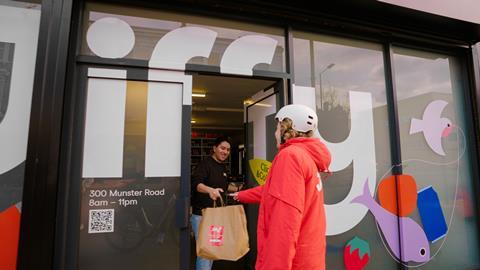 The UK will have 1,500 grocery dark stores by 2030, forecasting by Interact Analysis shared exclusively with The Grocer reveals.
There are approximately 200 dark stores in the UK, operated by rapid grocery players such as Getir, Gorillas, Gopuff, Zapp and Jiffy.
All are quickly expanding, establishing new locations from where they fulfil customers' grocery orders within as little as 10 minutes.
Getir has in excess of 115 dark stores in 20 cities and towns, with many more set to open after the company announced it would create an additional 6,000 jobs by the year's end. Gopuff has 35 dark stores in the UK, and Jiffy currently has 14 dark stores operating in London.
Gorillas has 34 UK dark stores, including three located within Tesco superstores. Zapp has more than two dozen. There are several other smaller players – such as Deliveroo's rapid arm Deliveroo Hop with a handful of dark stores, including one created with Waitrose in Bermondsey, London.
Globally, Interact Analysis expects the 6,000 dark stores worldwide to swell in number to reach 45,000 in eight years' time. In the Europe and UK combined, there will be 12,000 dark store sites in that timeframe, the research firm claimed.
Despite the lofty predictions, "the pathway to success won't be straightforward" explained Interact Analysis senior analyst Rueben Scriven.
"After all, this is an asset-heavy business model which can be difficult to undertake profitably, particularly with unpredictable consumer demand," he said.
The proliferation of dark stores won't happen without resistance. Both Rotterdam and Amsterdam earlier this year introduced a one-year 'freeze' on the development of new dark stores due to complaints from residents about reckless riders, noise and congestion.
"There's nothing wrong in principle with fast delivery, but how it's being done in practice is bloody irritating," Rotterdam city council woman Roos Vermeij told Reuters.
Similarly, New York's bodegas are joining forces and attempting to use zoning laws to defend against their rapid rivals, arguing dark stores are a type of warehouse and therefore cannot be built on residential land. Several French cities are also taking a tough stance on new dark stores.
The pace of their growth would be different in different regions, said Scriven.
"The issues surrounding profitability and the introduction of potential regulatory hurdles may sour investor sentiment in Europe and North America," he said. "Whilst investor sentiment isn't a great proxy for the long-term sustainability and growth of an industry, the rapid delivery industry is highly reliant on capital for customer acquisition and network expansion, particularly as few companies have reached profitability.
"As a result, we may see a period of slower growth in western countries between 2023 and 2025 unless investors continue to provide additional capital to these loss-making companies.
"However, in markets where online grocery is less developed we expect rapid delivery companies to continue attracting investment," Scriven added.