Dairy is no exception to the grocery labour crisis. So, how can the sector attract new talent? We handed the task to creative agency Bray Leino
Tempting talent into the food and drink industry has long been a problem. From the inevitable associations with blood, guts and manure, to a belief that low salaries and shift work are all the industry has to offer, the sector has been losing a steady flow of young job seekers to other industries.
Recently, that gaping hole in the talent pipeline has started to cause real problems. In May, fruit & veg suppliers voiced their concern over significant labour shortages. Yes, Brexit had a role to play, but so did the small pool of workers available being swallowed up by other sectors, such as hospitality, they pointed out.
Then the following month, Morrisons axed wholesale supply to independent convenience stores due to a lack of drivers to distribute goods. It was just one example of a national driver shortage that stands to disrupt critical elements of the supply chain.
Within this wider context, the dairy industry is no exception. According to a recent survey by the Royal Association of British Dairy Farmers (RABDF) 63% of dairy farmers say they've struggled to recruit in the past five years. That's an increase from 61% in 2016, and 40% in 2014.
Dairy relies on young people more than other sectors of farming: 54% of its current labour force is between 16 and 34 years old. As a result, three quarters (77%) of dairy employers have sought to grow their workforce by making working farms and production facilities an attractive proposition to younger jobseekers, with dedicated staff facilities, extra time off and more attractive rates and pension contributions.
"You look back over the last couple of decades and there are no real recruitment campaigns that are going to excite young people"
These efforts don't seem to have paid off, though. So dire is the situation that a third of dairy farmers currently say they would consider exiting the industry due to labour shortages.
"There is a lot of work to do around the image of dairy farming to attract new entrants and workers into the industry," admits RABDF MD Matt Knight, with perceptions of long and unsociable hours proving to be a real obstacle when it comes to recruiting the next generation of workers.
This view was echoed by a report released by the University of Exeter in June. Current labour shortages in the sector could prove "disastrous" said the authors. The "poor image of farming as a career – associations with low pay, long hours, poor work-life balance, bad conditions, lack of progression, heavy physical labour, and unskilled work – needs to be reformed", they argued.
Of course, it isn't all about farming. From product development teams and nutritionists to quality assurance experts and engineers, the £4.5bn UK dairy industry needs a huge diversity of applicants to boost its talent pipeline. That includes emerging parts of the industry that are growing fast and in increasing need of labour, such as DTC services like Milk & More.
The recruitment dilemma
So, to explore how dairy could address its recruitment dilemma, we challenged creative agency Bray Leino to come up with a solution.
How could the dairy industry turn its roles into a more appealing prospect to young job seekers, be it those looking for a casual part-time gig, or those wanting to turn it into a career? How could it overcome tired perceptions of what a role in dairy means? And how could it get this information into the hands of the young people who need to see it?
The big problem faced by dairy is that current recruitment campaigns are insipid, according to Bray Leino planner Duncan Campbell. "There doesn't feel like any one great thing that'll hook you in," he says. "You look back over the last couple of decades and there are no real recruitment campaigns happening that are going to excite young people. Then you go through to the recruitment web pages, and they're bland as sin too."
That's compounded by a lack of clear signposting of the diversity of roles available. "Particularly with the production side of things, it's difficult to unpick the different roles available. So, young people just don't know what's there. Whereas in reality, you could be a machine operator, you could be a packer, you could be working on R&D," Campbell adds.
What young people are looking for is a sense of excitement, fulfilment and purpose, he says. That's borne out by research by LinkedIn, which found that 74% of millennial candidates want a job where they feel like their work matters. Nail that and many of them are even willing to accept a smaller paycheck.
Making a social media impact
The 'dairy depends on you' imagery is designed in a way that makes it as impactful on digital platforms on its OOH poster ads.
That makes it ideal for Facebook, Instagram and other social media.
The concept can also translate into film content, becoming, for instance, a hi-energy clip on TikTok or a pre-roll ad on YouTube.
The latter format would allow for playful pastiches beyond those of superhero films, suggests Bray Leino creative lead Scott Franklin.
He pictures a lifeguard running in slo-mo, as if in 1990s TV show Baywatch.
It's then revealed the character is sprinting through a supermarket to grab yoghurt for a protein hit. "That's the energy that might save someone's life," says Franklin.
Communicating this clear sense of individual impact is an element that other industries are getting right, adds Campbell. In a 2019 campaign by the British Army, for instance, the tagline 'Your army needs you' was designed specifically to target young ambitious people that felt undervalued and sought out greater purpose. It highlighted young people at home, gaming or joking around, and illustrated how these 'stereotypical' skillsets could be applied in humanitarian missions in war-torn villages or as part of relief efforts.
This combination of excitement, variety and purpose helps draw young people to other roles, too. "Even electricians; you can do anything as an electrician," says Campbell. "You can be flown abroad to Dubai to work on major buildings. Or perhaps as a chef, working in a busy, fast-paced environment creating beautiful things. Dairy gets pushed to the side as a result.
"That's where we hit on this insight that when you're looking to provide that fulfilment, there needs to be something at stake." Think of the dramatisation of ice road truckers, with their very own TV series, he points out. "Ice road truckers are essentially lorry drivers. Until you throw in the need to drive tens of thousands of miles across frozen lakes, which could break at any moment. Then it becomes really, really enthralling. Dairy doesn't have to contend with frozen lakes, but there is still a lot riding on it."
It's this idea that forms the crux of Bray Leino's proposal for a bold and visual creative campaign designed to challenge perceptions among young people: the idea that "dairy is the backbone of our nation".
"If people don't get their dairy products, it's genuinely going to ruin their day," says Campbell. Be it that first cuppa of the day or that hot buttered toast when you need a quick afternoon snack, Brits "depend on everyone in the dairy supply chain doing their job really well to get that product to them".
Reports of empty supermarket shelves in the past 18 months, as a result of Brexit, the pandemic and labour shortages, will really have driven home the value of efficient supply chains too. "So, there is this huge thing at stake, and that applies to almost everybody at every level."
Adding drama
With this concept agreed, the next step was figuring out how it could be dramatised into something that would really grab young people's attention, says Bray Leino creative lead Scott Franklin.
"We thought about how could we make that message feel as big and important as possible? That led us into, well, what would be the consequences? Could we take something that on the surface might feel quite small but show it actually has quite a big impact?"
For example, a lifeguard that doesn't get his yoghurt protein hit. "That's the energy that might save someone's life." Or, as the poster created by Bray Leino puts it, "You never know, this no-frills yoghurt might be what keeps that man on the large inflatable flamingo safe."
"It's a little tongue in cheek", adds Franklin, "but it was about being playful, coupled with that really strong message running through".
To add to this visual impact, with a touch of playfulness, the team used stylistic cues taken from superhero movie posters, positioning dairy workers as the crack team behind the delivery of each much-needed brew.
"We thought, what resonates with this audience? Action films felt like a really strong hook, a strong visual, and a good way of demonstrating our insight and our message, by showing our heroic builder with his cup of tea, but behind him this team of people that made it happen," explains Franklin. "Each person in that team had a role to play."
These teams would showcase both a diversity of candidates and a diversity of job roles, ensuring appeal to young people from a wide array of backgrounds, skillsets and interests.
"The style of the posters would have these strong visuals, and a really dynamic feel with lots of scale, colour and typography," says Franklin. "It's designed to be something that stops you in your tracks. It's also not giving the game away straight away, either. You don't even really see the dairy product, but the message behind it. It's not just a cup of tea but the whole picture that draws you in."
The same style would apply to any film element of the campaign – which could be placed as a pre-roll before an online video, or even as a short, punchy clip on TikTok. Keeping consistent with the playfulness of the posters, it may show, for example, a lifeguard running in Baywatch-style slow motion, explains Franklin.
"Then we find out what they're running toward is a supermarket shelf to pick up a yoghurt. It's drawing you in, and that point you deliver the 'Dairy depends on you' message.'"
Once they're drawn in, the adverts will clearly flag the next steps in finding out more about both the messaging, and the opportunities within the industry. On each poster will be the hashtag #DairyDependsOnYou, a call to action that can be used to drive curious young job candidates to more detailed resources online, or even take them to a recruitment site.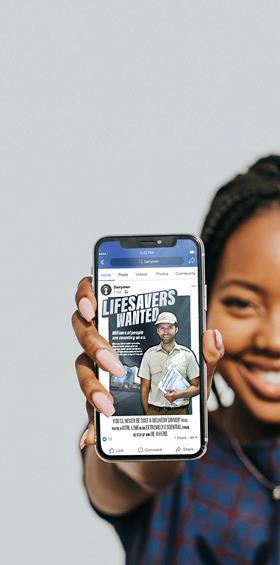 Heroic deeds
A day without dairy can be a day ruined, says Brey Leino. That's why its push takes inspiration from action movie posters – styling dairy workers as crack teams of superheroes who ensure Brits have milk for their cuppas and butter for their toast.
Each team comprises a wide range of people and roles, to have as broad appeal as possible to young job seekers.
And each poster features the hashtag #DairyDependsOnYou, meant to drive people to online content with more information and possibly even the opportunity to apply for a role immediately.
The concept is "designed to be something that stops you in your tracks" says the agency. It aims to underline the fact that a career in dairy can bring excitement and satisfaction, while providing an essential service.
Getting seen
Where young people will stumble across this campaign is an important consideration. After all, they are as likely to spot an opening on a social media platform as on a traditional job site.
The approach would be two-pronged, explains associate media director Nick Taylor. First would be more mass media platforms to reach this younger demographic at scale.
"These might be traditional media channels, such as TV and radio, but served digitally in order to really go after that gen Z audience. We know these channels work best when it comes to changing perceptions, while traditional channels, like search, display and programmatic, are not as effective."
Urban centres, transport terminals, shopping centres, and cinemas would all be part of this initial phase of the plan, he adds.
"We would tailor the message to prospective audiences, prompting them over the line "
The second prong would switch from one-to-many communications, to one-to-one. That is, messages delivered via phones and portable devices. The big, bold top-line messaging on the dairy industry and its diverse opportunities would have primed young people for this, explains Taylor.
They would pave the way for working in more targeted data-driven channels, like social media and search. "In these one-to-one communications we'd talk about different roles in the industry based on the demographic and psychographic data we can access via those channels. We'd tailor the message to prospective audiences, prompting them over the line."
The #DairyDependsOnYou hashtag, plus the QR codes, meanwhile, would act as a bridge between the traditional and digital channels.
In short, by taking the slightly nondescript recruitment campaigns the dairy industry has relied on and reframing available roles as exciting, fulfilling and impactful, the agency hopes the campaign could completely overhaul the perceptions that may currently be putting young people off.
Recruitment might only be half the battle – with keeping young people in the industry the other – but if dairy can pique interest and get young people into the interview room, they can at least make a start in plugging the talent gap.
Dairy depends on it.