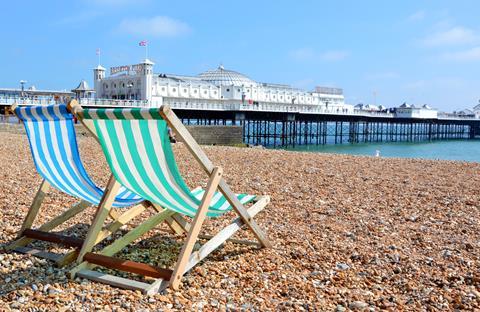 Waitrose delivered the best performance of the supermarkets in our Brighton & Hove mystery shop.
In a Friday night shop, the Western Road store in Brighton scored 66 points, narrowly beating rivals in a low-scoring week.
Of all the retailers, Waitrose is ideally suited to the seaside resort's demographic, overindexing in terms of what CACI calls 'City Sophisticates' (23%) and 'Career Climbers' (10.8%) – who are generally younger, and more affluent, though they are also typically restricted by Brighton's higher rents. Brand Dimensions data shows 19.5% of spend at Waitrose originates from these two groups, and it has two stores, the other in Hove. But Sainsbury's, which has three stores, is also a good fit with 11.4% of spend from these two groups.
Customer service was strong, including a "smiley and chatty" checkout assistant while shopfloor workers displayed excellent knowledge of stock location and availability, but availability itself was poor.
Located on a secondary high street with a multi-storey car park, our shopper also found it difficult to enter the store on foot, with no staff directing the traffic of people.
Sainsbury's 31,000 sq ft store on Lewes Road scored 61 points. Located just off a local high street and with multi-level parking, the undercover entrance could be off-putting at night time, our shopper felt, but there were plenty of trolleys and escalators from the car park for easy access to the store.
Inside, there were noticeable gaps on popular items, which were not being restocked.
And though staff were all very helpful, taking the time to answer all our shopper's questions, they were a little difficult to locate, as they were all by the fridges restocking chilled items, with very limited staff in the rest of the store. Queues were well managed, but our shopper had to wait three minutes to be served.
Brighton & Hove is under-provided for in terms of supermarkets compared to other markets of a similar size. Of these, Morrisons is the least well represented, with just one supermarket. Constrained by its 15,000 sq ft, and "higgledy-piggly" layout, the former Safeways store (with a rooftop car park) does at least benefit from its central location, and scored 60 points to come joint third with Tesco. That was despite poor store standards, with multiple spillages in the butcher's section. The fish deli was empty. But checkout service was good, with no queue while a chatty assistant helped our shopper with the parking ticket.
Tesco on Station Road is located further along the seafront in Portslade, and also has rooftop parking. Our shopper found the entrance to the car park a little difficult to find as it is tucked behind the shop.
The store was generally well presented, though three unmanned trolleys at the back obstructed shoppers. And the frozen aisle underwhelmed, with the frozen meat section completely empty and the lights in the ice cream freezer out.
Last place went to Asda on Crowhurst Road, which scored 58 points. It is a traditional out of town store with a surface car park, which made it easy to park. Trolleys were easy to find.
But many shelves looked quite empty, and our shopper struggled to find some items, which ensured the longest shop this week at 85 minutes.
It was also difficult to find staff, though the ones our shopper asked for help were "absolutely excellent – friendly, polite and extremely helpful", though not all staff were in uniform.