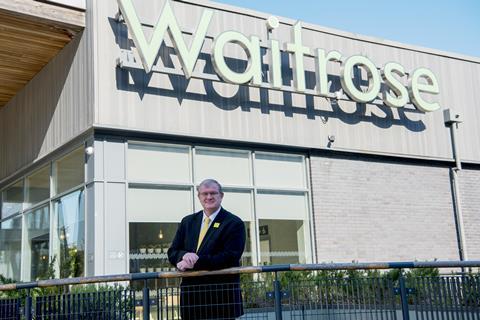 Store: Waitrose Bracknell
Deputy store manager: Iain Harrison
Opened: 2011
Size: 25,000 sq ft
Market share: 7.5%
Nearest rivals: Morrisons - 0.5 miles, Tesco - 2.3 miles, Sainsbury's - 3.4 miles
Store data source: Analysis by CACI. Call the market planning group on 020 7602 6000
James Bailey has started as new Waitrose boss. Is it good to have a figurehead for Waitrose after Rob Collins left in January? I'm expecting great things. We have always had a figurehead.

What has communication been like from the new chairman? Fantastic. Sharon's communication style is very open and refreshing. The visibility around what is happening in and around the business and the reasons why has been superb.

What has been the main focus for you during the coronavirus outbreak? The absolute priority for the entire business throughout all this has been protecting the health of our partners and customers, over any other measure that is the message out there since day one. Whatever we have implemented in store has been following the guidelines form Public Health England.

How is morale in your branch? Great and, from what I hear, also around the whole business. I've been with Waitrose for 31 years since leaving school. This business is a collaborative effort and the voice of the partner is powerful. Our executive team have been asking for feedback throughout the crisis. And it is in conjunction with partner feedback that we have taken the measures we have in conjunction with government guidelines of course. The partners, in all our branches, have had a big say in what we do and how we do it

Are staff in store wearing masks? As our business gets orders for hand sanitiser, face masks, gloves etc they are sent out to branches and allocated on a daily basis. However, at any time when PPE is needed for the NHS, they are prioritised. We have a good supply of PPE and have largely left it to our own partners to decide what they feel comfortable with. Some shop floor staff, for example, don't feel the need to wear gloves as they are able to wash their hands more frequently than checkout partners. We have a good supply and it is partner choice

Are staff absences past the peak? A number of partners have self-isolated and we have supported and encouraged that. Absence in this branch is pretty much back down to normal.

Have you had support from the local John Lewis store? We've had support from the team in Reading and also from head office. A department store and a supermarket are chalk and cheese but when we can come together it does re-enforce the strength of the group ethos. In terms of customer service, it goes across both businesses. When partners have come to support us, who have not worked in a supermarket before, within a couple hours of being in branch you would never guess that. The group ethos shines through

Are customers and staff still adhering to social distancing or have frustrations been creeping in? I've not noticed a behavioural change with customers. It is a collaborative effort between us as partners and our customers. Our customer base has been really good at sticking to the guidelines.

How are customers managing queues outside? Is trade more spread out across the day? We have a marshal on the door to make sure the queues are well managed, as well as a team of staff disinfecting trolleys. The queues have been relatively short as customers seem to have worked out to not all come at the same time of day. First thing in the morning there is a little bit of a queue as the first hour is for the elderly and the vulnerable, but after that we don't really see many big queues

Availability has been improving over the past few weeks, but are there still pinch points? The ambient availability has improved massively in the past couple of weeks and is improving on a daily basis. Our supply chains are working tirelessly to keep that improving. Availability is obviously one of the key points customers look for and I'm delighted it is travelling in one direction. I've not seen it dip back at all. It is a consistent supply across most commodity groups now. We are getting something of everything through every day. The customer mentality of stocking up has settled down, which has helped.

Are you one of the new Waitrose stores getting click & collect? We have been identified a couple of weeks ago and hope that will be operational in the next couple of weeks. From a back of house point of view, we have undergone a little bit of TLC and maintenance to make a bit of space. I haven't worked in a dotcom store before so it will be a new experience for me. The orders will come through and we have a team of partners who will pick the products to be ready for whatever time the customer is collecting. I'm looking forward to it and it will, hopefully, enable more people who can't physically shop in store to be able to pick up essential groceries and get more of what they need.

The new summer range is in stores. How have customers have reacted? It is very early days, but the Scrumptious Summer range looks great. I've tried a couple of the quiche lines, which are delicious. In line with last year, when we introduced the Scrumptious Summer range, it is an opportunity to showcase our brand and the fantastic products we sell. The work of our team of buyers and product developers doesn't stop even though we are dealing with new challenges. Our customers are always looking for us to showcase the main part of our business, which is our fresh food offer.