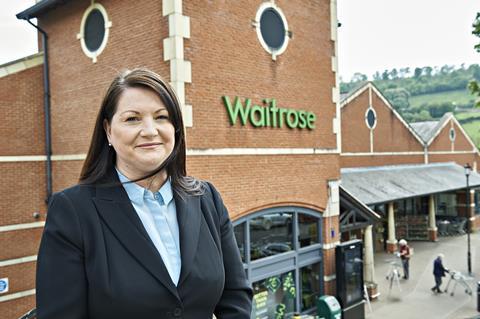 Store: Waitrose, Stroud
Store manager: Fiona Orwin
Opened: November 1993
Size: 25,842 sq ft
Market share: 21%
Population: 74,945
Grocery spend: £2,134,677
Spend by household: £66
Competitors: 14
Nearest rivals: Aldi 1.0 miles, Asda 6.0 miles, Co-op 0.4 miles, Iceland 0.3 miles, Lidl 0.5 miles, M&S 8.2 miles, Morrisons 1.2 miles, Sainsbury's 1.2 miles, Tesco 0.6 miles, Waitrose 10.3 miles
Source: CACI. For more info visit www.caci.co.uk/contact. Notes: Shopper profiling is measured using Grocery Acorn shopper segmentation. Store catchment data (market share, population, expenditure, spend by household, competition) is within a five-mile radius.
For CACI's shopper segmentation of the other stores we visited this week see our service & availability report
Tell us about your Waitrose journey and what makes this store special? I've been in the business 22 years, working around the country, and I joined this branch five years ago. The Stroud branch is coming up to 30 years old and through that time it's been at the heart of the community – there's a lot of families that work here. In terms of our customers, there's a real passion for sustainability in the local community, and they really do care about our service and the quality of products so they love things like our Cook Ingredients range and the quality of the ready meals we offer. We also went through the Better Together investment that happened last year, where we now have an extended John Lewis range available – an extra 32 bays added to our store. Customers love being able to buy John Lewis products in a supermarket.
Being in the Cotswolds, how does your customer demographic differ throughout the year? We're not really impacted by tourism or the Cotswolds element. But with Stroud voted one of the best places to live in the UK last year, and this year one of the top for the region, it's a really attractive place to visit and those relocating out of cities have come in this direction. We tend to trade quite consistently year-round, so we attract the same customers on a weekly basis, our trolley shoppers. Also our Essential range is really attractive to families, so we have a real mix of customers.
What do you owe your high market share data to aside from location? We have a full range of competitors in town, including a Sainsbury's, Aldi and Lidl that just opened last year, but I think Waitrose really appeals to the local demographic and a lot of it is about sustainability and our ethics and ethos.
How are you supporting your shoppers in coping with the new myWaitrose changes? We have dedicated myWaitrose champions who are on hand to help out customers – we started with one myWaitrose champion who was trained and they then became the specialist who shared the knowledge with the Partners. We also encouraged partners to download the app and experiment with it themselves to be able to experience what our customers experience.
We will continue to update the myWaitrose app to make sure the benefits are easily accessible and even more attractive to customers – the more customers use it, the more surprised they are about how much they can save and how good the offers are.
What's your current situation with availability generally and particularly cooking oils? For cooking oils, we don't have supply issues per se but we want to make sure that we sustain availability. We're closely monitoring the situation and working with our suppliers to make sure customers continue to have a really good choice of sunflower oil in particular.
Some Waitrose stores are already trialling new layouts for the upcoming HFSS laws. What is your branch doing? Some stores are moving the promotion ends into the middle of aisles but we're yet to have any trials in this store. It's important we support the legislation, I can say we're updating our process at the moment to comply with the legislation and it'll come in place later this year.
What else have you got planned for the store this year? I think the focus for us is always investing in talent and supporting the wellbeing of our team because we're really aware that our Partners pulled together a massive team effort during Covid. We continue to pull together as a community through our social club or community events to really ensure we protect job satisfaction. On a personal note, I'm a mother and I've worked in operations for 22 years, but actually I've got a bit of a career break this summer so it's an absolute delight that we've won this award now.