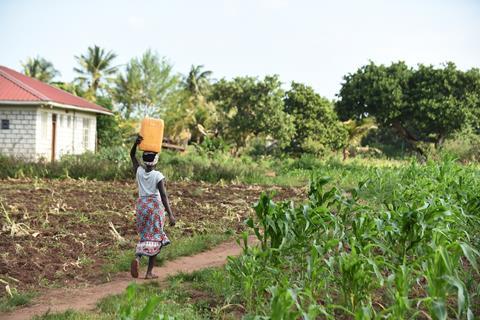 Aldi UK has funded construction of a vegetable packhouse in Kenya to help smallholder farmers.
The packhouse, in Cherangany, Trans Nzoia County, will make it easier for farmers to market their fresh horticultural produce and reduce post-harvest losses.
It's the work of international NGO Farm Africa, through its Growing Futures project, which helps young farmers in rural western Kenya build resilience to climate change and improve the quality of fresh produce for both export and domestic markets.
The project reduces poverty and youth unemployment and stems rural-urban migration by enabling young people to make a living growing and selling vegetables such as green beans, according to Farm Africa.
The packhouse is said to be the only one of its kind in Trans Nzoia County, designed to minimise spoilage, increase packaging efficiency and reduce transport costs for export buyers delivering to Nairobi.
Aldi became the first UK supermarket to partner with Farm Africa, in 2016. In 2018 the discounter also sold French beans from Farm Africa's Growing Futures project in a number of stores.
"Farm Africa does vital work to improve the prospects of farmers in western Kenya and we're incredibly proud of our partnership with them," said Mary Dunn, Aldi UK MD of corporate responsibility.
"The packhouse will help transform the local agricultural community, providing an affordable and sustainable way to protect local farmers' produce that simply wasn't available before."
The packhouse features cooling systems, irrigation kits, ventilators, water pumps and around-the-clock surveillance cameras, powered by solar and wind energy. It is to be run by the Pamoja Twaweza community-based organisation (CBO).
By enabling buyers to relocate some of their packaging activities, such as final sorting, from Nairobi to Trans Nzoia, the facility will also create more employment opportunities for young people and women, according to Farm Africa.
Farm Africa programmes manager Mary Nyale said: "We have witnessed a high level of production among the smallholders taking part in the Growing Futures initiative.
"This facility will go a long way in helping the farmers capitalise on these gains by improving the quality of their produce and driving up the prices received for their produce."