We've set agencies the ultimate challenge: give humbugs, candy jewellery and fizzy UFOs a 21st century makeover
Some sweets are retro and some are just old-fashioned. While Love Hearts, Fruit Salads and Refreshers have kept their cool, humbugs, chocolate limes and cough drops are looking old hat. Even liquorice allsorts are struggling, with fewer than 20,000 packs sold this year [Kantar 52 w/e 9 July 2023].
Rather than cool kids, these lines conjure up images of kindly grandparents in easy armchairs. It's a sign their marketing and formulation need to move with the times.
So we've set design agencies a fiendish creative challenge: blow the dust off mint humbugs, candy jewellery, sherbet flying saucers and liquorice allsorts to make them cool enough for Gen Z.
All their efforts are inspired by current trends, such as the dominance of "mega-sour" sweets with names that sound more like horror movies than confectionery. Mr Simms' website features many examples, including Zombie Bombz and Red Death – candies so sour they carry safety warnings.
It's not just marketing. Texture preferences are also changing, with gen Z shoppers opting for "a softer, gum-type texture" over hard candy, says Valeo Snackfoods head of brands Phil Holford.
Valeo is one supplier that has updated its lineup to suit these younger tastes. It has expanded Wham with a duo of gummies and extra-sour chew bar, Wham Extreme, in spring. These offer "the classic sour flavour you'd expect from Wham, but in a more modern product format," says Holford.
Then there are twists on format. Swizzels has been trying to breathe new life into Parma Violets, Love Hearts, Drumsticks and Refreshers by teaming up with Princes and Bird & Blend to launch sweet-flavoured squashes and teas.
The above are examples of what Alison Hughes, head of insight at inclusions manufacturer Nimbus, calls 'newstalgia': "where you have an element of a familiar flavour with a bit of a twist".
Our partner agencies have used that thinking to create makeovers for humbugs, candy jewellery and sherbet flying saucers. Read on for the revamps…
Mint humbugs
An old-fashioned sweet for a new wave of goths
When tasked with making mint humbugs cool, Weber Shandwick drew parallels between the monochrome aesthetic of the traditional sweets and a gothic cultural revival.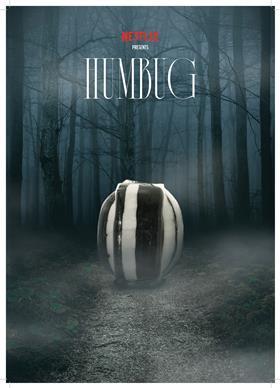 The PR agency pointed to a new generation of pop stars, like Yungblud and Billie Eilish, who are embracing a darker aesthetic. Even Kourtney Kardashian has had her own gothic makeover, influenced by her marriage to Blink-182's Travis Barker.
"We've seen young people play about with alternative identities off the back of these 2020s sensations," says Weber Shandwick cultural & social insights manager Rebecca Halligan.
For her, the gothic revival is epitomised by the success of Netflix's Addams Family spin-off, Wednesday. Starring a deadpan Jenna Ortega, the series surpassed over one billion total viewing hours in its first three weeks, simultaneously launching goth culture "straight into the laps of gen Z".
"Young women in particular are enamoured with Wednesday's mysterious vibe and have been inviting more gothic influences into their style and home interiors."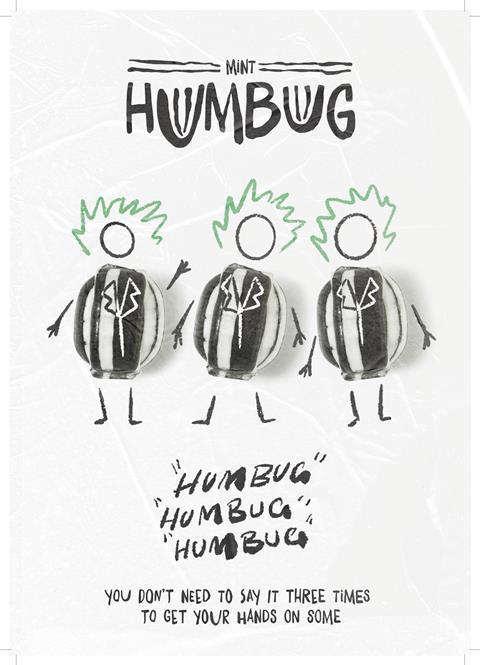 This gave Weber Shandwick the idea for an on-trend humbugs tie-up. Tim Burton cast Ortega in his 2024 Beetlejuice sequel. As Halligan points out, Beetlejuice's famous black and white striped suit bears a striking resemblance to a certain sweetie.
By playing on this and leaning into gen Z's "love of nostalgia", the vintage treats could easily be resurrected for new-wave goths to coincide with the film's release.
Mint humbugs
Has a game ever made you bug out?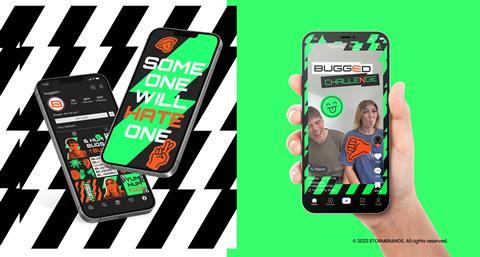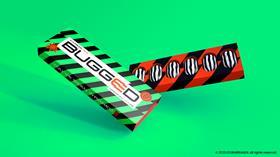 Mint humbugs proved popular in our creative challenge, with Stormbrands also opting to give them a Gen Z-worthy makeover. Unlike Weber Shandwick, however, it targeted "school status seekers" by gamifying the sweets for TikTok addicts.
Enter Bugged, "the delicious humbug experience with a glitch in the system". Hidden among tray packs of six classic mint humbugs is a rogue 'bug' with an ultra-sour centre. Teens are invited to challenge their mates to take a sweet, eat it, and film the outcome for social media.
"More than just a sweet, Bugged is a game of social roulette based on the element of surprise," says Ciara Gara business development manager at Stormbrands. "Present your players, pull the tray, press record, and watch the chaos unfold."
Out-of-home campaigns will aim to "tell the Bugged story", by featuring "playful" messaging, user-generated portraits, and emoji reaction stickers. All of this will encourage passers-by to "capture and share hilarious content" of themselves "getting bugged" at home or school, says Gara.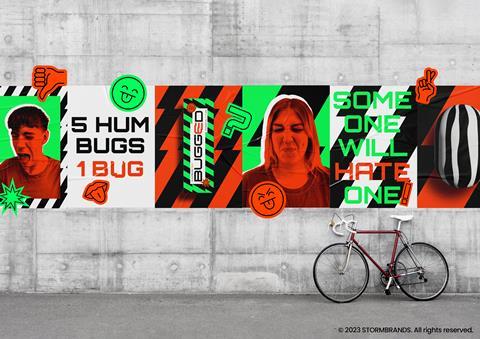 The branding for Bugged is "packed with attitude" to appeal to "always-on" Gen Zs, says Jack Dawson, midweight designer at Stormbrands. He has taken humbug's black-and-white traditional stripes, magnified and "glitched" them, and combined them with bold red and green to create visuals that convey a warning message about the hidden sour flavour within.
To keep shoppers engaged, Bugged would launch limited-edition variants for key seasons – such as Christmas and Halloween. The brand would also team up with content creators on TikTok and Instagram to build momentum and drive trial among Gen Z viewers.

Candy necklaces
A retro sweet gets a streetwear makeover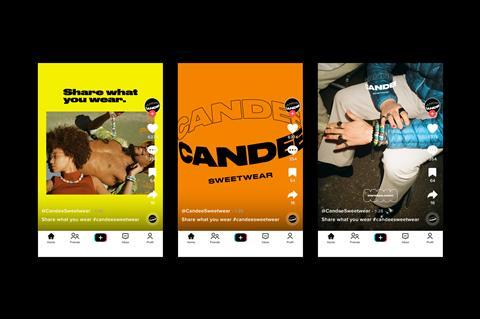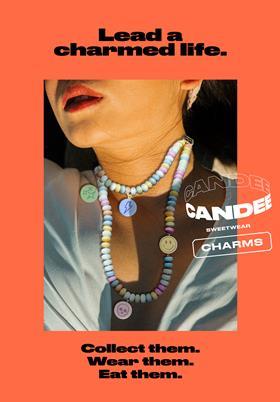 Celebs including Harry Styles, Pete Davidson and Dua Lipa have been snapped sporting custom beaded necklaces in recent months, propelling kitsch, retro jewellery designs back into fashion for gen Z.
In response to this insight, Mercieca took on the task of giving the retro candy necklaces popular in the 1960s and 1970s a revamp for a new generation of trendsetters.
By designing tubular packaging and a "contemporary, bold" logo for its concept candy necklaces, ankle and arm bracelets and hair ties, it was able to give them the "look and feel of a modern streetwear brand", says Clive Norris, creative director at Mercieca.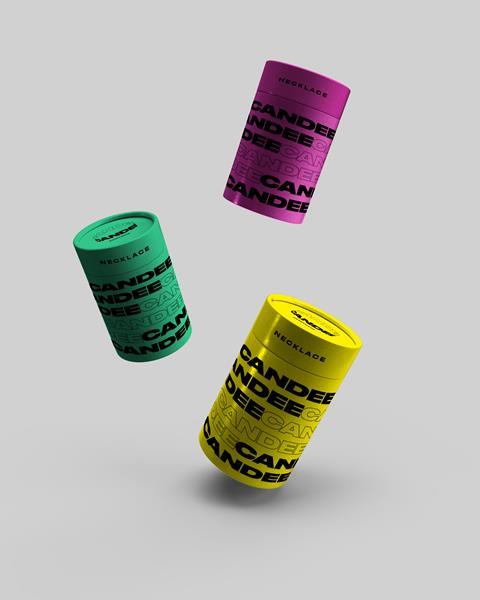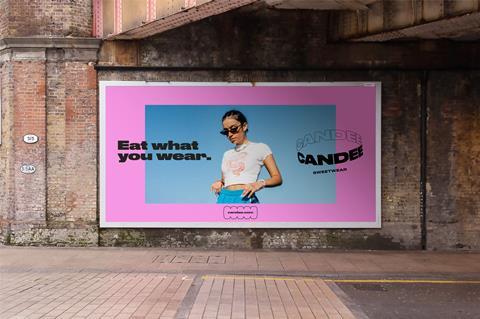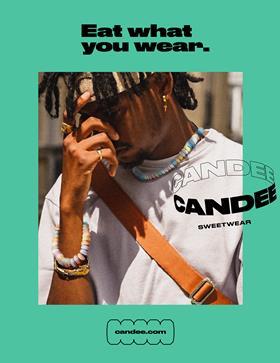 Norris says the branding would appeal to skaters, surfers, fashionistas and musicians. Mercieca also designed a range of charm attachments featuring emoji-like icons to encourage repeat purchases. Plus, it proposed launching Candee Club nights and festival afterparties, where entry would only be granted to individuals wearing a piece of Candee Sweetwear jewellery.
The exclusivity of these events would create buzz around Candee Streetwear sweets, establishing them as a desirable commodity for young people, says Norris.
"To promote the brand we'll be relying heavily on social with requests to 'share what you wear'," he adds. The agency would also approach gen Z influencers – like Olivia Neill – to promote the brand to their followers.
Flying saucers
A melting 'planet' to help combat climate change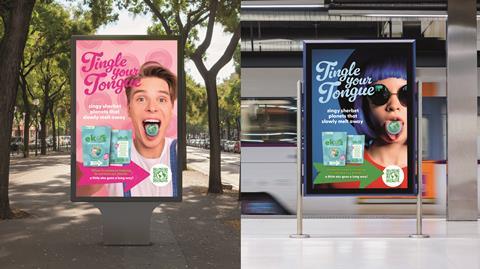 When challenged to revamp a retro sweet for a socially conscious generation, Equator Design decided flying saucers already had the right nutritional credentials.
"Even in their original format, they are gluten-free, dairy-free, vegan and contain just four calories each," says Equator associate creative director Chris Bowyer. "For today's consumers with specific dietary or lifestyle requirements, they offer total peace of mind and inclusivity."
Their natural vegan credentials lent themselves to an eco-conscious brand, says Equator. And so it came up with Ekos, a range of melt-in-your-mouth 'planets' that encourage shoppers to "help make sure our Earth remains forever".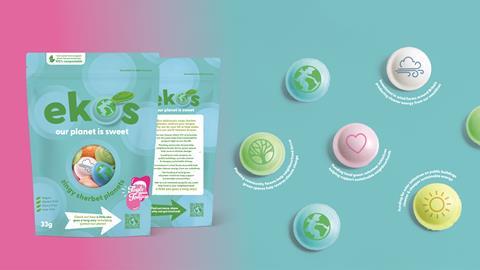 Each "deliciously zingy sherbet planet" features an icon representing an aspect of sustainability.
Plus, 10% of the proceeds go toward funding sustainability projects – an attribute that appeals to gen Z shoppers, who are "actively looking for sustainable, proactive practices".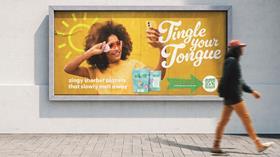 "Eko's brand name is a mash-up of 'eco' and 'echo'," says Bowyer. "Our campaign message, 'A little Eko goes a long way' supports that call to action of collective sustainability."
The packs, which would be made from 100% compostable materials, feature a QR code that shoppers can scan to find out more about the initiatives Eko supports.
Eko would also roll out this feature across its out-of-home adverts – spanning billboards, railway, and rental bikes – to encourage commuters to engage with the brand.
Sugar crash: how can sweets return to growth?
1

2

Currently reading

Confectionery's creative challenge: selling old sweets to gen Z

3

4

5

6