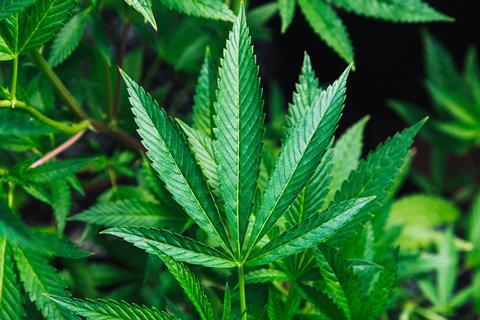 CBD-infused food and drink risks being removed from shelves, after the FSA announced that such goods have until 31 March 2021 to apply for novel foods authorisation.
The authorisation process would ensure CBD products categorised as novel foods meet legal standards, including on safety and content, the FSA said today (13 February). After next year's deadline, only goods that have submitted a valid application will be allowed to remain on the market.
Businesses will be able to sell existing CBD products for the time being "provided they are not incorrectly labelled, are not unsafe to eat and do not contain substances that fall under drugs legislation" said the agency.
It comes after the European Food Safety Authority last year classified all extracts of hemp and derived products containing cannabinoids, including CBD, as novel foods – meaning they require pre-market authorisation.
FSA CEO Emily Miles noted that CBD groceries were "widely available on the high street but are not properly authorised".
She added: "The actions that we're taking today are a pragmatic and proportionate step in balancing the protection of public health with consumer choice. It's now up to industry to supply this information so that the public can be reassured that CBD is safe and what it says it is."
The Association for the Cannabinoid Industry said the FSA's decision established "a clear trajectory towards the development of a safe and legally compliant CBD industry in the UK. Today's update will be welcomed by consumers, the industry and retailers alike. It will generate significant levels of industry investment in research and product quality, which will place the sector on a sustainable path."
The UK's CBD market had grown rapidly over the past five years, the association said. "Today over 1.6 million people consider themselves to be regular consumers. The sector employs thousands of people in hundreds of businesses all across the country. Until now, it had grown in the shadows of the necessary regulation any such industry requires, perpetuating a lack of consumer confidence and business confusion."
Stephen Mueller, founder & CEO of supplements supplier Mile High Labs, applauded the FSA "for recognising the demand for CBD in the UK, and for taking the necessary steps to protect consumers", while Top Beverages co-founder Nicholas Pullen said the regulator's decision would "weed out a lot of bad actors". He called on all CBD food and drink suppliers to "disclose every aspect of the CBD in their products".
However, the founder of CBD soft drink startup In Tune, Hannah Glasson, questioned why the FSA was "actively discouraging the use of CBD alongside other medicines".
Sarah Ellson, a regulatory partner specialising in life sciences at European law firm Fieldfisher, said obtaining novel foods authorisation was "burdensome and involves a dossier of scientific data that may seem similar to getting a medicine authorised".
Nevertheless, suppliers ought to be aware that "the rules are set in the interests of public safety, and that attempting to sidestep or antagonise regulators could have serious consequences for individuals, companies and the CBD industry as a whole" she added.
Food and drink supply chain expert Mark Jones, a partner at law firm Gordons, noted that "CBD has not been cleared as being safe for human consumption, although research from the 1970s claims it is. New foodstuffs coming on to the market have to be registered as novel foods with the EU and, in some cases, approved by the European Food Safety Authority."

Demystifying Hemp & Cannabidiol
The CBD Global Summit is a brand new two-day conference that brings together cutting edge science, regulatory know-how and consumer insight that businesses need in order to explore the CBD opportunity
A conference brought to you by The Grocer, FoodNavigator, NutraIngredients and CosmeticsDesign