Britain's shopping basket is going free-from. With Brits dodging dairy and going off gluten and grains at a growing rate, they've forked out an extra £230m on free-from food & drink in the past year. That's a rise of more than 40%. Here we reveal the retailers and brands driving growth and how they're doing it, contemplate future opportunities for the market, and more. Cut yourself a slice here!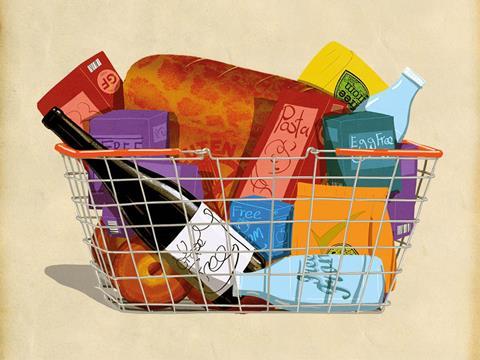 The free-from juggernaut shows no signs of slowing. In fact, market value has surged 40.1% to £806.1m in the past year [Kantar Worldpanel 52 w/e 16 July 2017], an acceleration on the 26.7% growth we reported last July.
Our own research reveals that the number of Brits who claim to regularly shop the free-from fixture has more than doubled in the past two years, from 19% to 43% [Harris Interactive].
Growth of nearly a quarter of a billion pounds fuelled by a lifestyle trend that some have dismissed as a fad is nothing short of incredible. So who's buying free-from food and why? Which retailers and brands are driving growth? And what's next for the market?
Video: Which retailers are winning in free from?
"As more free-from products are introduced to the market, taste and quality are now comparable with regular products," says Lucia Juliano, head of research at Harris Interactive, which polled 2,042 consumers for us. "This means consumers are more inclined to try free-from products."
The research reveals that the trend is most prevalent among younger consumers (see below) and Londoners, 62% of whom say they regularly buy free-from goods. Least likely to are those in Yorkshire and the North West, with 37% regularly shopping the fixture.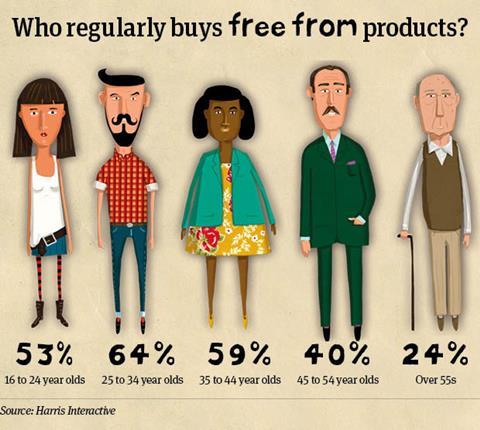 "Health messages around free-from foods appear to resonate most with those aged 25 to 34 years and certainly those in London," adds Juliano. "It seems that this is a clear lifestyle choice and new products aimed at this target audience are clearly winning."
Part of this is being driven by a subtle change in the language used by many of the sector big brands. Alpro, for example, is now defining itself not by the absence of dairy produce in its goods, but by the exclusive use of plant-based ingredients.
This is clearly striking a chord and chimes with the growing trend of veganism, fuelled in part by films such as Simon Amstell's mockumentary Carnage and Netflix documentary What The Health, and the growing roster of celebrities espousing veganism, including Jared Leto and Joaquin Phoenix.
"We know that broadening consumer interest in plant-based products is all about making them accessible and delicious," says Alpro head of marketing Vicky Upton, pointing to NPD such as Alpro Ice Cream and the extension of the brand's yoghurt alternative range into big pots as growth drivers.
Merchandising is also playing a major role. In October, the brand worked with Tesco in its efforts to overhaul the free-from chilled sector, winning pride of place in new dedicated dairy alternatives bays rolled out nationally. It's now working with Sainsbury's on a similar project, says Julie Stevens, Alpro category controller for UK & Ireland. "During pre-launch trials of the new-look Sainsbury's fixture, we recorded a significant uplift in sales."
"Free-from will peak and then slowly ebb away to the next big thing. There'll always be a need for people who have medical reasons for buying free-from, but for those who are trying it simply for health benefits, they will quickly turn to whatever the next trend is."
The sector's migration into the mainstream aisles proves that free-from products are no longer being solely bought by those with a medical need to avoid dairy and gluten. "Demand for free-from products now extends well beyond consumers with an intolerance," says Chris Hook, director of free-from at Warburtons' gluten-free brand Newburn Bakehouse.
"One in four Brits say they or someone else in their household avoids certain ingredients as part of a general healthy lifestyle, compared to only one in five who do so due to an allergy or intolerance, according to Mintel. As a result, brands have needed to innovate in order to improve taste and capitalise on demands from modern, health-conscious consumers."
That growth is being driven by choice and not necessity implies a certain vulnerability to the market, suggest some. "Like so many trends in health foods, I expect that free-from will peak and then slowly ebb away to the next big thing," says Juliano. "There'll always be a need for people who have medical reasons for buying free-from, but for those who are trying it simply for health benefits, they will quickly turn to whatever the next trend is."
What could that next big trend be? (main article continues below)
Creative challenge: Are FODMAPs the future of free-from?
There's no doubt about free-from foods' popularity right now, but the future is less certain. As we've seen recently the tide can turn quickly when it comes to consumer attitudes. For example, one study recently suggested we need more, not less, salt. Meanwhile, fats are back in fashion having spent years in exile, as sugar becomes the demon in the nation's diets.
So, how can free-from future-proof? With FODMAPs - that's Fermentable, Oligo, Di, Monosaccharides and Polyols – a collection of short chain carbohydrates and sugar alcohols that can cause bloating, cramps and other side effects associated with stomach disorders such as IBS.
Problem is, it's not very catchy. Nor is it widely understood, as only 17% of consumers have heard of the term [Harris Interactive]. The Grocer tasked Conran Design Group with changing this.
"Our overall ambition was to take any stigma or marginalisation away from the free-from principle of food. We wanted to normalise it and make it feel part of the mainstream," says Thom Newton, CEO & managing partner of Conran Design Group. "Free-from can be a bit medical or quite hippy-like so we wanted to create something that felt motivating and empowering."
For the Love of FOD, Conran's concept, is three-pronged in its approach to this, incorporating a FODMAP symbol, a three-strong range, and online community. The range consists of smoothies, such as carrot, lemon & lime, dark chocolate & coconut energy balls, and a trio of ice cream. The products are low-FODMAP, but don't eliminate them entirely as this is thought to be healthier.
"Navigation is a key part of this, so our approach to promote a low-FODMAP diet is to create a recognisable (on-shelf, on-pack and in-aisle) low-FODMAP symbol – a five-sided locator pin," adds Newton. The symbol outlines how many FODMAPs are in the product, allowing consumers to maintain a balanced diet. "It could be applied to all low-FODMAP products and foods to support a low-FODMAP diet plan. The multipurpose application of the symbol drives ingredient education and builds familiarity – instilling loyalty and trust in the long term."
With coverage over three aisles in the supermarket, the FODMAP symbol would gain coverage and point shoppers to an online community of 'FODMAPPERS'. "The community is where people feel part of a tribe, and where their needs and difficulties are understood," he adds.
Brands dominate the free-from category, but their share is being chipped away by own label as the major multiples develop own-label lines. A year ago brands accounted for 77.4% of the market. Despite brands sales surging by 26.1% in the past year, their market share now stands at 69.7%. Own-label sales now stand at £244.5m, following growth of 88.2%.
So how are brands innovating to stay ahead? (main article continues below)
Bounce V Life: Bounce is going vegan-friendly with its five-strong V Life range. The energy balls are dairy and gluten-free, and the lineup includes Coconut Cumin, Beetroot Cashew and Almond Kale.
Newburn Bakehouse artisanal loaf: Warburtons expanded its range of free-from artisan loaves to include the Tiger Artisan Bloomer. The loaf is gluten, wheat and milk-free and joins the Sourdough Cob, Seeded Boule and others on shelf.
Alpro ice cream: Dairy-free brand Alpro ventured into the freezer aisle with a trio of plant-based ice cream. The range consists of Vanilla, Hazelnut Chocolate and Coconut flavours, and Alpro claims it has 30% less sugar than similar dairy products.
Aldi Buckwheat pasta: Shoppers looking for gluten-free pasta in Aldi can currently choose between Aldi's Organic Buckwheat Fusilli, Red Lentil Penne or Green Pea Fusilli. The products are described as a source of protein, and are low in fat.
Deliciously Ella Nutty Granola: Instagram superstar Deliciously Ella ventured into cereal with a three-strong range of gluten and dairy-free breakfast options. Original and Nutty Granola hit shelves in Waitrose alongside Bircher Muesli.
Own label muscles in
Despite the growth in own label, average prices are rising, partly as a result of the growth in higher value chilled products. "While growth in both own label and brands is predominantly being driven by new shoppers, average prices per kilo in own label have risen by 21%, contributing an additional £29.5m," says Douglas Faughnan, consumer insights director at Kantar Worldpanel.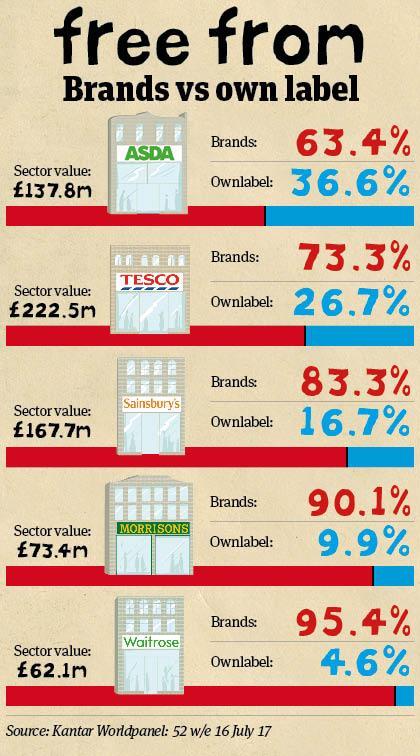 "Of the big four, Asda sees the greatest proportion of sales through own label (see left) and has the third largest share of free-from as a whole. Morrisons is most reliant on branded sales, with £9 in every £10 spent on the category there being spent on a brand. Due to the presence of specialist free-from brands in both Aldi and Lidl, both see a higher share of branded sales than normal."
More affluent consumers still overtrade in this market, as reflected by the hefty market share of M&S, Waitrose and Sainsbury's relative to their overall share of grocery. Sainsbury's accounts for just over a fifth of category spend, compared with 14% of grocery; M&S has 4.1% compared with 3.5% of the overall market; Waitrose has 7.7% versus 4.9%.
But free-from is available in a growing number of retailers and a widening range of price points, as evidenced by Asda's 69.8% category growth and Aldi and Lidl's respective gains of 85.7% and 167.2%, albeit from small bases. According to Aldi, 60% of consumers find free-from products too expensive.
"We've expanded our range of free-from products considerably due to growing demand from our customers. In the last year, we've launched Hike protein bars, Passions Deli pea snacks, Paleo bars and Specially Selected Gluten Free White Chocolate cookies, as well as free-from ingredients such as coconut flour," says Tony Baines, joint MD of corporate buying at Aldi.
"Whether it's out of choice, or out of necessity, buying and eating gluten-free foods shouldn't come at an increased cost to families. With the ever-changing dietary needs of our customers, it's our ambition to always meet those needs with a full range of products, at unbeatable prices."
Final thought: Future opportunities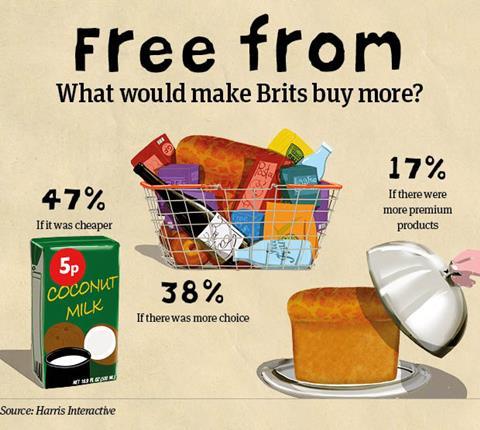 With thanks to…

Conran Design Group was created to make design more widely accessible, relevant and useful. Conran Design Group created the For The Love Of FOD concept.

Harris Interactive, a full-service digital consultative custom market research agency, polled more than 1,000 consumers for The Grocer for this article.

With its 30,000-strong consumer panel, Kantar Worldpanel is a leading consumer and shopper insights provider. Kantar provided sales and usage data and analysis for this article.