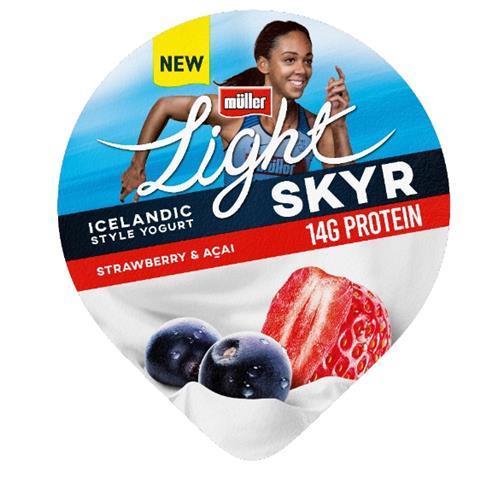 Müller Yogurt & Desserts has followed the launch of its first skyr product in June with a first-ever fat-free skyr yoghurt.
Müllerlight Skyr is available in two 150g variants: strawberry & acai and salted caramel flavour, and went on sale in Asda, Morrisons and Tesco this week (rsp: £1.25).
The dairy giant said the NPD boasted a "thick and creamy-tasting recipe" containing 14g of protein per pot – Müller's highest ever per portion. It is also fat-free, contains 0% added sugar and contains 90kcal or less per pot.
The launch will be supported by a new marketing campaign from early 2021 starring world champion heptathlete and brand ambassador Katarina Johnson-Thompson, who will also adorn the packaging.
The launch would "not only shake up, but grow the diet and low-fat yoghurt market", claimed Michael Inpong, strategy and marketing director for Müller Yogurt & Desserts.
"We're working really hard to adapt and improve our Müllerlight range to meet changing shopper needs," he added. "We have had really positive feedback on our recent Müller Corner Icelandic Style Skyr launch, so we are confident in our taste-led approach."
With Müllerlight having seen sales plummet in recent years, including a 30% drop in value sales to £133m last year [The Grocer Top Products Survey/Nielsen], Ingpong conceded the brand "has had its challenges".
But he stressed "during a difficult period for the nation people looked for trusted and well-known brands, and ate more meals and snacks at home. We continued to heavily support our branded portfolio during this time and saw positive volume growth across our Müllerlight range".