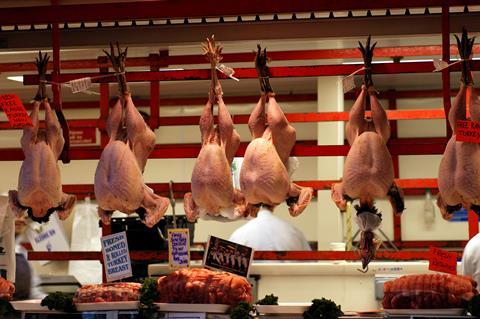 Supermarket sales of turkey fell by more than a fifth over the festive period compared to Christmas 2020. However, sales via butchers and DTC boomed as shoppers looked to buy early.
Whole turkey volumes fell 20.1% year on year according to Kantar data published by AHDB last week [4 w/e 26 December]. They were down 23% on 2019 levels.
The drop followed warnings throughout 2021 that a chronic shortage of butchers could affect the supply of festive turkeys, with Avara Foods CEO Andy Dawkins suggesting in August that the issues could lead to a rebalancing towards fewer fresh and more frozen birds in future.
Dawkins' warnings came after the British Poultry Council said in July that the labour crisis had led suppliers to put as much as 20% fewer birds on the ground.
But despite these difficulties and the drop in volumes via the mults, many smaller suppliers selling direct or through butchers' shops actually had an "amazing" Christmas, said Kelly Turkeys owner Paul Kelly.
With "less turkeys placed by the supermarkets", shoppers instead looked elsewhere. "And if suppliers had an online ordering system they would have boomed," suggested Kelly, who is also chair of the BPC's Turkey Group.
Frozen sales were also strong as shoppers looked to buy earlier than normal, while many suppliers sold out of their inventory, Kelly added.
"We were sold out 10 days ahead of normal," he said. "And our online sales were up by more than 300% in October. People wanted to make sure [they could secure a bird] and didn't want to rely on a walk in [to supermarkets]."
While the Kantar data showed a big drop in volumes via mainstream retail channels, bigger suppliers also enjoyed a solid year, considering the challenges they had faced, suggested one industry source.
"The flipside to that data is that the big suppliers also sold out, despite fewer birds being on the ground, so you could argue it was a successful (and low waste) production," they said, adding demand for smaller birds would also have affected volumes.
Another source agreed, adding the figures also reflected a change in consmer behaviour, driven by Covid restrictions, "with many turning to smaller joints and even other proteins".
The government's turkey visa scheme had also proven successful, and allowed the sector to avoid last-minute supply issues, said BPC CEO Richard Griffiths. "We now need it to be introduced again this year, in order to avoid future supply problems," he said.