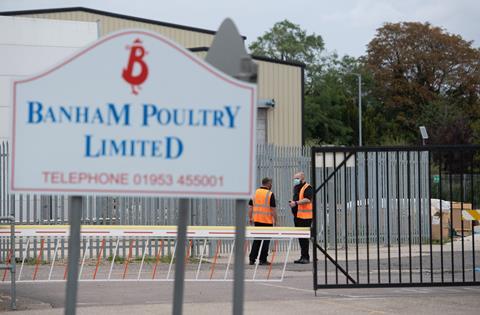 The poultry sector is becoming "increasingly concerned" over the community transmission of Covid-19 around processing plants in East Anglia, amid a surge in confirmed cases at Banham Poultry's facility in Norfolk.
There was a "huge amount of social interaction" between workers across the region's processing plants, said British Poultry Council CEO Richard Griffiths, who noted the prevalence of workers at separate plants who lived and socialised together.
Griffiths' concerns come as the number of confirmed cases at Banham's now-partially closed plant in the town of Attleborough rose to 96 yesterday, with Norfolk County Council confirming 477 tests had been carried out, with more to follow this week.
All staff at the plant, plus their households, are being asked to self-isolate for 14 days if they have not tested positive and for 10 days if they have tested positive – households of those who have tested positive need to isolate for 14 days.
Griffiths added poultry businesses were now working with local health authorities and NHS Test and Trace to identify community clusters. There are at least five slaughterhouses of significant size in the region, according to the BPC. Three specialise in chicken, one in turkey, and one in duck.
Stakeholders were also due to meet this morning with local MP George Freeman, who slammed the response to the outbreak by an "overly centralised" NHS England while noting many people who had contracted Covid-19 "remained untraced".
The Grocer understands a backlog of birds due to the closure of 2 Sisters Food Group's Coupar Angus plant last month and the disruption at Banham Poultry could also lead to a surge in bird culling on farms over the coming days. Some 200,000 birds have now had to be culled, with several hundred thousand more expected by the end of the week.
2 Sisters reopened Coupar Angus yesterday after a two-week closure. In addition to "a series of enhanced measures", it said staff would also receive training and best practice guides on issues including transport arrangements, conduct in the community and keeping Covid-safe in a shared household.
"We expect each and every colleague to take personal responsibility for their own behaviours outside of work," the poultry giant said in a statement.
Elsewhere, Cranswick's Ballymena pork plant in Northern Ireland remains closed until at least the end of the week. The welfare of backlogged animals due to the site closure has also been raised by the Ulster Farmers' Union.
Meanwhile, Greggs was the latest in a growing list of food businesses to experience an outbreak of the virus last week, with a number of cases confirmed at its Bramley depot in Yorkshire.
It comes as the FSA board heard the regulator was monitoring 40 active coronavirus outbreaks at English food plants last week, though its COO Colin Sullivan stressed this was a "small number" compared with the size of the food processing sector as a whole.
Millers of Speyside became the latest meat supplier to temporarily halt production on Wednesday, after confirming seven cases at its factory in the Scottish Highlands.