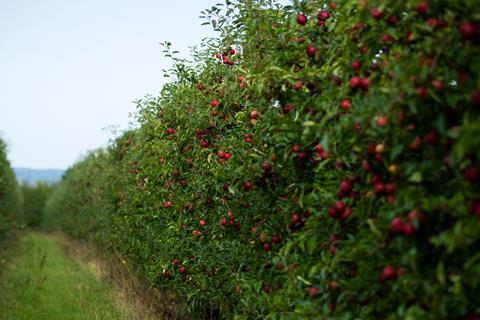 Huge cost increases and weather extremes are hampering apple growers ahead of the new season, British Apples & Pears has warned.
The trade body said its members had seen cardboard prices rise by 25% to 30%, other packaging costs jump 10% and – due to HGV driver shortages – haulage costs increase by up to 12%.
Labour costs have also increased as there has been greater competition for workers across the economy, with Covid also adding a financial burden. According to a recent report by farming consultancy Andersons, these pressures have added 6.5p to the production cost of a six-pack of British gala apples over the past two years.
Growers have also faced weather difficulties. Early flowering varieties, like cox, have been hit by frosts with BAP predicting a shortfall this year. There are also fears recent heavy rainfall across the UK could affect the quality of the remaining crop.
It means that, unlike in previous years, BAP is not releasing a crop forecast. "There's a lot of reticence about numbers because none of us knows exactly what the weather's going to do between now and when we start harvesting," said BAP executive chair Ali Capper.
"Whilst it looks like we've got a good crop, when we start picking and [then] grading in the packhouse, it may not quite be what we were hoping for."
Particular issues which could emerge included frost ring, which damages the skin of the apple; and scab, which impacts the quality of apples during periods of heavy rainfall. Capper also said the record frosts seen earlier this year could reduce yields as frosting can make apples grow too big to sell in retail.
Despite these difficulties in forecasting, the World Apple and Pear Association has revealed its own production estimates for the UK. Published last week, they show an expected crop of 191,000 tonnes – down 3% on last year and 8% on the 3-year average.
Across Europe, tonnages were anticipated to be 10% higher year-on-year at 11.7 million tonnes thanks to significant growth in yields in Poland.
If WAPA's predictions are correct, the UK could be set for its smallest UK apple harvest since 2012.
"It's frustrating for the growers because there is a lot of investment going into our industry at the moment," Capper added.
"There is significant tree planting every year and we were anticipating seeing an increase in production this year. We don't think we're going to see that increase, but quite where it's going to land compared to last year is very difficult to say."
WAPA also predicted pears would weigh in at 15,000 tonnes this year, down 13% (2,000 tonnes) on last year and almost half the 28,000-tonne crop recorded in 2012.
The news comes just weeks ahead of the official start of the UK apple harvest on 4 October. As part of the launch, BAP will unveil a campaign including celebrity chef Raymond Blanc and former JLS star-turned-farmer JB Gill.