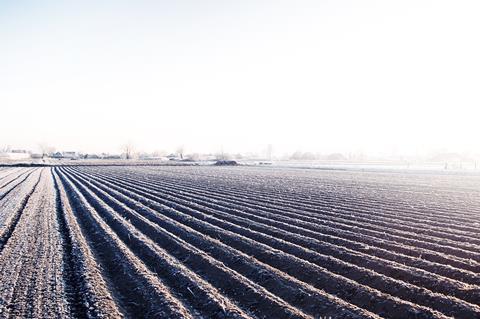 The frostiest April since records began coupled with a prolonged spell of dry weather has hit farmers across the UK.
During the past month, there has been an average of 13 days of frost across the UK – the highest number of frosty days since 1960, according to the Met Office.
These cold conditions have coincided with an unseasonably dry period. March saw below-average levels of rainfall across most of Great Britain, while in April, the UK had less than a fifth of the month's expected rainfall by 22 April, according to the forecaster.
One senior growing industry source told The Grocer this weather had led to "some quite serious issues" and cited onions as a crop that was particularly struggling.
The source added livestock farmers were also being hampered by a lack of grass growth, which could have longer-term consequences for the sector regarding winter feed.
"It will almost certainly mean larger silage crops are grown next month, so winter feed will be short at the end of the year. A lot of the spring drilling that should have happened, people have held off on - particularly growing maize for dairy," they said.
The NFU echoed the comments but pointed to changes in the weather.
"The colder and drier conditions throughout April have impacted some farmers, particularly in the livestock sector, where slow grass growth has limited the availability of grazing for cattle and sheep," said NFU deputy president Stuart Roberts, who added that the forecast rain next week should offer some relief.
"The prospects for crops that need irrigation such as fruit and vegetables are currently good as reservoirs are full as a result of heavy winter rainfall, which left fields saturated and waterlogged," he added. "We will continue to monitor the situation across all regions and farming sectors and hope the forecast of much-needed rain over the next week comes off."
The wetter and warmer weather might come too late for asparagus growers, whose season was supposed to begin last week but has been delayed in some areas due to frosts. Norfolk-based Portwood Asparagus, which supplies wholesalers and retailers, said it was already two weeks behind its harvest schedule.
"I've been growing asparagus for 30 years and I've never had such a cold April. We've had 18 frosts in the last 24 days and it's just slowed the crop right down," said Portwood's owner, Andy Allen.
"It will affect the yield as we've lost 10 to 14 days of harvest and we're unable to extend our harvest season beyond 21 June because it would deplete the crop for the following year," he added.
While Allen said Norfolk had been particularly affected by the weather, he added that he had also heard of issues for asparagus growers across the country.
Peas have been another weather-affected crop. British Growers Association CEO Jack Ward said there had been cases of peas being frozen in the ground, which "could severely impact the yield 12 weeks down the line".
Asked whether these issues had been faced by its suppliers, frozen giant Birds Eye said it was "too early to pass comment".
The weather has had more of a mixed impact for growers of other crops. UK radishes have been harvested on time, while AHDB suggested spud farmers were well ahead of usual timescales with their plantings for later this year. However, this pace had led to some "logistical delays" getting seed varieties onto farms, the levy board said.
The cold and dry weather has been the latest extreme weather event from the past three years, with 2018's Beast from the East being followed by extended droughts, unprecedented periods of wet weather and exceptionally high temperatures.