Detailed guidance on the HFSS clampdown is here, but sources have warned of gaps as retailers focus on the cost of living crisis
The government's recent publication of detailed guidance for the implementation of its HFSS promotions ban has dashed industry hopes of a delay.
Yet even as the traditional front-of-store Easter egg displays come down for the last time, evidence suggests suppliers remain underprepared for one of the biggest overhauls ever to hit supermarket shelves.
So has the new guidance cleared up all of the confusion? And will the industry be ready?
Trade organisations wanted the ban pushed back to at least spring 2023 due to the delays to the guidance, warning of a deeply worrying lack of preparedness. And while some supermarkets have trialled pilots of HFSS-compliant aisle ends, the assumptions they've made in order to be ready has resulted in inconsistent interpretation of the rules among retailers, say industry sources.
Shocking stats from GS1 UK in March, based on responses from 400 food and drink business leaders, found that a fifth had no knowledge at all of the plans, while 70% had no idea they included a ban on HFSS volume promotions, as well as prominent locations.
"The only ones who have had even a vague chance of looking at this guidance in detail are the big guys," says a source. "There will be companies who have plans in place but the confusion will come through in the people who haven't even seen it yet.
"The DHSC didn't do a formal consultation on the guidance – they did an informal consultation with the trade bodies. So if you're not part of a trade body you will not have seen drafts.
"There are companies just starting to digest this or still not aware."
The government admits its new guidance is "not exhaustive" but sources go further, claiming it has failed to comprehensively answer many of the 1,200 questions submitted by trade bodies last autumn.
Barbara Crowther, director of the Children's Food Campaign, insists the guidance is clearer, for example by explicitly including a number of product types as within the scope, such as cake mixes, where previously there was room for doubt over definitions.
The supplier source agrees "it's a little bit clearer now but there are questions we still need to resolve. Specifically things that were supposed to be out of scope but are not listed in the final guidance.
"For example, the initial draft guidance said sugar-free sweets were out of scope but now it's disappeared. We don't know if that's deliberate or a mistake.
"The savoury snacks category is still confusing. It says savoury snacks that are eaten like a packet of crisps are in scope. But in an explanatory note it says other packaging formats are also in scope, ie rollpacks and boxes of crackers to be eaten with cheese."
A retail source agrees. "This is an issue because it is a lot more difficult to establish if a product is in or out of scope [if it's] not based on the product itself but on the packaging in which it is presented."
"There are still a lot of questions about what products are in and out of scope," the retail source adds. "The category title and principles often confuse matters more. For example, morning goods is described as including sweet pastries and buns, mixes and fruited bread products. However the category includes savoury scones, which is counterintuitive."
Retailers also say the guidance is incredibly vague when it talks about products that relate to seasonality, nutritional and dietary characteristics and vegan foods.
And the retail source says the guidance also leaves doubts over whether in-store cafés, canteens and in-store bakeries are in scope, despite numerous reassurances from the DHSC, while there are also concerns over definitions of 'islands' and the 'main customer route'. Meal deals are another source of confusion. That's partly because, while out of scope of the volume promotions ban, any HFSS product, such as crisps and drinks, will be subject to location restrictions, meaning they can feature in a meal desk but not stand alongside other meal deal products on an aisle end or at the front of store. And the guidance also completely ignores breakfast deals.
Definitely in scope
Five product types in scope of the restrictions:
Cake mixes are included, among "all types of cakes, ambient and chilled"
"Non-dairy ice cream or ice cream alternatives" count as ice cream
Mousses are included among desserts and puddings
Yoghurt drinks are included among sugary soft drinks
Sweet biscuits include breakfast/cereal bars
Source: DHSC and the Children's Food Campaign
No HFSS measurement tool
On the supply side, the biggest bone of contention is that the government seems to be leaving it up to companies themselves to work out which products are HFSS under the so called nutrient profiling model (NPM).
Developed by the FSA in 2004-2005 to help Ofcom designate foods under its children's TV ad clampdown, what the DHSC calls "a simple scoring system", is anything but, say sources, with the document from 2011 including "examples that are wrong" and the calculations for fruit, nut and veg scores particularly complicated.
As well as "failing to address many questions from retailers and suppliers", repeated demands for the government to create an official NPM calculator tool have fallen on deaf ears. And alarmingly "some retailers are asking suppliers to calculate the score for all their products, even if they're not HFSS, and even though it's not required by the legislation".
Further criticism of gaps in the guidance comes from the ACS, which says it fails to give clarity over the inclusion of symbol groups and franchises in the clampdown.
Independent retailers with fewer than 50 employees are exempt from the new restrictions, but there is still confusion over whether they remain exempt when affiliated to a symbol group.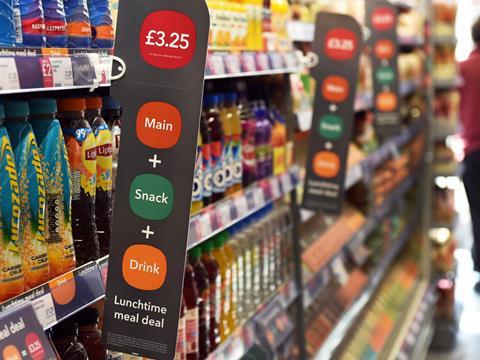 Industry sources and health campaigners appear united on one point, however. "For us the guidance is a very clear statement from the government that it's going ahead," says a supplier source. "Now it's a case of let's crack on and make sure we get it right."
That sentiment is echoed by Tesco CEO Ken Murphy, who says it is time to "get on and implement". As Murphy told The Grocer last week: "We're [still] not super clear how it's going to work if I'm completely honest and it could be better but we're in good shape. We've been trialling a number of different solutions. We believe we understand how that's going to work [for us], but we will keep working with the government to improve the clarity.
"We're working with suppliers to make sure they're compliant, and working on all the alternatives we can provide and merchandising those products in compliance with the legislation. We're relying on suppliers to make sure, if it's non-compliant, they flag it, but not in any way trying to create onerous bureaucracy."
"Overall, we welcome the publication of the guidance, and I hope that it resolves many of the areas that needed clarification, so that the food and drink industry can get on and implement."
'Getting the job done' is what this industry does best. But the supplier source is less sure this time. After all "there's been quite a lot of other stuff going on keeping them awake at night, right?"