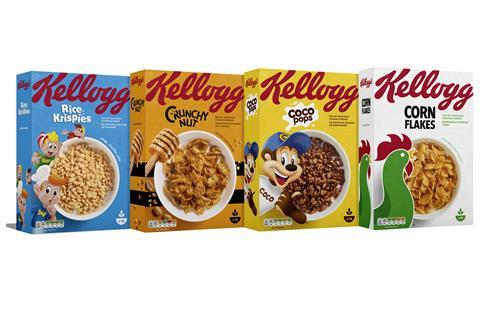 Kellogg's is taking legal action against the government's ban on HFSS promotions due to come to force in October.
It claims the controversial clampdown, which would outlaw most cereals from being displayed in prominent store positions, as well as from volume deals, is unfair because the system used fails to consider the nutritional value of milk added to its products.
The move by one of the world's biggest manufacturers, which will be subject to a judicial review at the High Court in London, has raised the prospect of other leading manufacturers also taking action against the government's move.
In a summary of its case, first revealed by the BBC, Kellogg's said while it supported the government's obesity strategy, it believed the nutrient profiling model (NPM) used to calculate the nutritional value of cereals was not fit for purpose.
It said 28.4% of all milk consumed in the UK was with breakfast cereals, so it was wrong that they should be one of the categories to bear the brunt of the ban.
Kellogg's claims the new rules are not legal because they go beyond the power of the Food Safety Act.
The Grocer understands it has also questioned why cereals are in scope of the ban while other breakfast products, such as chocolate spreads, are exempt.
It said a judge had accepted its case "has merit" and had agreed it could proceed to the next stage – a hearing in court.
The company said it had tried repeatedly to have discussions with the government over its concerns in the past 12 months, but that ministers had turned a deaf ear. Its reformulation efforts had removed 11,000 tonnes of sugar since 2011 and 60% of salt since the 1990s, it added.
The Grocer revealed last week that many companies were questioning guidance over the NPM, which they claim is vague and outdated, with the information used dating back 20 years. The latest government technical guidance, issued in 2011, which it has told companies to use ahead of October's ban, states that the score for breakfast cereals should be calculated 'as sold' – dry and not 'as consumed' with milk.
A senior industry source said many other companies were questioning the validity of the guidance, adding: "Having guidance going back to 2011, well that's not good enough for your flagship policy on obesity."
Kellogg's said it believed breakfast cereal should be calculated as eaten, along with milk, and not assessed as dry. It said the overall salt, sugar, fibre and protein in the cereals along with milk should be considered. It claimed this would "accurately reflect how our food is eaten in the real world".
It said the technical guidance used for the NPM was not contained in the guidance and had not therefore been scrutinised by Parliament.
"We believe the formula being used by the government to measure the nutritional value of breakfast cereals is wrong and not implemented legally," said Kellogg's UK MD Chris Silcock.
"In 2021, the former public health minister Jo Churchill MP commended Kellogg's for our work to reduce sugar and salt in our cereals.
"We've tried to have a reasonable conversation with the UK government over the past 12 months about making this change, but to no avail.
"So, we now find ourselves doing something which we really didn't want to have to do which is to go to court to get the formula changed so that it reflects how people eat our food in real life.
"We've always been open and honest with people about what's in our food and that's why we feel we need to take this step."
An FDF spokesman said: "For years families have taken advantage of promotions on everyday food and drink such as yoghurts, breakfast cereals and ready meals. They have helped cut the price of shopping bills and encouraged people to try new and different products, many of which have been reformulated to meet government guidance.
"While we can't comment on ongoing legal action, we are disappointed the UK government is pressing ahead with this regulation when it is not expected to impact obesity rates."
However, the body, which has previously been seen as a potential vehicle for a wider industry legal challenge against the ban, said it had no such plans in the pipeline.
Campaigners, meanwhile, criticised Kellogg's decision.
"If Kellogg's genuinely supports the government's obesity strategy, then it would not be adopting this course of action but instead getting behind plans designed to make healthier food and drink more available and affordable," said Barbara Crowther, of Sustain's Children's Food Campaign.
"It is perfectly correct for the nutrient profile model to assess breakfast cereals on the basis of what is actually in the packet as sold, and not what people choose to add to their breakfast, whether that is milk, yoghurt, juice, fruit or nothing at all.
"What they propose seems not just perverse but also unworkable in practice. We're dismayed that a household name company should choose to deploy these diversionary, delaying tactics whilst we're all in the midst of a cost of living crisis and a worryingly sharp increase in childhood obesity levels, and when we should be working together to create a healthier, nutritious environment for children and families."
Caroline Cerny, of the Obesity Health Alliance, added: "This is a blatant attempt by a multinational food company to wriggle out of vital new regulations that will limit their ability to profit from marketing their unhealthy products.
"It's shocking that a company like Kellogg's would sue the government over its plans to help people be healthier rather than investing in removing sugar from their cereals."
Mark Jones, head of food and drink at law firm Gordons, said he believed Kellogg's faced a "difficult" challenge to get the government to rethink.
"Kellogg's has been concerned about the impact of HFSS rules for some time," he said. "The company must think bans on promoting its products, or displaying such products in prominent positions, is likely to result in reduced sales.
"Kellogg's has historically worked closely with retailers to ensure its products are a prominent part of their offer, and that looks set to be diluted. However, Kellogg's will find it difficult to succeed in its challenge."
A DHSC spokesman said: "Breakfast cereals contribute 7% – a significant amount – to the average daily free sugar intakes of children.
"Restricting the promotion and advertising of less healthy foods is an important part of the cross-government strategy to halve childhood obesity by 2030, prevent harmful diseases and improve healthy life expectancy, so we can continue to level up health across the nation."