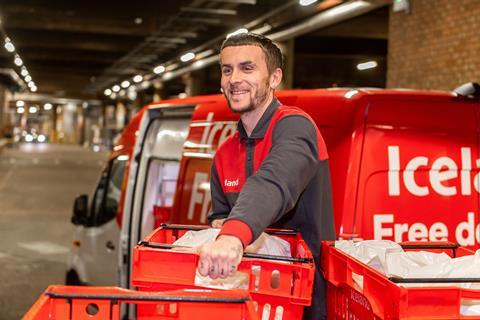 Iceland has answered Sainsbury's Christmas 'Aldi price match' campaign – which includes a range of veg reduced to 19p a pack – by cutting veg to 1p.
In a push to boost online Christmas orders, Iceland is selling 40 varieties of fresh and frozen veg for 1p a pack until midnight tonight.
The offer applies to all types of veg usually sold at Iceland for £1 or less. Customers must order at least three packs of any variety as part of a basket of shopping for next-day delivery, and enter the 'ICE1VEG' code when checking out.
Iceland said it had 180,000 delivery slots available between now and Christmas Eve, having made 450,000 available from 13 December.
The frozen food specialist has dramatically expanded its online operation during the pandemic, boosting peak delivery capacity by a claimed 375%.
The Grocer revealed in May this year it was beginning to roll out same-day delivery from stores, available for orders booked before 11am. Iceland has since increased its minimum order value to qualify for free delivery from £35 to £40. The minimum online spend is £25 and orders under £40 attract a £3 delivery charge.
"Christmas has become more important than ever this year, with families having lost out on precious time together last time around," said Iceland MD Richard Walker. "That's why we're delighted to support our customers by cutting the costs of their festive feasts."
Sainsbury's festive price cuts have seen seven types of veg added to its Aldi price match campaign until 24 December, along with several main course options and a dessert.
Here's the full list of veg Iceland is selling for 1p, along with the usual price:
Fresh
· Iceland Carrots, 800g, 79p
· Iceland Parsnips, 660g, 79p
· Iceland Broccoli, 400g, 79p
· Iceland British Brussels Sprouts, 500g, 79p
· Iceland Savoy Green Cabbage, 1 unit, 79p
· Iceland Curly Kale, 200g, £1.00
· Iceland Green Beans, 220g, £1.00
· Iceland Sugar Snap Peas, 160g, £1.00
· Iceland Large Flat Mushrooms, 250g, £1.00
· Iceland Closed Cup Mushrooms, 300g, £1.00
· Iceland Farmers Market Button Mushrooms, 125g, 65p
· Iceland Chestnut Mushrooms, 250g, £1.00
· Iceland Brown Onions, 3 pack, £1.00
· Iceland Red Onions, 3 pack, £1.00
· Iceland Onions, 1kg, £1.00
· Iceland Traditional Mash Potato, 400g, £1.00
· Mash Direct Carrot Parsnip & Turnip Mash, 400g, £1.00
· Iceland Baby New Potatoes With Herb Butter, 360g, £1.00
· Iceland Carrot Batons, 300g, 70p
· Iceland Stew Pack (Onion, Swede, Parsnip & Carrot), 900g, £1.00
· Iceland Cut Soup Vegetables, 320g, £1.00
· Iceland Garlic, 4 pack, £1.00
Frozen
· Iceland Garden Peas, 800g, £1.00
· Iceland Button Sprouts, 900g, £1.00
· Iceland Country Mix (carrots, peas, cauliflower, green beans), 900g, £1.00
· Iceland Broccoli Florets, 800g, £1.00
· Iceland Baby Carrots, 900g, £1.00
· Iceland Cauliflower Florets, 800g, £1.00
· Iceland Very Fine Whole Green Beans, 900g, £1.00
· Iceland Floret Mix, 800g, £1.00
· Iceland Petit Pois Peas, 600g, £1.00
· Iceland Floret & Carrot Mix, 900g, £1.00
· Iceland Mixed Veg 900g, £1.00
· Iceland Sliced Green Beans, 650g, £1.00
· Iceland Tenderstem Broccoli, 180g, £1.00