Last week, in the year marking the 40th anniversary of the Pepsi Challenge, Lidl unleashed its own version of the legendary marketing ploy.
A TV campaign shows consumers tasting brands such as Stella Artois and Cathedral City against Lidl's own products. Shoppers typically give the thumbs up to what they have been told is the brand before it's revealed to have been the cheaper Lidl equivalent.
What sets this apart from campaigns focused on price - and Aldi's similar Like Brands push - is Lidl supporting its claims with independent blind taste test research across the UK among 9,000 participants. Press ads and a dedicated website offer a selection of results.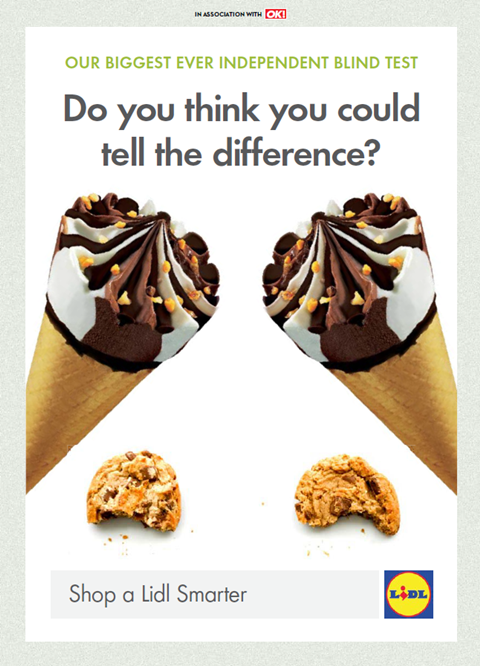 It's a ballsy, in-your-face move that will have ruffled feathers among Britain's leading brands - but what does it mean for Lidl, and for grocery marketing in general?
Describing the activity as some of the most interesting seen in years, marketing consultant Andrew Marsden believes Lidl is reinforcing the concept of value, rather than price. "Consumers are fed up with price - these ads are saying Lidl is cheaper but they are moving the debate from 'cheap and cheerful' to value, which is a strong strategic statement."

It is a view echoed by Louis Loizou, creative director for shopper marketing at Ogilvy/Geometry Global. "Because the choice here is taste and quality, price takes a back seat," he says. "It's accepted you save money at Lidl, so why repeat it?"
But Sarah Green, MD of shopper marketing agency GreyShopper London, points out the market research results are less conclusive than the ads suggest. While Lidl insists research has been carried out to industry standards by independent market researchers and that it has aimed is to "present these results across our advertising campaign", it has certainly been careful in its choice of wording. Comparisons use phrases such as '81% of people liked our own-brand Pink Salmon fillets and 78% liked the branded competitor' [Birds Eye] or '85% of people found our Crownfield Bran Flakes tasty compared with 82% for the branded competitor'[All-Bran].

"Brand owners on trial here will be furious," adds Green, "but few shoppers will bother checking the small print while making their tea during Corrie."

Brands will have experts poring over Lidl's claims, suggest observers. Partly to see if it's worth complaining to the ASA (none have as yet), and partly to see how worried they should be about what consumers said.

"If someone is a regular consumer of pork pies, for example, brands would be more concerned about the quality of that person's response," says Marsden. Lidl says it filtered participants based on whether they used the types of products tested, but said they were not aware of what they'd be trying beforehand.
Bargain Booze challenges 'Aldi Shmaldi'
Days after Lidl unveiled its new push, rival discounter Aldi found itself on the other side of price comparison ads.
Under the heading 'Aldi Shmaldi', Bargain Booze launched a press campaign in The Sun showing the price of Carlsberg Export at the off-licence is the same as Aldi's Sainte Etienne lager; another shows it pricing Smirnoff Red label in line with Aldi's Tamova. Titled 'Who?' and 'Wow!' it also mocks Aldi's dubious brands. "It plays it back from another perspective and reminds customers there are choices," says Diana Hunter, CEO of Bargain Booze parent Conviviality Retail.
Shore Capital analyst Clive Black thinks the "brilliant" campaign one of the "most novel and potent advertising and marketing initiatives for many years".
"A chink in Aldi's armour may have been opened up," he adds.
In a few cases, Lidl products have only matched - or, presumably - been rated lower than brands: '69% of people liked our Primadonna Extra Virgin Olive Oil; the same as the branded competition' [Filippo Berio]; and '86% said they liked Lidl's own brand Liquorice Allsorts' [while making no mention of the Bassetts Liquorice Allsorts it is compared against].

But part of the charm of this campaign is in not over-claiming, argues Rob Metcalfe, MD of Richmond Towers. "Lidl products don't even have to be better than brands, only nearly as good as, for the ads to work," he says. "This approach also throws down the gauntlet to some fmcg brands: you'll have to up your own advertising game or improve products if you're going to combat this."

Many brands highlighted in the Lidl activity were invited to comment by The Grocer, but only a few responded. Among those that did, Stella pointed out how it had been the favourite beer brand among beer drinkers over the past four weeks [Millward Brown Equity Tracking], while Twinings flagged up the quality of its teas.

Filippo Berio UK MD Walter Zanré said Lidl was not comparing like for like as the quality of his Extra Virgin Olive Oil was different from Primadonna. "But we have become accustomed to this kind of comparison as Aldi have used our oil for years in advertising," he adds. "We take it as a compliment."

Also complimented was Spontex. "We are flattered Lidl used our Washups as part of their study," says marketing manager Joanne Evans.

Such views raise the question of who will benefit from the campaign. "This feels so close to Aldi's Like Brands I wonder whether this will serve Lidl as well as they hope or entice more of the middle classes to the discounter category," says Green, noting some of the ads are set in a farmers' market ("natural habitat of the middle classes"), as well as similarities between the Lidl and Waitrose websites.

"This leaves you under no illusion as to who they're trying to reach," she adds. "But I suspect this campaign will fuel the growth of the category rather than Lidl in particular."