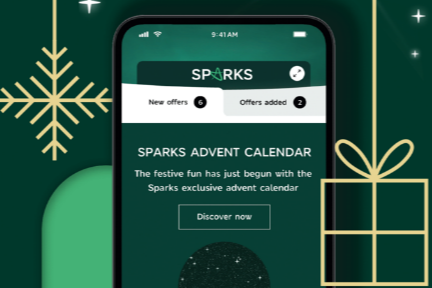 M&S has seen thousands of customers flock to its app within days of launching its Sparks Advent calendar.
The retailer released its 12-day digital Advent calendar on Wednesday, featuring prizes like a meet and greet with Gary Barlow.
The launch, which is part of M&S's plan to ramp up digital ambitions, resulted in over 100,000 customers downloading the app and registering for the exclusive prizes in a matter of 48 hours.
This marked the business' highest number of daily app downloads this year, and its third-highest day ever, just behind the relaunch of the Sparks loyalty programme in July last year.
Around 800,000 customers have engaged with the Advent calendar since its release on 1 December.
M&S's head of loyalty, Danielle Papagapiou, said the reaction to the calendar so far has been "phenomenal" as customers keep taking advantage of the offers available.
These include discounts on M&S clothing, home and food departments, signed copies of Holly Willoughby's book Reflections, and personal Christmas video messages from several celebrities.
The retailer relaunched Sparks as a digital-first service last year in an effort to attract more customers to its loyalty programme, which had struggled to convince shoppers since it first began in 2015.
M&S COO Stuart Machin told The Grocer last month going digital and communicating differently with customers was crucial to make the brand "feel more fun and accessible".
The renewed loyalty scheme now counts over 11 million customers.