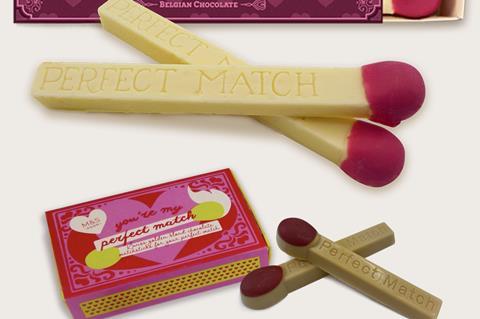 Marks & Spencer has agreed to sell a small family business's chocolates after being accused of copying one of its products.
Choc on Choc's products are set to make an appearance on M&S shelves after social media users rushed to support the artisan chocolatier's claims that the retailer was selling a product that looked strikingly similar to one of its own.
The business's boss, Flo Broughton, claimed M&S's Valentine's Day-themed Perfect Match box of chocolate matchsticks was a near identical copy of a product she had been selling for years..
She called out the supermarket on social media last Friday after being alerted to the situation by one of her customers visiting an M&S store.
"It was clear they had copied my design, and I was extremely disappointed that a British institution believed this was OK," Broughton said.
Bath-based Choc on Choc, which was originally founded by Broughton and her father in 2003, has been selling its giant white chocolate matches engraved with the words "Perfect Match" since 2015.
After her claim, she received thousands of messages of support from consumers and fellow small businesses – sparking the attention of M&S, which got in touch with her over the weekend to settle the issue.
On Monday, Broughton announced on LinkedIn that things had "moved pretty fast" since she first raised the issue, and that she had reached an agreement with the retailer.
M&S has now committed to selling Choc on Choc's matchsticks, with the small company also striking further deals with the supermarket for personalised Mother's Day and Easter ranges.
"After all of your amazing support and mentions over social media, M&S' marketing team contacted me, asking for a call to chat things through," she wrote. "We had a great conversation over the weekend, with members of their marketing, PR, NPD and buying/commercial teams.
"I'm pleased to say that they've not only been really co-operative and open to conversation but very respectful of Choc on Choc's product and my position as a small business."
Additionally, Broughton said M&S had also committed to her request to accepting more ideas from small businesses through its Small Supplier Programme, allowing them to pitch ideas to the grocer's buyers.
"This is a huge step for all small businesses, as an iconic British retailer commits to supporting us," Broughton added.
An M&S spokesman said: "We take IP very seriously and when we saw Choc on Choc's social media posts we immediately got in touch. Choc On Choc is a fantastic company producing quality chocolates and we're delighted to be working with them through our Small Supplier Programme."
M&S was recently involved in yet another copyright dispute with long-time court rival Aldi after accusing the discounter of copying its Christmas snow globe gin.
This followed the duo's widely reported battle over Aldi's Cuthbert the Caterpillar cake, which M&S alleged was a copy of its own Colin the Caterpillar cake.