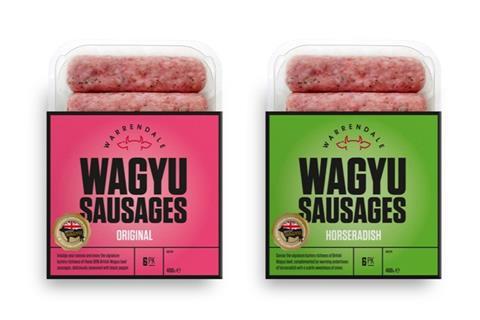 Warrendale Wagyu has launched a range of wagyu beef sausages into Waitrose.
The new sausages are available in both Original and Horseradish variants, made of 90% and 86% premium British wagyu beef respectively.
It has taken six months to develop the range to ensure the best taste and texture possible. The range is also gluten and dairy-free.
"We're passionate about wagyu and want to find new ways for people to enjoy it," said Tom Richardson, MD of Warrendale Wagyu. "We're very proud of the new Wagyu Sausage.
"Care has been taken at every step to make sure the taste, texture and traceability are the best they can be," he added.
Available in 200 Waitrose stores from 4 October, the range is thought to be the only wagyu beef sausage in major supermarkets.
"We're really excited to be adding these British wagyu sausages into our range," said Krystina Houghton, sausage buyer at Waitrose. "Not only are they packed full of incredible umami flavours, but they are made with British beef so it's fantastic to see more support for our farmers.
"The sausages will be perfect for those looking to add something delicious to their Bonfire Night get-togethers at home and will make a great addition to warming meals during the winter months," she added.
The York-based company works in partnership with a 750-strong collective of farmers to rear herds of wagyu cross dairy cattle.
It has committed to supply chain transparency, product quality and consistency.
The launch follows Aldi's recent commitment to significantly increase its range of own label British wagyu beef on the back of a big jump in production volumes by UK farmers. The beef will be sourced via Warrendale.