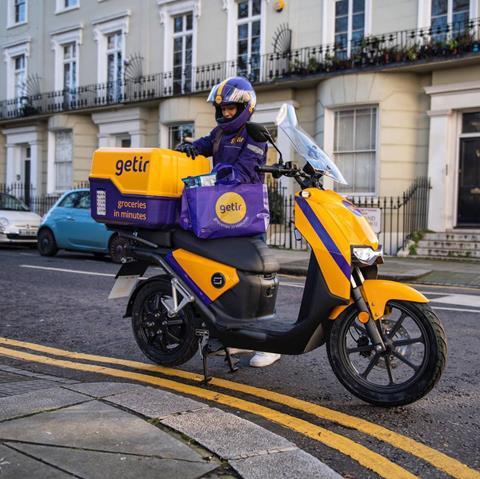 Getir UK's head of buying and commercial, Neil Franklin – one of its longest-serving employees – is resigning from the struggling rapid grocer.
Franklin was the first Brit hired by Getir and was part of the company's UK pre-launch team, which saw him "start a business with a blank sheet of paper and build up a brand and proposition" he wrote to suppliers in an email seen by The Grocer.
Andrew Ayres, Getir's ambient and drinks buying lead, who had worked alongside Franklin at Ocado, is also leaving the quick commerce player. It is understood he is returning to Ocado.
The appointments of Franklin – who has previously worked at Tesco, Waitrose and Hovis – and Ayres – who has held senior buying roles at dairy Crest and Compass Group – were considered at the time a clear signal of Getir's UK grocery ambitions.
Since then, the quick commerce sector has come under significant strain as investors' cash and confidence in its unprofitable operations have dried up.
Getir – and its remaining rivals after a wave of consolidation that saw Getir acquire Weezy and Gorillas – have been desperately trying to cut costs over the past year, considerably reducing headcounts and pulling out of multiple countries.
Earlier this year The Grocer heard from several suppliers that Getir was weeks behind on payments for stock, with some opting to put orders on hold until they were paid. It is understood payments are now up to date. One supplier likened the latest departures to "rats fleeing a sinking ship".
In July, The Grocer revealed Getir was auctioning off dozens of delivery bikes, chiller cabinets, delivery boxes and shelving as it shutters dark stores in the UK. The following month, the company announced a "global restructuring" which will see more than 10% of its workforce let go, part of a bid to "significantly increase operational efficiency".
The key departures come amid a significant restructure at Getir UK, with buying and supply chain teams being combined under the leadership of Xavier Dialdas, who joined Getir from Gorillas following its acquisition in December. A combined commercial and marketing team will be led by Cansu Copuroglu, currently Getir's Europe CEO office lead.
The restructure comes in the wake of Getir's UK general manager Kristof Van Beveren leaving in January to lead the company's US operation. He was replaced by Christopher Chaaya, who had led Gorillas in the UK as general manager since shortly after its arrival in the UK in 2021. Chaaya lasted just six months in the role before leaving in July to start his own business. Chaaya was replaced by Karhtik Harith, former general manager of Getir in Germany.
Getir is currently seeking new funding – understood to be around $500m – and is reportedly close to securing a deal with Abu Dhabi sovereign wealth fund Mubadala. Mubadala said it was in "advanced discussions" with Getir, in which it has been an investor since 2021.
Franklin told suppliers his tenure had been "a wonderful experience" but he had decided "to move on to a new challenge".
He added that "Getir reaffirms our long-term commitment and dedication to this sector".