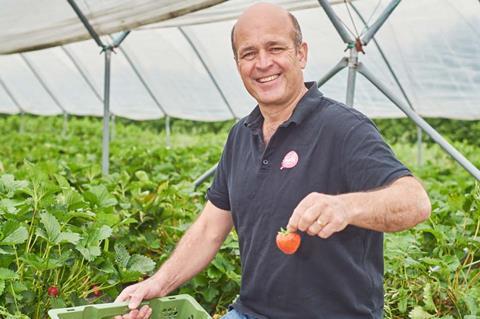 What was your first job? On a hop and apple farm while I was at horticultural college - pruning apples, tractor driving, that kind of thing.
What's been your worst job interview? I've only ever had a couple. One was for a training course and I turned up at the wrong time - very embarrassing!

What was the first music single you bought? I've got a feeling it was The Chain by Fleetwood Mac.

How do you describe your job to your mates? A farmer with a very short commute! I literally step out of the front door and I'm at work.

What is the most rewarding part of your job? One of the most rewarding things happened at a farm show this summer. A mother came up to our stand with her daughter who wouldn't drink fruit juice. I told her daughter if she tried some of ours, I'd give her a Red Tractor sticker. She had a sip and absolutely loved it.

What is the least rewarding part? When there's a blocked drain and no one else wants to fix it. It's always me rolling up my sleeves up to get it sorted.

If you were allowed one dream perk, what would it be? Being able to go on holiday and turning my phone off would be wonderful.

If you could change one thing in grocery, what would it be? That more retailers and multiples have a bigger focus on offering local produce.

What luxury would you have on a desert island? I'm a sailor so I'd take a boat so I could explore the surroundings.

What animal most reflects your personality? A hare - they're always running around the farm, pricking their ears up and having a good look around.

What's your favourite film? We Were Soldiers starring Mel Gibson. His character showed great leadership.

What has been your most embarrassing moment? When I was 17, I was at a party and thought a girl was playing footsie with me. I plucked up the courage to speak to her, only to find out it was my friend winding me up. I was mortified!

Which celebrity would you most like to work with? Hugh Fearnley-Whittingstall. His environmental campaigns are always impactful.

What would your death row meal be? Chateauxbriand, and summer pudding for dessert.