A new national lockdown means Brits will be cooking and eating at home this Veganuary. Here are the new plant-based launches that could feature on their menu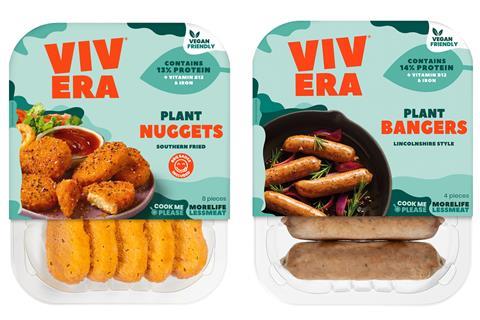 Vivera
Meat replacement brand Vivera is extending its range with two new products, which land exclusively in Sainsbury's this month. Firstly, the brand is tapping the fakeaway trend with Southern Fried Plant Nuggets (rsp: £3/180g). The nuggets are made from a chicken alternative in a crispy, southern-style coating and come with a smoky BBQ sauce for dipping. These are joined by Lincolnshire Style Plant Bangers (rsp: £3/200g), which feature traditional Lincolnshire seasoning and a casing made from algae for an "appealing" finish.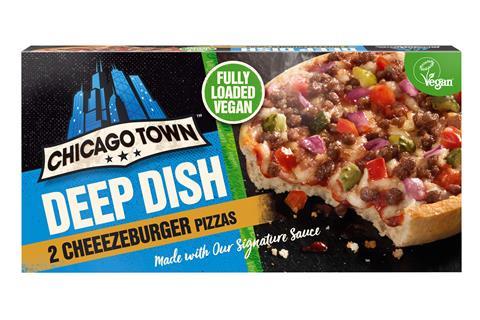 Chicago Town Cheeezeburger Pizza
Building on the success of last year's BBQ jackfruit offering, Chicago Town is growing its vegan range with two more plant-based pizzas. The first is Tomato Stuffed Crust Takeaway Smokey Bac'n and Mushroom (rsp: £3.50), whose toppings include a smoked gouda alternative and vegan bacon. The second is a two-pack of Deep Dish Cheeezeburger pizzas (rsp: £2.50), which are topped with burger sauce, vegan mince, red onions, tomatoes, gherkins and mozzarella alternative. The products both land in Tesco and Morrisons this month, with the latter also listed in Iceland.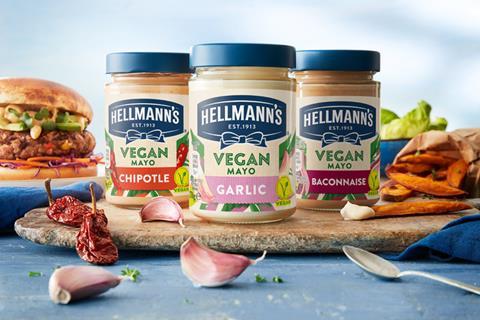 Hellmann's vegan mayo
A trio of new flavours is joining Hellmann's vegan mayo lineup this month. Chipotle and Garlic variants will join the range alongside Baconnaise, which the brand says will help vegans and flexitarians to get their 'bacon fix'. The condiments are available from Asda, Ocado and Amazon Fresh (rsp: £2.50/270g).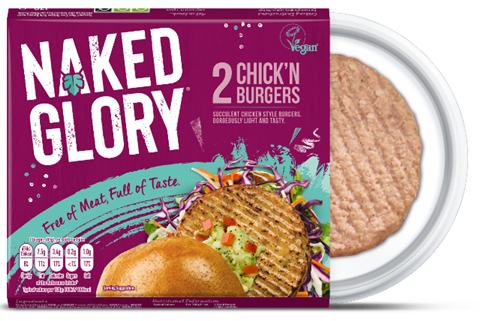 Naked Glory Chick'n Burgers
Kerry Foods' Naked Glory brand is getting two new additions this Veganuary. Its Chick'n Burgers (rsp: £2.75/170g) and No-Beef Strips (rsp: £2.75/165g) will be available in Sainsbury's, with the latter also launching into Morrisons. Naked Glory says the new products are not only "bursting with flavour", but are also high in protein and fibre.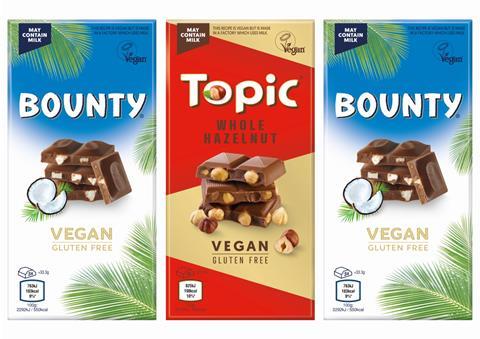 Bounty and Topic
Two famous Mars chocolate brands are getting vegan counterparts this month, in the form of "chunky" tablet bars. The Bounty bar features diced coconut pieces, while Topic is studded with whole hazelnuts. The gluten-free bars have landed in Morrisons and will roll out to Asda at the end of January (rsp: £3/100g).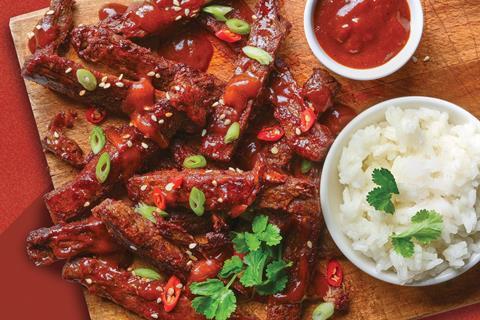 Squeaky Bean
These Sticky Chinese-style 'Ribs' are just one of four new products from Squeaky Bean this Veganuary. They will land in Sainsbury's alongside Kickin' Katsu Curry, while Crispy Duck Style Pieces with Hoisin Sauce & Pancakes will come to Waitrose. They are joined by Garlic & Herb Chicken Style Pieces, which launched in December (rsp: £3-£4).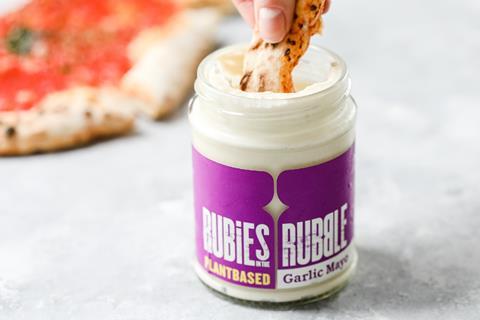 Rubies in the Rubble
Startup Rubies in the Rubble – which uses surplus produce to create its range of condiments – is adding a plant-based Garlic Mayo (rsp: £3/240g). Launching into Farmdrop, Ocado and Amazon this month and coming to Waitrose in March, the mayo is made using surplus aquafaba in place of eggs.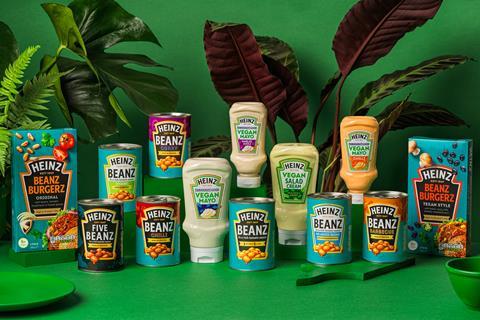 Heinz Plant Pantry
Heinz is marking Veganuary with a raft of new vegan products – dubbed Plant Pantry – which will see some of its flagship brands get plant-based versions. Vegan Salad Cream and Seriously Good Vegan Mayo (rsp: £2.89) launched exclusively into Tesco and are set to roll out further. Seriously Good Vegan Chilli Mayo and Seriously Good Vegan Garlic Aioli Mayo (rsp: £1.99) launch via Heinz to Home in mid-January and will come to stores in February. Finally, Heinz Beanz Burgerz will launch on Ocado on 14 January in Original and Texan flavours (rsp: £3).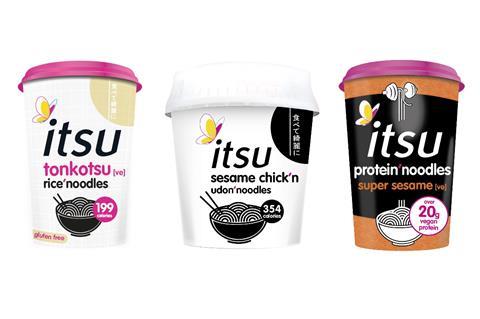 Itsu
Following the launch of its Teriyaki Chick'n Vegan Gyoza in November, Itsu is starting the new year with three plant-based noodle pot products. Its Sesame Chick'n Udon Noodles (rsp: £2.50) and Tonkotsu Rice Noodles (rsp: £1.75) will be available from Sainsbury's and Amazon, with the latter also launching into Morrisons. These will be followed at the end of the month by Protein Noodles (rsp: £2) in Super Sesame, Crackin' Curry and Mega Miso flavours.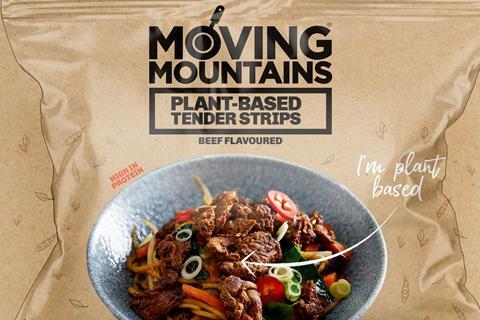 Moving Mountains Tender Strips
Made from ingredients such as pea protein, wheat and soy, these beef flavoured Tender Strips are the latest launch from Moving Mountains. The strips, which are designed as "a direct swap for beef" in dishes such as stir fries and stews, have rolled into Sainsbury's (rsp: £4.50/250g). It follows the brand's debut into fish alternatives in December, when it launched its plant-based fingers.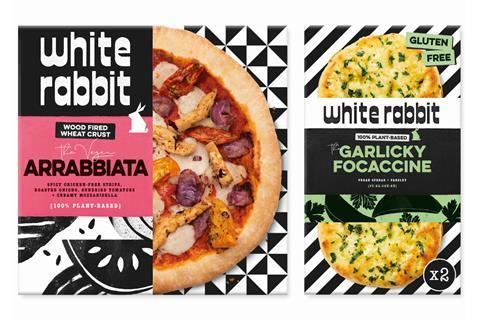 White Rabbit The Vegan Arrabbiata
Pizza challenger brand White Rabbit has made its first move beyond gluten free with its "meaty" new pizza, The Vegan Arrabbiata. The product features a wheat base and toppings such as spicy chicken-style pieces, sundried tomatoes and vegan 'mozzarisella'. It will launch into Sainsbury's on 2 January, followed by Ocado in February (rsp: £4.50/370g). The pizza will be joined by a pair of gluten free, plant-based Foccacine. The first, Farmhouse, is launching into Waitrose, while a Garlicky variant will land in Sainsbury's and Ocado (rsp: £3/2x135g).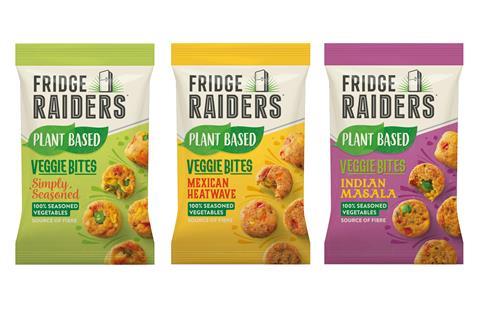 Fridge Raiders Veggie Bites
Most well known for its range of Chicken Bites, snacking brand Fridge Raiders has made its first move into plant-based. Made of 100% seasoned vegetables, Veggie Bites began rolling out in December in Simply Seasoned, Mexican Heatwave and Indian Masala flavours. They will be in Morrisons, Waitrose, Tesco, Boots and Sainsbury's by the end of this month (rsp: £1/50g-70g).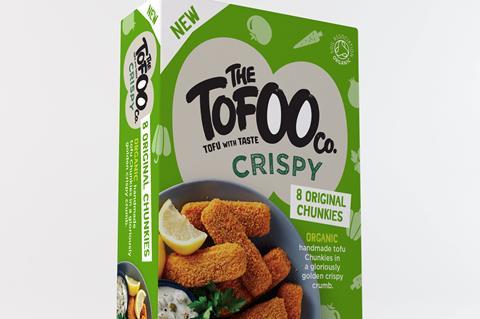 The Tofoo Co Original Chunkies
Claiming to be the UK's first frozen tofu product, these breaded Chunkies from The Tofoo Co landed in Sainsbury's at the end of December (rsp: £2.25/200g). The brand recommends serving them "in a buttie" or with chips and peas as an alternative to fish fingers.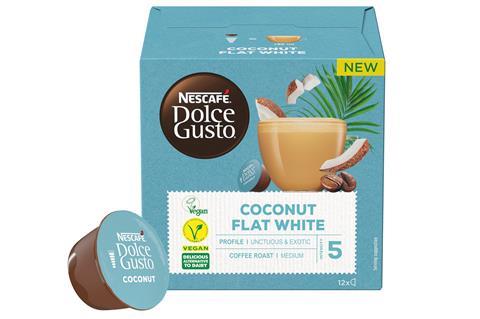 Nescafé Dolce Gusto Flat White plant-based pods
Compatible with all Nescafé Dolce Gusto machines, these dairy-free Flat White coffee pods are available in Coconut, Oat and Almond variants. They launch into Tesco and Sainsbury's this month (rsp: £3.99/12-pack).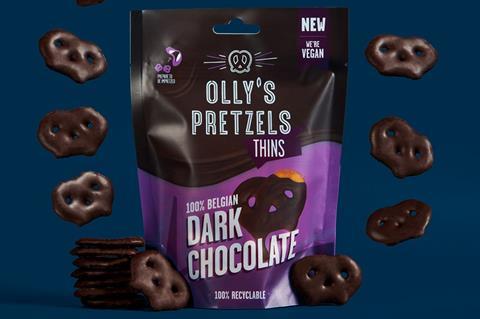 Olly's Dark Chocolate Pretzel Thins
Snacking startup Olly's is claiming a world-first with its chocolate-covered pretzel thins, which launched on its website in December. The snacks, which are available in vegan Belgian Dark Chocolate as well as a non-vegan milk chocolate variant, will roll out to retail this month (rsp: £2.50-2.75/90g).
Veganuary 2021: the new ranges coming to supermarkets
1

2

3

4

5

Currently reading

All the new branded launches for Veganuary 2021

6

7

8

9

10