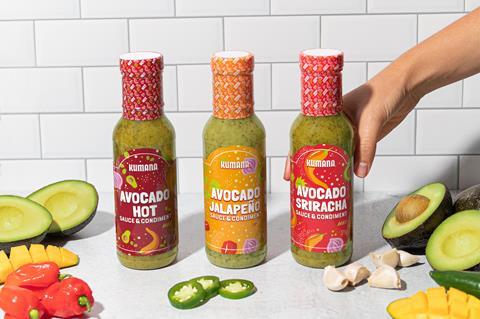 Kraft Heinz is bringing a range of Venezuelan-inspired, avocado-based hot sauces called Kumana to the UK.
The brand has quietly launched three flavours – Hot Original, Sriracha and Jalapeño – into Ocado, with a wider retail launch planned for 2022 (rsp: £4.50/371g).
They are vegan and contain a blend of hass avocados, chilli peppers, bell peppers, garlic and coriander.
The "creamy" sauces featured an "authentically South American spice blend", which provided consumers with "a flavour-forward heat experience", said Heinz.
Kumana was launched in the US in 2017 by two Venezuelan brothers who "missed the flavours of home".
Its UK launch is being spearheaded by Heinz' New Ventures Division in a bid to further expand its range of plant-based options.
Kraft Heinz president for northern Europe Jojo de Noronha said Heinz was "on a mission to expand our product portfolio with new taste experiences that will delight our consumers and support our customers".
Kumana was a "great example of the type of condiment today's consumer is looking for", de Noronha added.
It comes as Heinz is making a concerted effort to expand its plant-based offering.
As reported by The Grocer in July, the fmcg giant looks set to launch a plant-based barbecue range.
It applied to register the name 'VBQ' as a trademark with the IPO under class 29, covering vegetarian and vegan sausages and burgers and class 30 featuring seasonings, condiments and cooking sauces.
In January, it launched a slew of new vegan products, dubbed 'Plant Pantry'.
The NPD included a vegan version of its Salad Cream, a trio of vegan mayonnaises and its frozen Beanz Burgerz in Original and Texan flavours.