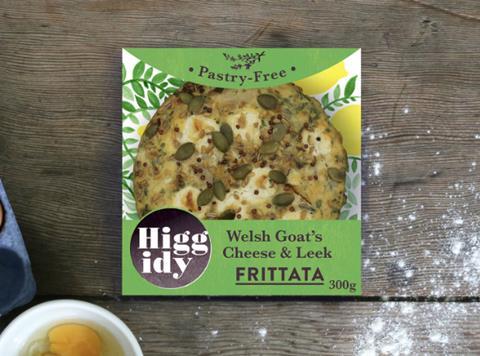 Higgidy is making a move in to healthier eating with the launch of its first pastry-free range.
Called Frittata, it comes in three variants – Welsh Goats Cheese & Leek; Chorizo, Feta & Roasted Pepper; and Spinach, Feta & Cherrybell Pepper – offering considerably less fat than the West Sussex brand's quiches. Spinach, Feta & Cherrybell Pepper, for instance, contains 7.7g of fat per 100g, whereas Spinach, Feta & Roasted Red Pepper Quiche has 17.7g.
Frittata's launch was aimed at the consumer trend for managing health "while also looking for convenient and indulgent options" said Higgidy, which hoped to tap snacking and midweek meal occasions.
While "chefs and foodies" were increasingly promoting the benefits of pastry-free dishes such as frittatas and Spanish tortillas, the current choices in grocery weren't "particularly appealing" said Higgidy co-founder Camilla Stephens. They also didn't appeal to health-conscious shoppers. "They're often quite greasy. We're offering something completely different."
Made with free-range British eggs, the new baked products "bridged the gap between food for now and food for later" Stephens added. "Traditionally, we sat in food for later – and that's another reason for Frittata."
The NPD will roll in to Waitrose from 25 October and to Tesco from 6 November (rsp: £4/400g). It will be backed by an online push in the spring.