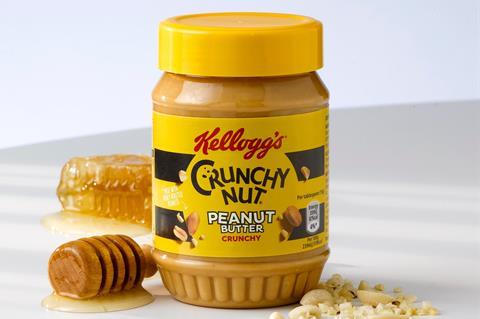 Kellogg's is taking its Crunchy Nut cereal brand into peanut butter.
The cereals giant has partnered with peanut butter manufacturer Duerr's for the NPD, which is billed as combining "two breakfast favourites".
It had "a super smooth texture combined with crunchy, honey-coated roasted peanuts to bring out the unique Crunchy Nut-like flavour that the UK knows and loves", said Kellogg's. It rolls into Sainsbury's from 19 July (rsp: £2.50/340g).
The NPD would allow Kellogg's to "meet a wider range of consumer occasions", said its revenue & channel director Ben Simpson. "With recent data revealing peanut butter sales have overtaken jam, we're confident the launch of Crunchy Nut Peanut Butter will prove to be a popular one."
Kellogg's isn't the only supplier moving long-standing brands into peanut butter. Last week confectionery giant Mars unveiled a duo of peanut butters for its M&M's and Snickers brands.
Its GM Michelle Frost hailed peanut butter as no longer being viewed as "just the perfect topping for toast" but "also a key ingredient in home baking, smoothies and of course the ideal accompaniment for an apple slice".