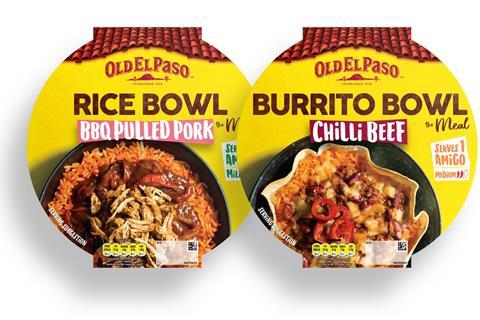 General Mills has teamed up with Samworth Brothers to launch a range of chilled ready meals under its Old El Paso brand.
Launching exclusively in Tesco on 18 September, the range comprises a duo of serves-two meals, a quartet of meals for one and a duo of sides.
The serves-two meals are: Classic Chicken Fajita and Baked Chicken Enchilada (rsp: £7.50).
Meanwhile, the range of meals for one comprises: Chilli Beef Burrito; Chilli Chicken Rice Bowl; BBQ Pulled Pork Rice Bowl; and Chilli Beef Burrito Bowl (rsp: £4.50).
Finally, the two side dishes are: Spiced Rice and Bean Chilli (rsp: £2.25).
They will roll into 876 Tesco stores nationwide.
When it came to Mexican cuisine, there "wasn't a compelling offer" in ready meals, which was "where we felt Old El Paso would perfectly fill a gap", said Tom Thornley, Old El Paso brand lead at Samworth Brothers.
General Mills customer director Maeve Judge said the expansion into ready meals would "drive growth across categories for the brand".
Philip Lawler, Tesco's buying manager for prepared meals, said he was "working hard to offer Tesco customers even more choice when it comes to their dinner options".
The launch comes after General Mills has spent recent weeks targeting health-conscious consumers through innovation for Old El Paso.
It added a burrito bowl meal kit in July followed by Extra Thin tortillas in August, which it claimed catered to those looking for "light" mealtime options.
Kraft Heinz is also hoping to capitalise on shoppers' appetite for Mexican cuisine, having launched its Las Chicas meal kit brand into Asda this week.