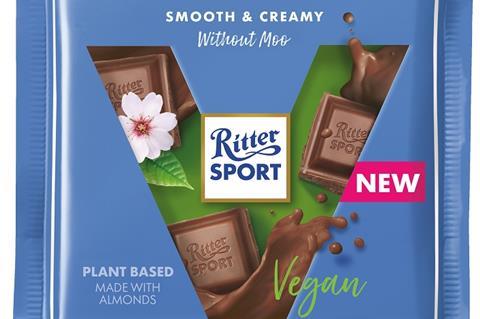 Ritter Sport has launched its first plant-based vegan chocolate.
The brand, known for its square packs, has created a dairy-free 'Without Moo' bar, which uses almond paste in place of dairy, as well as sugar, cocoa butter and 50% cocoa from Nicaragua.
The bars have rolled into Ritter's web store, where they will be available exclusively to the brand's DTC consumers ahead of a potential grocery and convenience rollout in 2023 "if sales are suitably sweet", said the brand (rsp: £1.99/100g).
To back the launch, Ritter will run a promo on its website offering three for £5 on its vegan lines, which also include "accidentally" vegan launches such as its Marzipan, 61% fine and 74% intense bars, which contain no dairy but have not been specifically marketed as vegan.
It will also support those lines in grocery, wholesale and convenience with a paid and organic social media marketing and PR campaign.
It comes as the UK's biggest chocolatiers have steadily been launching vegan versions over past years. Galaxy was the first major brand to do so in 2019 when it launched a vegan spin-off, which owner Mars followed in early 2021 with the launch of vegan Bounty and Topic bars.
Later in 2021 both Cadbury and Lindt unveiled their own vegan bars: Cadbury with a duo of 'plant bars' (which, similar to Ritter, use almond paste) and Lindt, with a duo made from "a combination of premium cocoa blended with gluten-free oat drink" as well as almond paste.