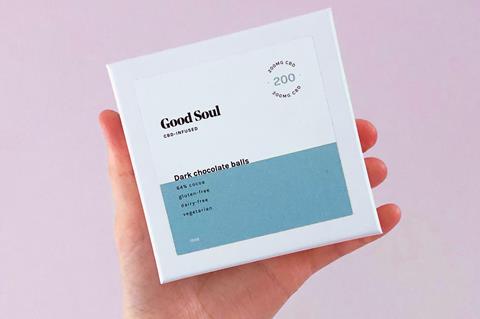 Startup Good Soul has unveiled what it claims is the UK's first premium boxed chocolate containing CBD.
The brand launched this week as a direct-to-consumer offer – described as "a modern CBD edible for the modern cannabis consumer". Priced at £22, each 100g box of Dark Chocolate Balls contains 200mg of cannabidiol and is 64% cocoa.
Unlike many foods and drinks in the UK's emergent CBD market, Good Soul uses full-spectrum CBD rather than cheaper-to-extract isolate. This means the chocolate contains a purer form of CBD and is not subject to the stricter new FSA regulations of cannabidiol products.
Good Soul uses organic hemp grown in the US. The extracted CBD is subjected to gas chromatography – which "completely removes any trace of THC" according to the brand. The process ensured the chocolate was "one of the only products in the UK with exactly 0% THC".
It was aimed at people who wanted "to integrate cannabis into their lives in thoughtful ways" said Good Soul director Victoria Weiss. "I want people to consume cannabis without feeling like it's a product they should hide.
"We've created a product where every detail, from the feel of the packaging to the dosage of CBD, were all meticulously explored and executed with the consumer's experience and needs in mind," she added.
Good Soul arrives amid a flurry of activity in the UK's edible CBD space. Last week, startup Nooro rolled its CBD lemon & ginger snack bar into Planet Organic, while the likes of Jackpot peanut butter and soft drink brand Drink 420 have also unveiled cannabidiol products this year.