As Easter approaches, we take a look at the new dairy-free eggs on offer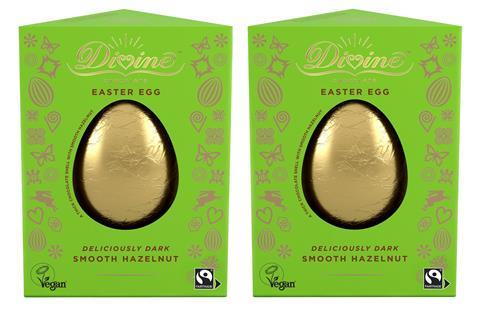 Divine
Fairtrade chocolatier Divine has added a vegan Deliciously Dark Smooth Hazelnut egg (rsp: £5/90g) to its Easter range, which this year is completely plastic-free for the first time. The brand has changed its egg packaging to a three-sided box, which not only saves on cardboard but creates a "snug triangular shape" to hold the egg in place, eliminating the need for a plastic inner tray. Available in Ocado, Waitrose and Tesco, the hazelnut egg is joined by a new, non-vegan Smooth Milk & Tangy Orange variant, which has landed in Ocado (rsp: £5/90g).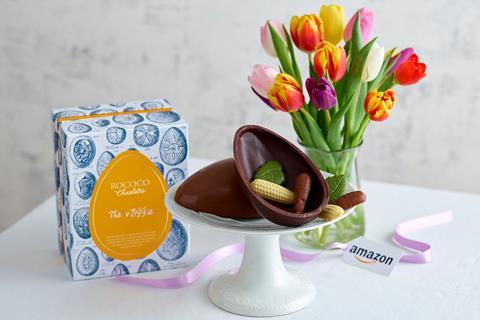 Rococo
It's your 5 a day, but not as you know it. The Veggie from upmarket chocolatier Rococo is made with a combination of dark and vegan 'milc' chocolate, and uses natural colours and flavourings extracted from vegetables. Half of the shell is flavoured with tomato, the other half beetroot, and it contains six mini vegetable-shaped chocolates. Each of the sweetcorn, spinach and carrot confections are flavoured with the real thing. The egg has been made in collaboration with Amazon and will launch on the site in early March (rsp: £32.95/230g).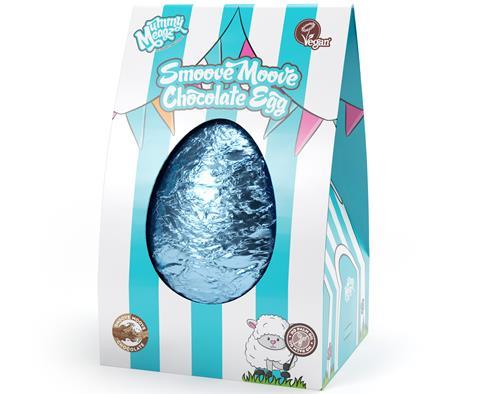 Mummy Meagz
Inventor of the vegan creme egg, Mummy Meagz is launching three new products into Holland & Barrett this Easter. The first is a Choccie Orange Easter Egg, which brings the brand's Orange Choccie Bar into egg format for the first time (rsp: £6.99/165g). This is joined by a Smoove Moove egg (rsp: £3.99/70g), made with a combination of dark and vegan 'mylk' chocolates. The final addition is a Sunnycomb Bar (rsp: £1.49/35g), a crunchy honeycomb bar encased in dark chocolate.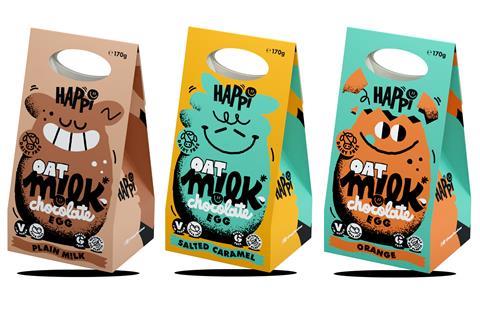 Happi
New startup Happi, which debuted at the start of February, has launched three oat milk chocolate eggs into Selfridges (rsp: £9.99/170g). The allergen-free eggs come in Orange, Salted Caramel and Plain Milk flavours and feature fully recyclable packaging. The eggs join Happi's newly-launched range of chocolate bars and buttons, which land in Selfridges, Ocado and independents this month.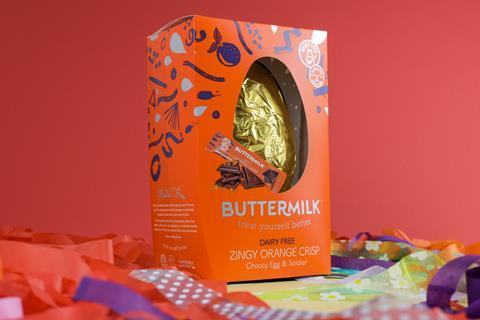 Buttermilk
You've heard of egg and soldiers. But Buttermilk's new chocolate trio is something quite different. Each of the Choccy Egg & Soldiers features a 'generously thick', dairy-free chocolate egg and a chocolate bar 'soldier' in the corresponding flavour (rsp: £6/170g). The first two flavours, Salted Caramel Crunch and Zingy Orange Crisp are available in Tesco and Sainsbury's, while a white chocolate Crispy Berry Sundae flavour can be found on Amazon and online vegan stores.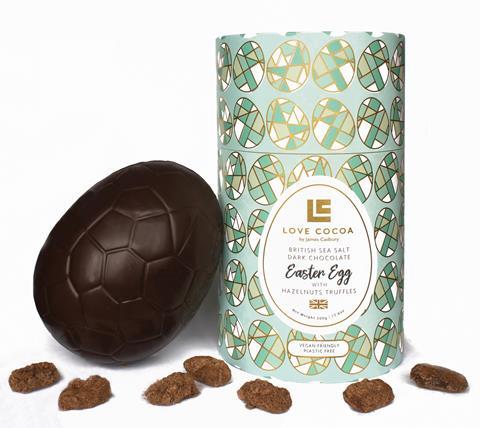 Love Cocoa
Palm oil free, plastic free and promising to plant a tree with each purchase, Love Cocoa's Sea Salt Dark Chocolate egg is a virtuous choice this Easter (rsp: £35/500g). The giant egg is made with 70% dark chocolate flavoured with Maldon Salt and is filled with dark chocolate hazelnut truffles. It is available from the brand's website from this month.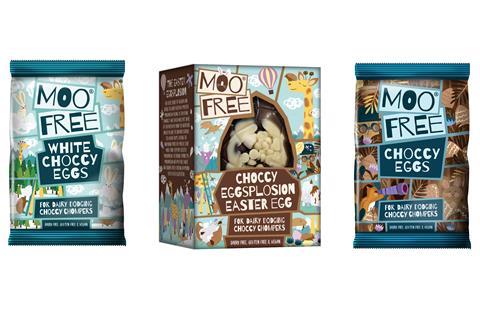 Moo Free
As well as a pair of plant-based 'milk' and white Choccy Mini Eggs (rsp: £2.50/80g), which have launched exclusively into Tesco, Moo Free is adding a Choccy Eggsplosion Easter Egg this year (rsp: £3.50/95g). The egg is made with the brand's vegan 'milk' chocolate, and completed with white chocolate splashes, marshmallows and chocolate drops. It has landed in Lidl, Asda, Morrisons, Waitrose and Ocado. As with the rest of Moo Free's gluten-free, soya-free and vegan range, the products are made in a dedicated free-from factory.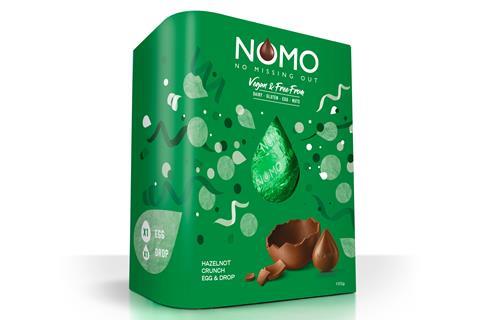 Nomo
Vegan and free-from chocolate brand Nomo is making two new additions to its Easter egg range (rsp: £6/155g). The Caramel Egg features a caramel-flavoured egg and a gooey caramel chocolate bar and is available exclusively from Tesco. The second new addition is a 'Hazelnot' egg, which is said to be perfect for nut-allergic consumers who crave the taste of nutty chocolate. The egg, which gets a crunchy texture from rice crispy pieces and cocoa nibs, is available at Asda, Holland & Barrett and Waitrose and includes a bag of Hazelnot drops.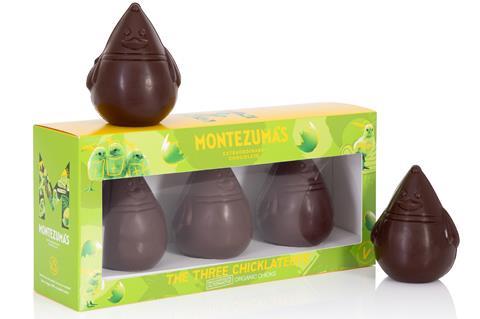 Montezuma's
There are a few new faces in Montezuma's Easter range this year, including its first 'brood' of chocolate chicks, The Three Chicklateers. These are available in both dark chocolate and milk chocolate alternatives (rsp: £10/225g). Also joining the brand's range of chocolate chickens – which have been given new gender-neutral names for 2021 – is Frizzle, a dark chocolate hen with cocoa nibs (rsp: £9.50/200g).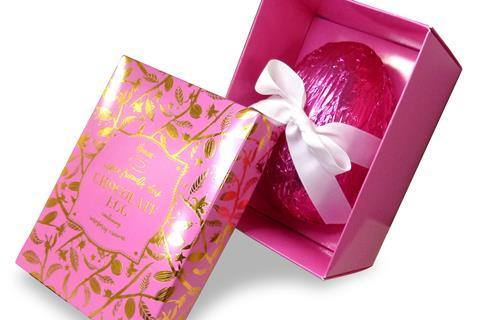 Hames
Making its first foray into vegan Easter eggs is Lincolnshire chocolatier Hames, which is adding two dairy-free variants this year. Made from "thickly moulded", creamy dark chocolate, the first egg contains vegan honeycomb bunnies, while the second is filled with raspberry creams (rsp: £12.50/240g). They are available from the brand's web shop alongside three new, non-vegan additions.