Asda has unveiled a sneak preview of its Christmas range for 2023, with a number of its dishes featuring its flavour of Christmas 2023: brown butter and spiced dark rum. Brown butter has become a trendy flavour in recent years, trickling down from restaurant menus to social media chefs and home cooks.
The flavour combination can be found in various products such as mince pies and slow-cooked turkey.
Highlights of the range include the smoked salmon & beetroot terrine wreath, as well as the miso & yuzu pulled pork bao bun kit and camembert & cranberry savoury profiteroles.
Asda has also expanded its offerings to accommodate dietary requirements, with 57 new vegan and 35 new free-from products.
"We believe that amazing, tasty food and drink is a pleasure everyone should be able to enjoy," says interim chief customer officer Sam Dickson.
Extra Special Brown Butter & Rum Mince Pies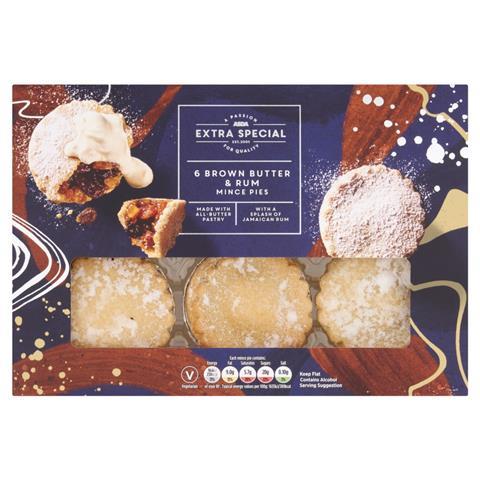 All-butter short crust pastry with brown butter and filled with a spiced vine fruit and citrus peel mincemeat, topped with a Jamaican rum.
OMV! Crumble Topped Mince Pies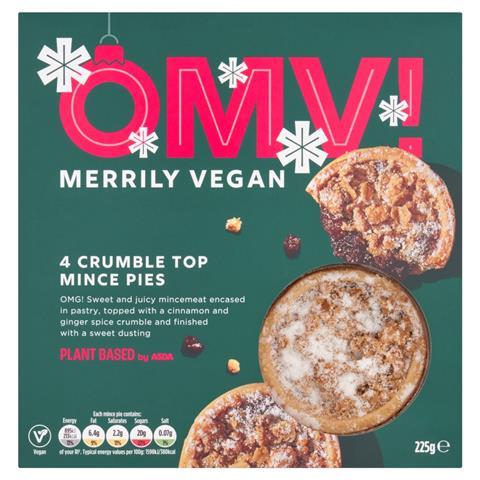 Fruit-packed vegan mincemeat filling and topped with cinnamon and ginger spiced crumble.
Extra Special Chocolate & Cherry Crumble Mince Pies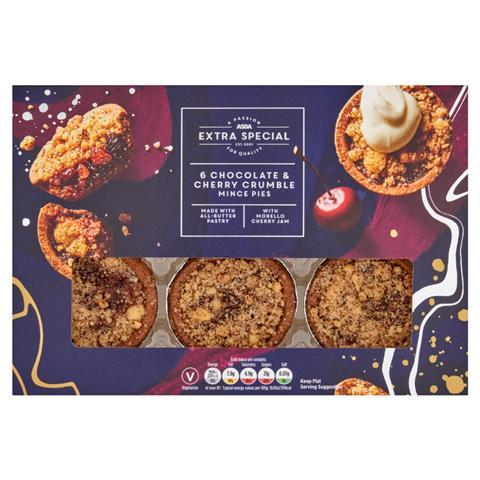 Made with chocolate flavour, all-butter short crust pastry and filled with sweet cherry jam and mincemeat, topped with chocolate crumble.
Extra Special Christmas Sourdough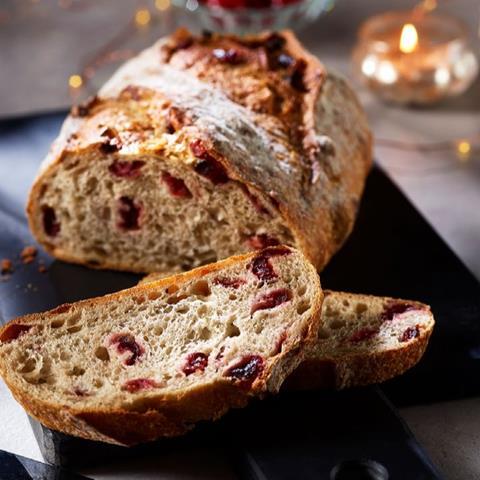 This Extra Special Christmas Sourdough has been fermented for 16 hours and finished with cranberries and red onion. Asda suggests pairing with its Extra Special Cherry & Amaretto Jam or Extra Special Mimosa Marmalade for a special breakfast during the Christmas period.
Smoked Salmon & Beetroot Terrine Wreath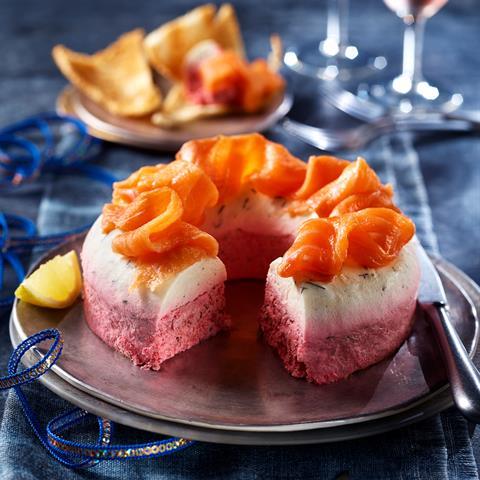 An eye-catching and colourful layered salmon terrine, essential for impressing party guests. Combines honey-roasted salmon, smoked salmon and beetroot in the base layer, then topped with a dill and cream cheese mousse and finished with hand-ruffled smoked salmon.
Extra Special Miso & Yuzu Pulled Pork Bao Bun Kit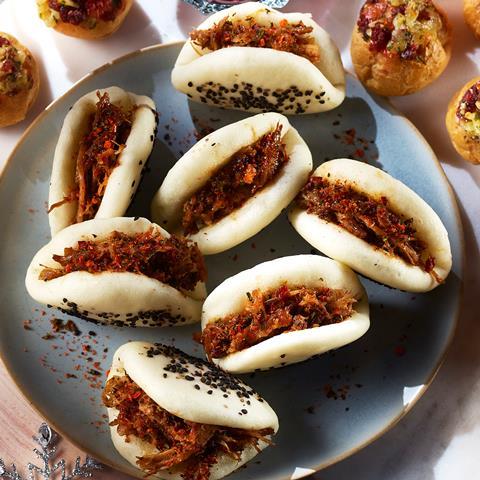 Bao buns are becoming a party staple, instantly elevating any platter. Asda's bao buns are made with beautifully seasoned pulled pork in a rich miso and yuzu sauce, served in fluffy buns and topped with a smoked salt and ancho chilli sprinkle.
Extra Special Camembert & Cranberry Savoury Profiteroles
These savoury profiteroles are ideal finger food for any Christmas celebration. Indulgently filled with a pillowy, creamy camembert sauce, and topped with a cranberry, cheddar and parsley crumb for a sweet and crunchy finish.
Extra Special Charred Tomato Prawn & Lobster Cocktail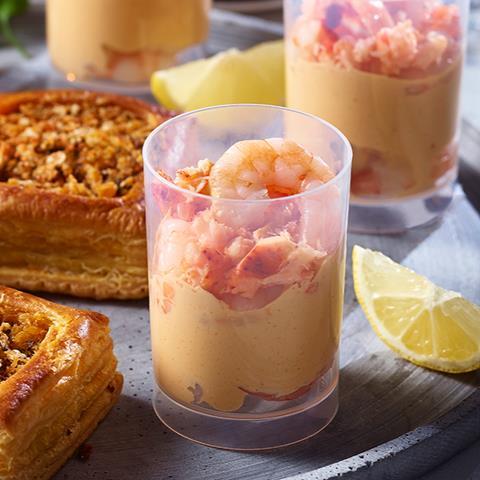 A luxurious twist on the classic, says Asda. King prawns in a charred tomato cocktail sauce and topped with a sprinkle of cooked lobster.
Scallop & King Prawn Vol-Au-Vents with Brown Butter & Spiced Dark Rum Sauce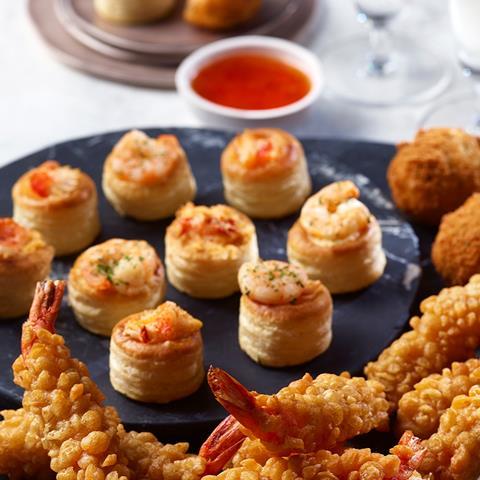 These scallops and king prawns have been cooked in signature brown butter and spiced dark rum sauce, and encased in an indulgent and impressively sized puff pastry vol-au-vent.
Extra Special Brown Butter & Spiced Dark Rum Stuffing Wreath with Brûléed Pigs in Blankets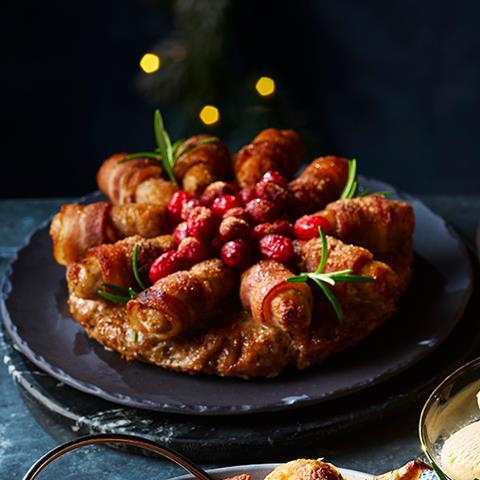 An eye-catching pork stuffing wreath made using only British prime pork cuts. Infused with Asda's signature flavour, this stuffing wreath contains pronounced notes of rich brown butter and spiced dark rum. Hand decorated with Extra Special pigs in blankets.
Extra Special Ruby Port Drenched Sirloin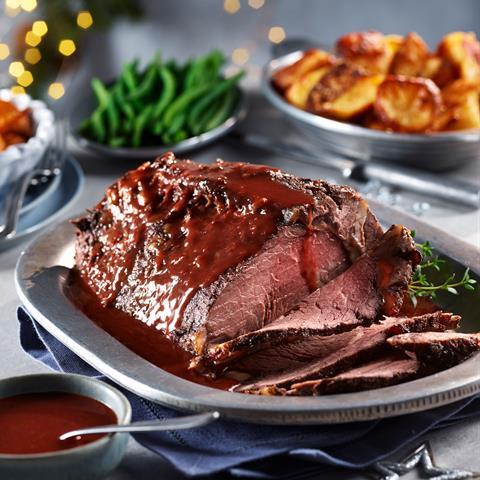 A luxurious option for a Christmas dinner centrepiece for those done with the traditional turkey. This 21-day matured sirloin is soaked in ruby port for nine days and accompanied with a port drizzling sauce for extra juiciness.
Extra Special Gammon Joint with Brown Butter & Spiced Dark Rum Glaze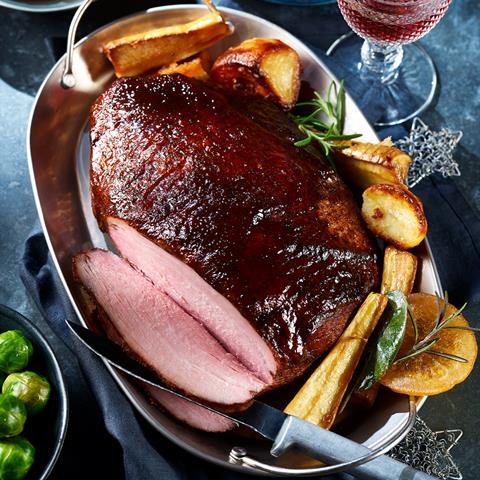 Gammon is always a favourite at Christmas, and this British pork leg is slow-cured with sea salt and demerara sugar infused with cinnamon, nutmeg, anise, vanilla and clove. Drenched with a sticky spiced dark rum, maple and brown butter glaze.
OMV Oyster & Porcini Mushroom Wellington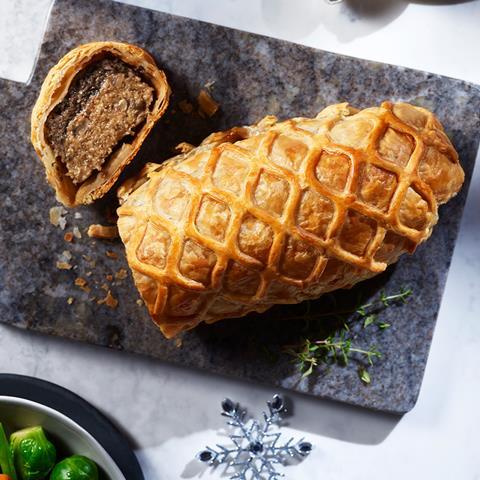 This wellington is made with white and oyster mushrooms bound with pea protein. Topped with a rich chestnut and porcini mushroom duxelles and encased in a flaky no-butter puff pastry.
Extra Special Sundried Tomato Stuffed Monkfish Wrapped in Prosciutto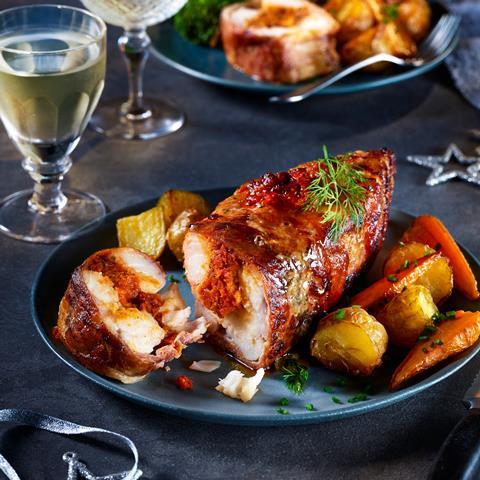 A new addition to the dinner table, this meaty British monkfish tail is infused with a tangy sundried tomato and lemon stuffing. Wrapped in prosciutto and complemented with rosemary and sage basting butters.
Extra Special Brown Butter & Spiced Dark Rum Stollen Wreath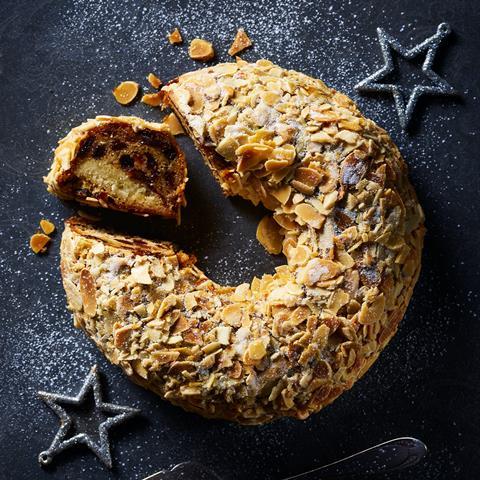 This stollen wreath is made with Asda's signature flavour this year: brown butter with spiced dark rum-soaked vine fruits. Throughout the product you can find a beautifully balanced mix of peel, cherries and marzipan. The stollen has been twice hand-dipped, first in a spiced rum mix and secondly in butter, then, hand-finished with dark roasted almonds and a sweet dusting.
Extra Special Chocolate & Honeycomb Avalanche Dessert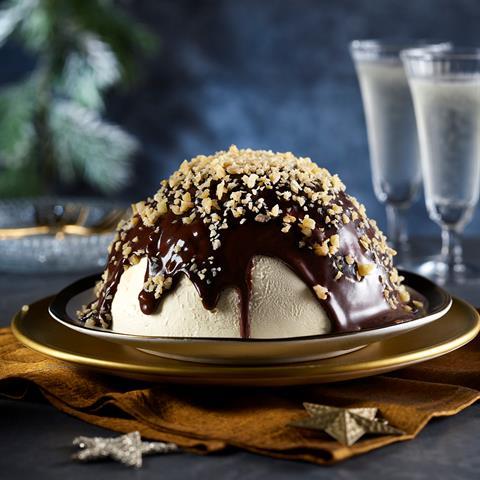 The showstopper. This frozen dessert is a salted caramel semifreddo filled with salted caramel sauce, milk chocolate shavings and honeycomb pieces. Finished with milk chocolate sauce and hand-placed honeycomb pieces. Customers are invited to remove the collar at the table, allowing the sauce to flow down the dessert.
Extra Special Amaretto & Cherry Cheesecake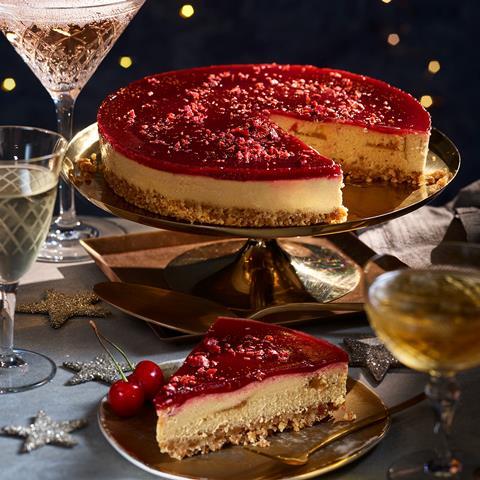 This speculoos biscuit base is topped with caramel cheesecake batter and finished with amaretto sauce pockets. Decorated with cherry glaze, sour cherry pieces and hand-finished with an amber shimmer.
OMV Strawberry Trifle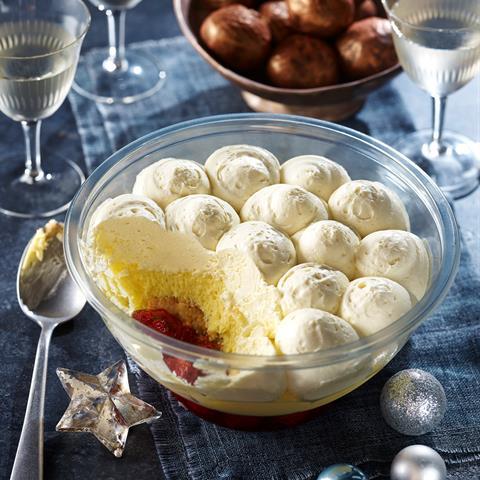 An alternative to a dairy-based trifle that does not compromise on flavour, claims the retailer. It describes the dessert as a tangy strawberry compote made from whole strawberries, topped with hand-placed egg-free sponge and a dairy-free custard, and finished with a lentil and coconut cream.