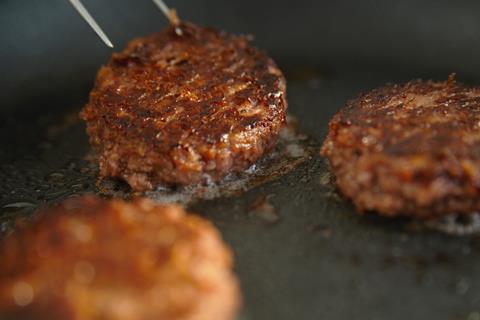 Israeli plant-based startup Redefine Meat has secured $6m (£4.9m) in funding to bring its "world first" meat alternative 3D printer to market.
The Tel Aviv-based business has won investment from CPT Capital, owned by private equity investor Jeremy Coller, Israel-based Hanaco Ventures and Germany's largest poultry supplier PHW Gruppe, which is also Beyond Meat's distribution partner across Continental Europe.
Due to be launched next year, Redefine Meat's proprietary 3D printing technology uses the same ingredients used by standard plant-based meat alternatives such as soya protein and coconut oil.
But instead of putting the ingredients through an extruder as used in standard meat alternative production, they can be isolated and laid down in dots by the 3D printer, which then builds a product "from the inside out", said Redefine Meat's co-founder and CEO Eshchar Ben-Shitrit.
The process, known as additive manufacturing, allows food manufacturers to better copy both the taste and genetic make-up of meat, he added.
"Throughout this process the 3D printer controls the placement and interaction of the ingredients, whether it is protein, fat or flavouring," Ben-Shitrit told The Grocer. "That allows us to achieve variation in the hardness of the bite in your mouth, when flavour will be released, and to replicate the sensation you have when you eat meat."
While the business had already perfected the manufacture of mince and burgers, the investment would allow Redefine Meat to perfect the creation of "whole-muscle" products such as steak, he added. It would also allow it to create industrial-level 3D printing machines.
The company said the machines could be used by food manufacturers, retailers and even individual restaurant chains. A single machine could make up to 10kg of meat alternative product per hour, representing the equivalent of a cow a day, it added.
The business also claimed products made using its tech had a 95% smaller environmental impact than animal meat, no cholesterol, and cost significantly less to produce.
Customers would also have the ability to design the characteristics of their own product, based on seasonality, changing demands and consumer preferences, Ben-Shitrit said.
Redefine Meat had already secured PHW as a distribution partner in Germany and was also in discussions with potential UK partners over a British launch of the technology.
"Our goal is not just to develop a new food product, but to introduce a new technology for developing, producing and scaling meat alternative products," added Ben-Shitrit.
PHW Gruppe CEO Peter Wesjohann said: "There is currently no other company that has demonstrated such an impressive development in the field of 3D printed meat.
"We see Redefine Meat as a strategic investment, especially regarding the future product development for the European market and our broad distribution network."