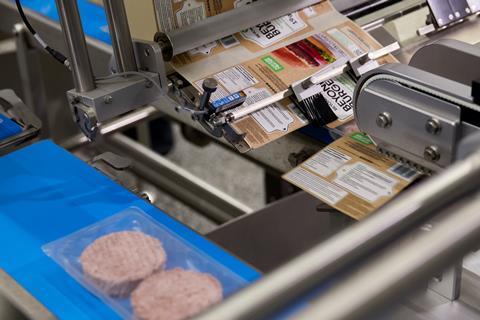 Beyond Meat will start European production by the end of 2020, having completed work on a new factory in the Netherlands and acquired a second site dedicated to product innovation.
The US plant-based giant will officially open its first European manufacturing facility today (11 June), in partnership with distribution partner Zandbergen World's Finest Meat. Work started on the site just over a year ago.
The facility, located in the Dutch municipality of Zoeterwoude, will be owned and operated by Zandbergen and would allow for "more efficient" distribution of Beyond Meat's products across the EMEA region, it said.
European production would also open the doors for more NPD, said Beyond Meat's chief growth officer Chuck Muth, who signalled the brand's intention to increase its product range in the UK and Europe from its existing lineup of the pea protein-based Beyond Burger and Beyond Sausage.
The move would also reduce costs for the business and allow its products to be "more affordable" he told The Grocer, while accepting the relatively high price of Beyond Meat's products in the UK had been "an issue".
The plant would also produce lighter, more sustainable packaging, featuring fully recyclable trays and 30% less material overall by reducing paper and plastic use, Beyond Meat said.
In a separate move, the brand this week acquired a facility in the Dutch city of Enschede, which will become its European innovation base and the home of its plant protein ingredient manufacturing.
The facility is also expected to become operational by the end of 2020, and would give Beyond Meat "end-to-end manufacturing capabilities in Europe", it added.
"This latest investment in production capacity reflects our continued commitment to serving global markets," said Beyond Meat founder and CEO Ethan Brown.
"Our new facility in Enschede will not only bring production closer to the consumer, representing an investment in the markets and communities we serve, but is expected to allow us to leverage local supply chains, improving our cost structure and sustainability of operations," Brown added.
"We are excited to take this next step in bringing the nutritional and environmental benefits of our plant-based meats to the European consumer."
The move comes in the same week Beyond Meat announced a major push into the Chinese market, after it signed an agreement with imported food distributor Sinodis to sell its products across China. The deal will span a network of more than 4,500 wholesalers in grocery retail, in addition to the restaurant and hospitality sector.
Beyond Meat reported an 239% increase in sales for the 12 months 31 December to $297.9m, according to its global year-end results, posted on 27 February. Gross profit was $99.8m, or 33.5% of net revenues, compared to a gross profit of $17.6m, or 20.0% of net revenues in 2018.