When new restrictions on the display of foods as part of the HFSS regulations come into effect in October, the grocery sector will change shelf layouts. Find out how Planogram Publisher can help you tackle the challenges and opportunities this will bring.
Sometimes, the only constant is change. Over the past few years, a series of extraordinary events – ranging from pandemic-related panic buying through to immense disruption in the global supply chain – have forced grocery stores to rethink layouts and lines, often almost literally overnight. And as 2022 continues, further change is still to come.
When new restrictions on the display of foods that are high in fat, sugar, and salt (HFSS) come into effect in October, the grocery sector will face what is arguably the biggest premeditated shakeup to store layouts in recent history. With strict limitations applied to their placement, products that fall under the purview of HFSS legislation will be subject to a major shift in their in-store positioning.
For the consumer packaged goods (CPG) brands that manufacture those items, these changes will necessitate a significant change in approach. While high-impact placements and volume promotions will have formed an integral – and undoubtedly effective – element of their marketing strategy to date, those opportunities will simply cease to exist come the autumn.
As challenging an environment as that will create for many CPGs, that's not to say that there aren't ways to navigate it effectively. And while there's no "one-size-fits-all" solution to the issues posed by HFSS, there is at least a common path for brands to walk – one that starts with a smarter approach to understanding the shelf.
Changing rules fuel differing priorities
When the new HFSS rules kick in, it's likely that two "groups" of brands will emerge. In the first will be those whose products have fallen foul of the new legislation and been displaced from in-store feature space as a result. In the second will be those with an opportunity to move their products into the areas vacated by their peers. The needs of each will be distinct.
On the one hand, for example, will be a group of companies that need to rethink their go-to-market strategy, whether by reformulating their approach to the aisle, exploring new product development (NPD), or something entirely different. On the other will be a – potentially much larger – group who have the chance to elevate their products into feature positions, but don't necessarily have a practical understanding of how best to do so.
Some CPGs, by virtue of the breadth of their offering, will find themselves within both groups at once – dialling some products down even while others move up. But in both cases, what those brands need most is the ability to make shelf-related recommendations to their retail partners using data-driven insights.
This is where Planogram Publisher – a new tool from dunnhumby and exclusive in the UK to Tesco Media & Insight Platform – shows its true value.
Drawing from more than four billion different datapoints, Planogram Publisher allows brands to analyse the placement of their products both across the Tesco store estate as a whole, and down to SKU level within specific categories, key store groups, and individual locations. This is the first time Tesco has made its planogram data available in this way so presents an exciting opportunity for brands.
Planograms establish context and consistency
Planograms enable brands to understand exactly what it is that their customers see when shopping a store or category – something that is hugely important given the challenges posed by HFSS.

First of all, to understand the full implications of the HFSS regulations, CPGs need a comprehensive understanding of how their products appear in stores today. That knowledge also needs to extend across multiple stores and formats, since product placements can vary considerably from location to location and from layout to layout.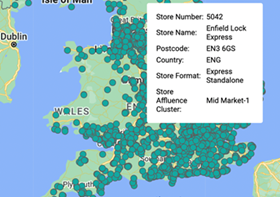 This is primarily an issue of efficiency. Sending field sales teams out to thousands of stores is disruptive and slow, and comes with little guarantee as to the quality of the data that is generated, either. Planograms, by taking that information direct from the source – the entire Tesco UK store network in the case of Planogram Publisher, for instance – offer both greater accuracy and the ability to evaluate product positioning in a more strategic and cohesive way.
There are other dimensions here, too. For those brands whose products are moving out of feature space, one of the key priorities will be to ensure that they can maintain the same level of customer-facing product in the store as a whole – in this case at aisle level. And for those whose products may be moving in to those positions, will come the need to present those items as effectively as possible within the wider context of the shelf.
Planograms can assist with all of these objectives, providing brands with consistent, coherent – and most of all, accurate – insights about their products in situ. They offer a true facsimile of their in-store presence, all without needing to send out teams of people to gather data about product line-ups.
Better insights fuel better decisions
These insights can have a tangible impact on brand marketing decisions. For many of the CPGs that will be negatively affected by October's changes, for instance, NPD is likely to become a major priority. By giving them the ability to understand how new products might fit into the lineup of a shelf, how shoppers will see them, and what the opportunities for differentiation are, planograms can help to maximise the effectiveness of their NPD investments.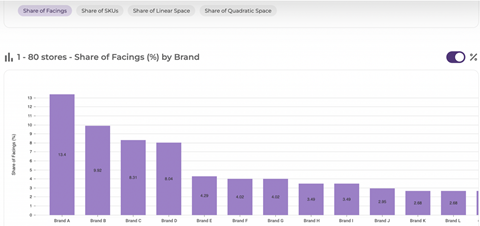 The same principles apply for those who want to protect their share of space on the shelf. With layouts changing, planograms can provide brands with proof as to how much of the category their product accounts for – enabling them to make smart recommendations about the amount of shelf space their items deserve based on fact rather than feeling. The same insights can also be used to understand how position affects performance with shoppers.
There's also the subject of retail media to consider. By understanding how a category is laid out on shelf, brands can optimise their investments into store marketing tactics like aisle fins and shelf dividers – ensuring that the messaging and creative they employ supports discovery, and helps shoppers to find the products that they want quickly and easily.
The incoming HFSS regulations raise numerous questions for brands, many of which may not even be apparent just yet; we're undoubtedly at the beginning of a period of change, rather than being at the end of it. There will be few easy answers during this time, but better insights will empower CPGs to make smarter decisions, and remain agile and flexible in the face of continued change.
Understanding how shoppers behave when those changes occur is undoubtedly the future of category management – and attempting to do so without access to good planogram data will be virtually impossible.
Planogram Publisher is a new tool developed in partnership by dunnhumby and VST (Virtual Store Trials) and is exclusive to Tesco Media & Insight Platform in the UK .
To find out how Planogram Publisher can help you tackle the challenges and opportunities of HFSS legislation contact us to start the conversation.

dunnhumby is the global leader in Customer Data Science, empowering businesses everywhere to compete and thrive in the modern data-driven economy. We always put the Customer First. Our mission: to enable businesses to grow and reimagine themselves by becoming advocates and champions for their Customers.