From introducing new products to rewarding loyal shoppers and building a database, find out how you can use mobile coupons to drive success into your next marketing campaign.
In today's marketing landscape, mobile coupons have emerged as a potent tool, catering to the evolving needs of consumers and the environmental consciousness of our times.
In a survey run last year, savi discovered that over a third of shoppers rely on coupons to get by, and 44% prefer them to any other kind of promotion[savi]. This confirms their increasing reliance on special offers to stretch budgets, coupled with the convenience of mobile devices for shopping, proving that mobile coupons are ready for their big moment in marketing.
How coupons can activate a campaign
As consumers transition from print and paper coupons to a digital era, the possibilities for mobile coupons are exciting, making them a versatile component of modern marketing campaigns.
From introducing new products to rewarding loyal shoppers to building a database – there are so many ways in which coupons can activate a campaign.
So, why should suppliers consider embracing mobile coupons in their marketing strategy?
1. Bring activations to life
Mobile coupons inject vitality into marketing campaigns by bridging the gap between engagement and actual sales, making innovative gamification and experiential campaigns more rewarding when combined with mobile coupons.
A standout example is Coca-Cola, where the company's activation team was looking for new ways to engage consumers and get them to trial their Zero Sugar brand, while driving footfall into stores.
Their recent augmented reality #takeataste campaign using savi's mobile coupons, resulted in unprecedented participation and positive feedback. "The first-of-its-kind, digital out-of-home AR campaign enabled thirsty fans to grab a virtual Coca-Cola Zero Sugar straight off a digital poster by scanning a QR code, then follow a map and exchange it for the real thing in a participating Tesco Group store," they said. "savi seamlessly managed our coupon delivery and the redemption process and feedback from consumers and customer partners has been positive."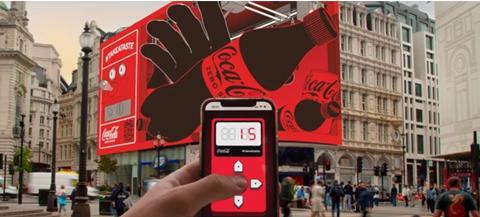 2. Gather richer data
Mobile coupons empower brands to collect valuable first-party data and establish long-term relationships with consumers. Insights into shopper behaviour, obtained when they download and redeem digital offers, allow brands to deliver more relevant and timely options.
This data-driven approach is particularly successful in encouraging consumer engagement, as demonstrated by Love Corn, which enhances its social ads with money-off mobile coupons and gains valuable insights to improve future campaigns.
Lily Convey, marketing manager at Love Corn, says: "Mobile coupons are invaluable in encouraging consumers to engage with our content and provide contact data for us to communicate with. We also use the insights to help us understand our target market, their behaviour, and how they react to offers, allowing us to deliver more targeted and effective campaigns in the future."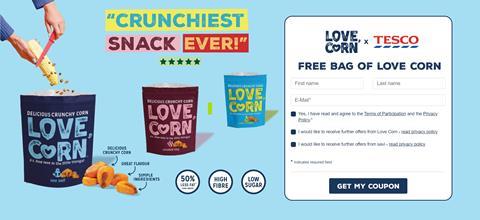 3. Be even kinder to the planet
The shift from paper to digital coupons significantly reduces the use of paper, ink, transportation and waste. This not only benefits the environment but also aligns with brand and consumer sustainability goals. Nut butter brand, Pip & Nut, which has a commitment to better business that includes responsibly sourced ingredients and recyclable packaging, says:
"Being B Corp-certified means we commit to high standards of social and environmental responsibility and continually pursue better practices across our business. Mobile coupons are ideal for us to distribute some offers and pass the value on to shoppers in a way that is sustainable and more convenient for them, the retailers, and us at Pip & Nut."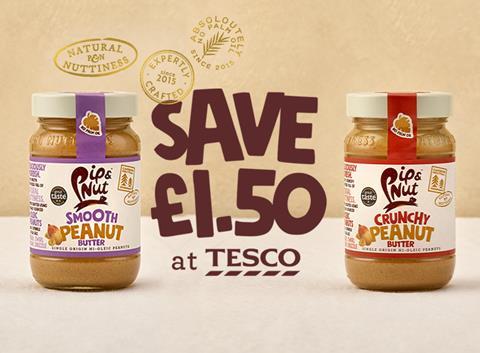 4. Run dynamic campaigns
Mobile coupons not only provide marketers with an incredible level of agility but also seamlessly integrate with programmatic advertising, enhancing their adaptability and precision. Unlike traditional paper-based methods, mobile coupons can launch in a matter of days, aimed at specific target audiences, and can then be rapidly adjusted, optimised and even personalised in real-time, ensuring a dynamic response to changing market conditions and consumer preferences.
Marketers can leverage programmatic advertising to deliver tailored offers to specific audiences, using geo-targeting to pinpoint consumers based on their location, interests, and behaviours. This combination enables precise, immediate adjustments to the nature of offers, the target audience, and the distribution channels. The flexibility of mobile coupons within programmatic strategies allows for swift adaptation and experimentation, making them a highly effective tool for businesses.
5. Feel more secure
The digital nature of mobile coupons provides multiple layers of protection, reducing the risks associated with fraud. Each mobile coupon can be uniquely encrypted, making it more challenging to replicate or misuse. Additionally, authentication processes and secure redemption methods add an extra level of security.
The digital tracking and verification systems associated with mobile coupons enable better monitoring and control over their distribution and usage, significantly reducing the potential for counterfeit or unauthorised duplication. This heightened security not only protects businesses from revenue loss but also fosters greater trust and confidence among consumers, ensuring a more dependable and fraud-resistant couponing system.
There are many more reasons why mobile coupons can turbo-charge your next campaign, but savi believes success lies in their unparalleled ability to improve customer engagement, drive sales, and gather valuable consumer data.
No longer a dream for the future, mobile coupons provide a seamless, convenient, and eco-friendly way for brands to connect with their audience, not just catering to today's device-dependent consumers but also offering a versatile platform for targeted and personalised marketing. Their agility allows for real-time adjustments, ensuring campaigns stay dynamic and responsive. Furthermore, the inherent security features minimise fraud risks, offering a more reliable and trustworthy system.
Overall, mobile coupons enable brands to stand out in a competitive market. Could mobile coupons be your next big marketing success story?
savi has been processing and settling coupons for over 50 years and understands better than most the power a mobile coupon campaign can wield. Contact the company here to discover how mobile coupons could transform your next campaign and benefit your business.
Formerly known as Valassis, savi is a marketing technology company that connects shoppers, retailers, and brands through innovative mobile, digital, and print solutions. Delivering over £300m worth of savings to shoppers annually, savi clears 87% of FMCG national brand coupons accepted in over 19,000 retail outlets nationally. We work together across social, online, in-store, and shopper-care channels, leading clients to get more from their marketing promotions: driving sales, increasing loyalty, and activating customers for over 50 years. Find out more about savi's mobile coupon solutions here: https://saviuk.co.uk/solutions/coupons/mobile-coupons
View full Profile