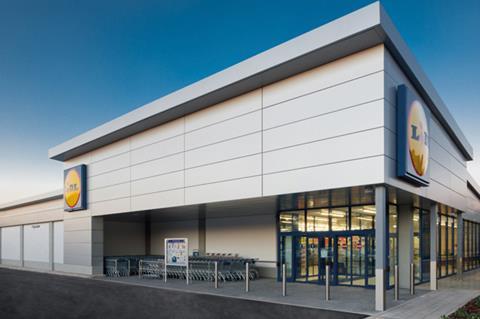 Lidl has become the latest supermarket to announce it will hand back business rates relief, following Tesco, Sainsbury's, Asda, Morrisons and Aldi.
The discounter said this morning it would refund over £100m received in relief due to the pandemic to the UK and devolved governments.
The total refundable by Lidl is £108m, according to estimates from real estate advisor Altus Group.
Since Tesco became the first supermarket to announce the move, on Wednesday, the total refunded has now reached £1.98bn, based on Altus analysis. That includes £80m from variety discounter B&M, which followed the supermarkets' move yesterday, and a £28.9m refund announced by Pets at Home earlier today.
Lidl said it had been "incredibly grateful" for the government support in a "truly unique set of circumstances". The business rates relief had been vital in allowing it to quickly make significant unplanned investments, including recruiting 2,500 temporary staff, introducing safety equipment in stores and bolstering the supply chain.
However, as footfall continued to grow, it was "well-placed to manage any further changes to the business as a result of the pandemic, and therefore has brought forward plans to return the relief", it said.
Lidl GB CEO Christian Härtnagel said: "The business rates relief that was provided to us, and the rest of the supermarket sector, came with a lot of responsibility that we took extremely seriously.
"We've been considering this for some time, and we are now in a position to confirm that we will be refunding this money as we believe it is the right thing to do. We feel confident that the business is well positioned to navigate and adapt to any further challenges brought by Covid-19."
The Co-op this week said it was considering its next move, adding it was "still facing huge uncertainty and incurring ongoing costs", and the "extra costs for keeping our colleagues and customers safe have far outweighed the government support we've received".
M&S, which has closed many of its stores due to the crisis, is not planning to pay back its rates, having announced a pre-tax loss of £87.6m in the first half to 26 September, its first-ever loss.
Waitrose said it planned to keep the benefit "as it lost significant sales when our John Lewis stores were closed", with pre-tax losses of £635m.
Poundland also has no plans to hand the relief back, while Iceland has not responded to a request for comment.
Following Lidl's announcement, former Iceland CEO Bill Grimsey tweeted: "Come on Iceland, The Range and Waitrose, join the club."
Yeah👌👌👌Lidl have now joined the Club and paid back the Business Rates Come on Iceland The Range and Waitrose join the Club

— Bill Grimsey (@BillGrimsey) December 4, 2020