Certain things are synonymous with Christmas. Michael Bublé coming out of hibernation. The annual dash for the supermarket turkeys. And, of course, the Starbucks red cups.
Yes, festive hot drinks have fast become a calendar event. For proof, just look at the number of Twitter and Instagram posts under the Starbucks #redcup hashtag.
View this post on Instagram
While Starbucks may claim to be the "original creator of festive hot drinks" – marked by the introduction of its Christmas Blend into UK stores in 1998 – it's now just one of many players in this market. Costa, Caffè Nero, Greggs, Pret a Manger and independents are all bringing out their own festive blends.
Yet retail has been notably absent from this boom. Aside from the odd festive product, the hot drink aisles largely fail to reflect the excitement in the out-of-home arena.
So just how lucrative are festive drinks? What is the secret to their success? And can retail get in on the act?
Big business
There are no exact figures on the size of the Christmas-themed beverages market, but overall spend at the likes of Starbucks and Costa suggests it's big business. According to Worldpay, shoppers spend more in coffee shops in December than any other month of the year. The average sale is worth £7.62 over the entire month – a figure that rises to £10.50 on 23 December.
And the festive drinks menu will heavily influence where consumers spend that money, Harris Interactive data shows. Of the shoppers who buy into festive hot drinks, 64% would be likely to base their choice of coffee shop on their Christmas drink offer.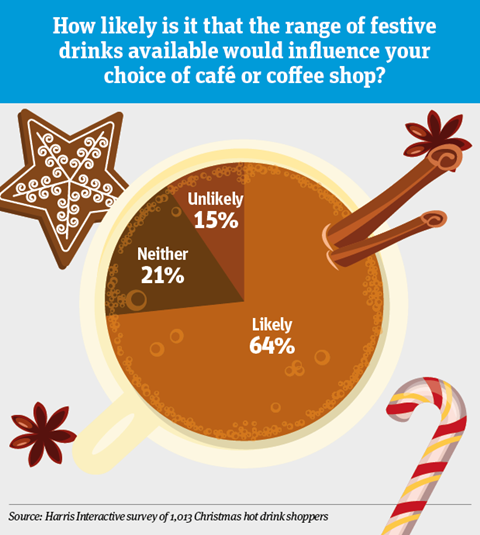 Emotional connection
The popularity of these drinks may seem at odds with their nutritional content. For these beverages would certainly fall foul of the sugar police. According to research from online marketplace Onbuy.com, Caffè Nero's Caramelised Almond Hot Chocolate contains 38.5g of sugar – the equivalent of more than nine teaspoons – and Pret's hot chocolates are even worse. A cup of its Mint Chocolate or Hazelnut Hot Chocolate contains more than 11 teaspoons (47.9g) of the white stuff, yet the chain says shoppers are still flocking to buy the products.
That's because the love of these beverages is far more emotional than rational. In our Harris Interactive survey of Christmas hot drink consumers, 48% said they were a sign that Christmas had begun. More than four in 10 said the drinks got them into the festive spirit. And they are willing to pay for this feeling.
"Shoppers are willing to spend more on seasonally themed beverages because of the emotional response they trigger," explains Megan Carnegie, consumer behaviour analyst from Canvas8. "They mark the beginning of the holidays and people's annual traditions."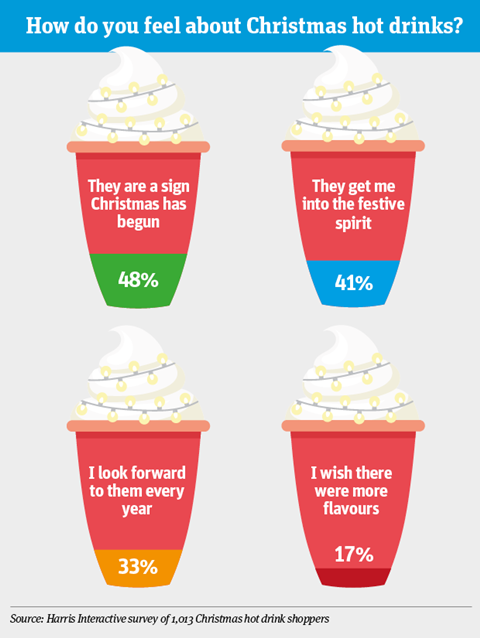 There is also a change in attitude towards calories and sugar over the festive period. "Our customers tell us that around Christmas time, they want something a bit more indulgent compared to what they normally have for the rest of the year," says Briony Raven, global coffee and packaging director at Pret a Manger. It's a habit also observed by Phil Smith, head of category at retail and foodservice manufacturer UCC Coffee: "Calories just don't seem to count at Christmas."
New flavours
Then there's the innovation factor. Coffee shops constantly revamp their festive menus to create a buzz when they are unveiled. That's a calculated move.
"Cafés and coffee shops often become known for certain seasonal flavours that draw in customers every year, but they're also looking for the next big thing in festive hot drinks," says Smith. "The Christmas season is a contest to see who can create the biggest, most popular or most exciting hot drink. It gives coffee shops a USP and if done well it can make them virtually famous via the press and social media."
Costa's showstopper for 2019 is a new Irish Velvet range, comprising latte, cappuccino, hot chocolate and frostinos each flavoured with non-alcoholic Irish coffee sauce. That's joined by a new Festive Spiced Cappuccino and its first Christmas Tea, a blend of Sri Lankan tea leaves and "aromatic winter spices". Meanwhile, Starbucks has unveiled a Toasted Marshmallow Hot Chocolate as its Christmas centrepiece. "Each year we've seen growth in our festive range by providing a modern twist on familiar flavours," says a Starbucks spokeswoman.
Pret is similarly focusing on innovation. Last year, it doubled its original range of festive hot drinks to keep up with demand. "It just keeps getting bigger every year," says Raven.
Retail potential
Yet on the retail side, Christmas hot drinks remain a fairly small business. There are few options on the supermarket shelves. In Tesco, for example, there are only two SKUs available: Taylor's Limited Edition Christmas Blend ground coffee and Tassimo Costa Gingerbread Latte.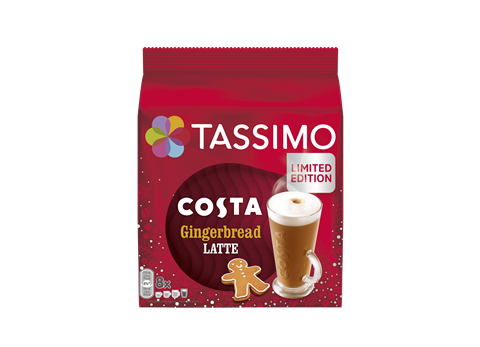 The success of the latter proves there is an appetite for such drinks. The Tassimo Costa Gingerbread Latte has reached 380,000 households since launching in October 2018 [Kantar 52 w/e 3 November 2019] and is now worth over £1m. And Nescafé says its Gingerbread Latte took £1.3m in the last 12 weeks of 2018 alone.
If you ask Mintel senior foodservice analyst Trish Caddy, there is a huge gap in retail for festive hot drinks. "Almost a fifth of British adults still don't buy hot drinks outside of the home, suggesting there's massive missing potential to attract these drinkers – more than 10 million people," she explains.
That's because the majority of these 10 million simply prefer making their drinks at home, according to Mintel research. So providing those shoppers with an at-home festive hot drink could prove lucrative. "There is a clear gap in the market to target this new generation of at-home hot drinks enthusiasts looking to replicate the coffee shop experience through festive innovations," says Caddy.
Indeed, Harris Interactive found 57% of shoppers who buy festive hot drinks out of home would buy a similar product from the supermarkets. Plus, 77% would be willing to pay a premium for a festive variant.
UCC's Smith sees opportunity for a bit of in-store theatre in this area. "There is potential to create an area in store similar to Tesco's recipe cards, giving shoppers everything they need for their festive hot drink, from syrups and mini marshmallows to cream and sprinkles, all in one place," he suggests.
This could prove the ideal option. Because it's hard for ready-made retail products to keep up with the fast-paced, ever-changing festive menus of the coffee shop. Plus, stocking Christmas-themed products carries a certain risk, Smith warns. "The pitfalls with seasonal drinks and packaging is the time scale in terms of usage. You have to be very careful that you don't overproduce or over-order on Christmas products because come January 1, they will no longer be relevant."
But if retailers get it right, they may just give the Starbucks red cups a run for their money.