Kavanagh's Budgens in north London is filled with counters of fresh fish, exotic fruit & veg, plus riches of Spanish and Italian meats
Nestled between the charm of Hampstead and the buzz of Camden in north-west London, the affluent Belsize Park isn't short of a premium food store or two. Its residents have included the likes of Jude Law, Noel Gallagher, and Tom Hiddleston. So it's an apt place for independent retailer Noel Kavanagh to open his premium store: the eponymous Kavanagh's Budgens Belsize Park.
The £3m "food emporium", which made its official debut on 16 February, is designed to bring something new to the area, says Kavanagh. Although unashamedly a traditional 'little and often' convenience shop, measuring just 10,000 sq ft, it has gone all out on its range of over 10,000 lines, which include a swathe of "quirky and interesting" products from over 150 artisan suppliers.
Alongside Booker's mid-tier brand – Jack's – the store has alluring displays of fruit, fish and meat. These include the likes of dragon fruit, kumquats, rambutan and star fruit, to name but a few.
Then there's the fish counter. It's one of the store's "real points of difference", says Kavanagh. This is down to three key elements: a prepared-by-the-fishmonger range – including Monkfish Korma and Wild Argentinean Prawn Curry – a fish-in-a-bag range for "shoppers who may not have the confidence to go up to a traditional fish counter", and a counter selection. Counter staff Andrew and Dominic, who have 50 years' experience combined, are another selling point. "With supermarkets stripping fish counters, we saw an opportunity to really hang our hat on fish and become a destination," Kavanagh says.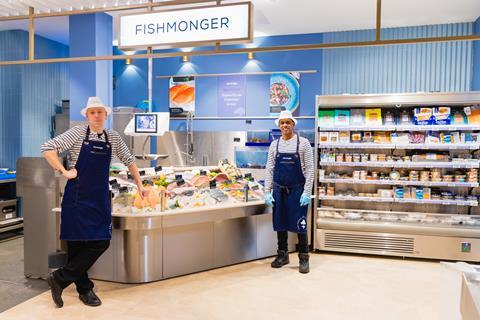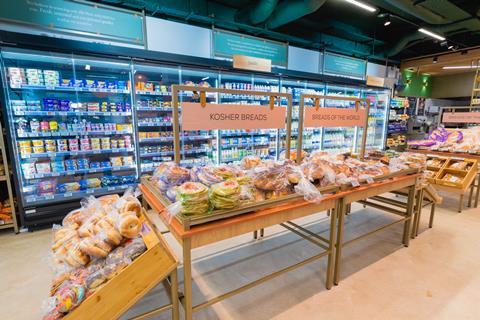 "We're slowly building a reputation as a destination for good-quality fresh fish," he adds. "It's a great footfall driver, and having the counter at the back of the store allows shoppers to see everything else we have to offer as they walk through."
Kavanagh hasn't just guessed at what his shoppers want. He has carefully tailored the range to the local international community with kosher, Italian and Spanish foods. One of its Spanish suppliers, Alcubilla, brings in the likes of Iberian ham and black pepper chorizo, while Carnevale, an Italian supplier, provides handmade fresh pasta and premium gluten-free Italian sausages. These are complemented by its vast cheese counter, which offers over 100 cheeses using six suppliers across France, Switzerland and the UK.
For scratch cooks, there is no shortage of ingredients. But for those wanting something quick and easy, there are plenty of options too. Across four low-level 'spider fridges', Kavanagh's stocks around 25 ready meals made from "raw-quality food", prepared in its on-site kitchen.
Mains such as beef stroganoff and stuffed chestnut mushrooms come at two for £12, while sides including potato gratin and Mediterranean vegetables are two for £6. "This section has been one of the biggest successes in terms of customer reaction, and the volume of sales we're seeing," says Kavanagh. "We're recruiting for more staff because the sales are so strong. And there's huge scope for us to evolve the range, as we head into the warmer months and tailor the meals towards BBQ and lighter summery dishes."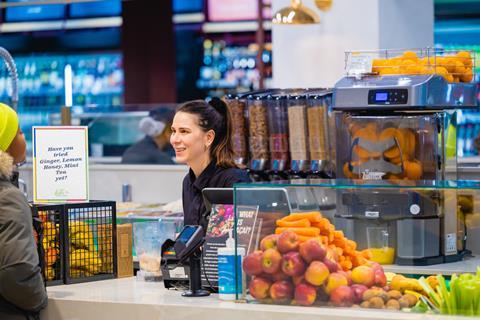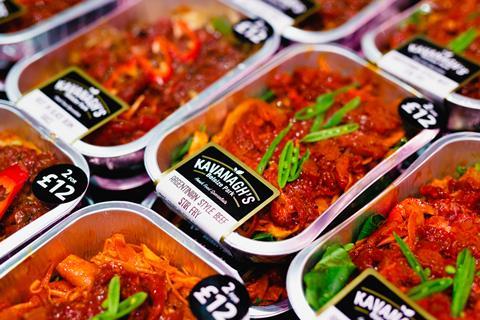 For food-to-go shoppers, a selection of salads, sandwiches, wraps, baps and doughnuts are handmade in its kitchen every morning. Kavanagh's also works with an artisan supplier specialising in cakes and pastries to "enhance the sweet side of our food-to-go offer".
Finally, there are two concessions: Maido Sushi and Didi's Juice Bar. Maido's sales last week alone were over £10,000, Kavanagh reports.
"It's all these elements that give us a point of difference," he adds. "We put all of our food to go in the front part of store so people can come and go quickly, but we do have a seated countertop at the sushi bar and table seating outside too. It gives a vibrant restaurant feel to the front of the store."
So far, this ranging seems to have paid off. The store has already hit its June sales forecast last month.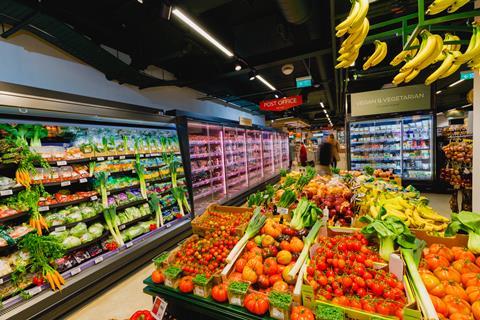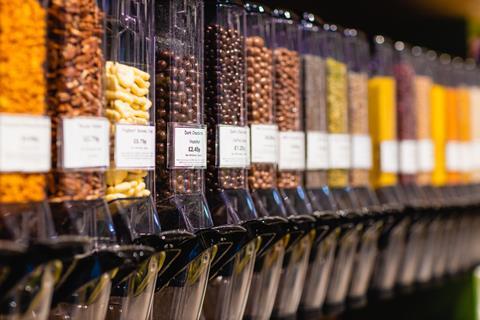 But it's not just about exciting food. Kavanagh is keen to stress the importance of upholding the legacy of former site owner and plastic-free pioneer Andrew Thornton. Many fresh produce items are sourced from the local market and sold loose. Electronic shelf labels have "effectively cut thousands of sheets of paper a year". And the stores's refill station, which includes rice, pasta and nuts, has doubled to include household cleaning lines for the first time.
It has even used sustainable materials in the store's construction that will "stand the test of time", says Kavanagh. "For example, Gerflor Creation 55 is a durable floor covering that is 100% recyclable. That's where we've gone to the next level in sustainability, because it isn't just what the customer sees day to day."
And judging by the sales figures so far, going to the next level appears to have paid off.