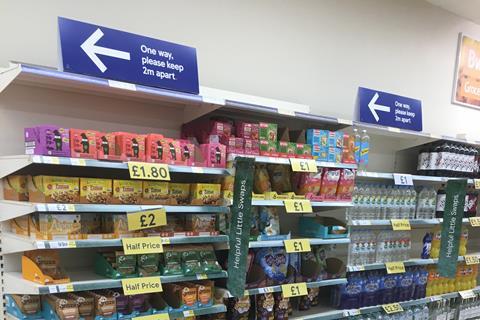 Two-metre floor warnings will remain in place and new social distancing signage has been introduced

Tesco is increasing the number of customers allowed into stores at one time, although managers can reduce capacity limits locally

It comes as the two-metre rule is relaxed in England to 'one metre plus'
Tesco is removing one-way systems across its store estate, in response to customer feedback and an appraisal of the social distancing measure's effectiveness.
The supermarket said it was also increasing the number of customers it was allowing into stores at any one time – while ensuring two-metre distancing can be maintained – after deliberately setting a "very cautious estimate" of safe customer numbers at the beginning of the pandemic.
Managers are free to reduce capacity limits locally if they feel it is required.
"The safety of our customers and colleagues is our top priority and we are closely following government guidance," said a Tesco spokeswoman. "We have reviewed the social distancing measures in our stores to ensure that they are in line with the latest guidance and that everyone can continue to maintain a safe distance.
"We ask that our customers continue to support us by following the measures in place," she added.
While some measures have been relaxed, two-metre floor warnings will remain in place and new social distancing signage has been introduced.
The move comes after rules around two-metre social distancing were relaxed in England at the weekend down to 'one metre plus'.
"More businesses would be viable if distancing is reduced to one metre," government advice notes, adding that the relaxed rule "would significantly increase capacity".
Nevertheless, announcing the change, prime minister Boris Johnson said: "Where it is possible to keep two metres apart, people should."
Read more:
Like Tesco, most of the major mults are maintaining two-metre distancing measures in stores.
A Sainsbury's spokesman said: "The guidance customers will see is two metres" but that it was "keeping this under review". Waitrose said it was asking customers and staff to "maintain a two-metre distance where possible, otherwise we recommend the use of face coverings".
Two-metre distancing remains too at Aldi, at least "at present", as well as at M&S and Lidl. Iceland said it was making no changes to signage or policies. However, last week The Grocer revealed the supermarket was removing two-metre markers in the first aisle of its stores. "We believe customers now have a good understanding of appropriate social distancing and no longer need these visual reminders," a spokesman said.
Smaller convenience stores – with far less space than superstores – are likewise sticking to two-metre distancing for customers. Since two metres was "possible" at Spar stores, they "will continue to do that" Spar UK MD Louise Hoste said.
Go Local fascia operator Parfetts said two-metre measures would remain in place for now. "It is a situation that we are constantly reviewing, and we will make changes in line with government guidance," said Parfetts retail director Guy Swindell.
Social distancing measures have come at considerable cost to grocery retailers. Changing signage again would see that bill rise still further. The BRC estimates supermarkets have spent more than £100m on safety measures – including signage, PPE and screens – in stores.
"Retailers prioritise the safety of their staff and customers and will decide individually if they wish to implement one-metre social distancing. If they choose to do so, they will take all necessary steps in order to protect shoppers," a BRC spokeswoman said.
In recent weeks, many supermarkets have begun reopening in-store cafés which were closed during lockdown for hygiene and distancing reasons.