The mults managed to keep spend flat compared with 2020 (though inflation played a part). Who got what they wished for and who's hungover?
Add last-minute Omicron uncertainty to supply chain challenges and a Covid-driven bumper 2020 festive period, and supermarkets faced a tough job growing sales this Christmas.
They had a good go at it. In the four weeks to 26 December 2021, spend at the mults, excluding petrol and in-store concessions, was flat compared with the previous Christmas at £11.5bn, according to Kantar's takehome panel data.
NielsenIQ's total till grocery sales in the four weeks ending 1 January suggests spend was actually higher: up 1% on last year. Some of that will be accounted for by grocery price inflation, which Kantar puts at 3.5% like-for-like in its four-week period, but analysts have nevertheless hailed it as a good Christmas for the mults.
As ever, though, it is a tale of mixed fortunes. So who had the merriest Christmas, and who's nursing a post-festivities headache?
M&S success
NielsenIQ positions M&S as the fastest-growing food retailer over Christmas.
Its sales rocketed 9.9% over NielsenIQ's four weeks, albeit against a comparatively weak show in 2020. At that time it was "disproportionately impacted" by shoppers visiting fewer stores or being unable to entertain guests, and sales grew at a behind-market 6.4%, says Mike Watkins, NielsenIQ UK head of retailer and business insight.
At its own third-quarter update on Thursday, M&S said food sales were up 10% year on year in the 13 weeks to 1 January, and 12.4% on a two-year basis. "Trading over the Christmas period has been strong, demonstrating the continued improvements we've made to product and value," said CEO Steve Rowe.
Third Bridge analyst Ross Hindle calls it a "piping-hot performance" from "a big beneficiary of Britain's appetite for at-home luxury as consumers sought to make the best of another Covid Christmas".
As for Ocado, whose retail operation M&S jointly owns, Kantar's grocery spend data puts its four-week growth at 8.4%, ahead of all the other retailers on the list.
Its performances "mirrors" its bricks & mortar counterpart's, according to HSBC retail analyst Andrew Porteous.
That online show comes against a backdrop of shoppers increasingly returning to stores. Online's share of grocery spend dropped to 11.3%, according to NielsenIQ, down from 12.1% in December 2020, taking it to its lowest level since April 2020.
Tesco shines
Tesco was the only big four supermarket to record growth in Kantar's four weeks, with sales up 1.3% to £3.27bn. It was also the only one to grow market share, from 27.6% to 28.0%.
A Tesco trading update put UK like-for-likes up 0.3% in the six weeks to 8 January, and up 0.2% in the 19 weeks to the same date.
CEO Ken Murphy said it had "doubled down on our commitment to deliver great value and offered our strongest ever festive range", putting it in a "strong position to meet customers' needs as, once again, Covid-19 led to a greater focus on celebrating at home".
Global Data retail analyst Kunaal Shah points to Tesco's "competitive pricing through its Aldi Price Match strategy and its Clubcard-only discounts".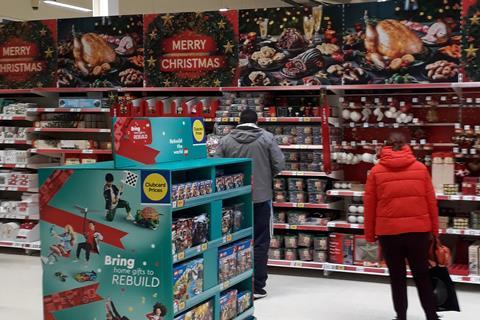 Sainsbury's also benefited from its own Aldi Price Match – with a one-week move to match Aldi on key Christmas SKUs (including turkey), resulting in sales of those lines up 23% (and 44% vs Christmas 2019), but in its trading statement it reported grocery sales up just 0.1% in the six weeks to 8 January, or 0.8% excluding Boxing Day, when it closed. And a 10.6% slump in the GM division, including Argos, dragged down overall retail sales growth for the period by 2.9%.
Sainsbury's 'food-first' strategy went down well with AJ Bell investment director Russ Mould, a mix that combines greater innovation with a renewed focus on value, which is "winning over some of the value-seeking shoppers".
Sainsbury's CEO Simon Roberts said it would continue to "mitigate inflation as far as we possibly can".
Asda matched Sainsbury's in Kantar's four weeks, with sales also down 0.4%, to £1.7bn, and flat market share, at 14.6%.
Own-label record
Tesco, Sainsbury's and Asda will all have been helped by record Christmas sales of premium own-label lines, up 6.8% to £627m, according to Kantar.
"Tesco's Finest and Sainsbury's Taste the Difference are easily the largest premium own-label ranges, but we saw the fastest growth from other ranges such as Asda Extra Special and Iceland Luxury," says Fraser McKevitt, Kantar head of retail and consumer.
What McKevitt sees as an "appetite to celebrate and splash out that little bit more this year" will also have helped Waitrose up its market share from 5.3% to 5.5% in the period.
Morrisons was the only one of the big four to lose share, falling from 10.5% to 10.1%, with sales down 3.3% to £1.18bn in Kantar's four weeks, but still 7.7% up on 2019 levels. "Normalised comparatives are needed to get a clearer picture," says Porteous.
Co-op was the only major grocer to fall faster, with sales down 6.2% as consumers became less cautious about the big supermarket shop.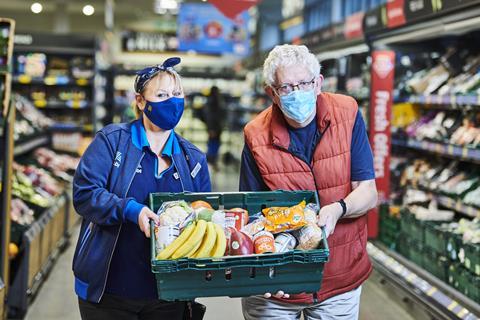 At the other end of the scale, Lidl and Aldi grew faster than any larger supermarkets, with sales up 2.6% and 2.5% respectively in Kantar's four weeks.
Both claimed to be the "fastest growing" supermarket in trading updates, with Lidl citing Kantar data showing formidable 21% December sales growth on a two-year basis, and £21m in switching gains. With the discounter numbers boosted by store opening programmes, Aldi's own sales figures showed more modest December growth of 0.4%. Its update also pointed out that Kevin the Carrot, star of its Christmas ad, helped attract more than half a million new customers.
But analysts were underwhelmed. Shore Capital called Aldi's 0.4% "negative same-store volumes if inflation is taken into account".
Porteous says: "Christmas was fine for the two, but we still think like-for-likes look flat to negative, with growth coming from new stores."
The Iceland tailwind from strong sales of its Luxury own label lines could not stop sales falling 3.1% in Kantar's four weeks.
As well as concluding 2021, this week's results also set the stage for the battle of 2022, with both Lidl and Aldi pledging to be the cheapest grocers as inflation rises. With Murphy and Roberts also making value boasts, entertainment value for industry watchers is guaranteed.