Why is the sector yet again plunged into doubt over CO2 sources, and what can be done to stop another crisis piling misery on food companies?
Why does the sector find itself once more plunged into doubt about where it will get its CO2, and what can be done to prevent yet another crisis heaping more misery on companies already suffering their biggest energy challenges for decades?
The UK heatwave was scorching the country and England's men's team dreaming of World Cup football glory when the food and drink industry first got in a sweat about the fragility of its CO2 supply chain.
As the key plants in the country producing the gas closed – due to a combination of technical failures and maintenance issues, coinciding with ammonia production sites across Europe shutting down en masse for repairs – there was a mad scramble involving everyone from fizzy drink giants to booze companies and slaughterhouses.
Those events were in June 2018, and it took the industry at least two months to fully recover. They prompted calls for government intervention to stop such a situation recurring, given the food security issues at stake.
So why does the sector find itself once more plunged into doubt about where it will get its CO2, and what can be done to prevent yet another crisis heaping more misery on companies already suffering their biggest energy challenges for decades?
Food companies and trade bodies were this week locked in talks with Defra on the back of an announcement by CF Fertilisers – a subsidiary of US-based chemical giant CF Industries – that it would temporarily suspend ammonia production at its remaining UK plant in Billingham on Teesside due to soaring gas prices, meaning it won't produce CO2 as a byproduct.
Out of gas: The UK's fragile CO2 supply chain
June 2018: UK supermarkets face gaps on shelves as a Europe-wide shortage of CO2 hits production of carbonated drinks. Nine of the country's largest poultry plants face critical shortages.
September 2019: The industry faces fresh shortages after a fire in Kent damages power lines to France and CF Industries announces plans to halt production at its two plants due to soaring prices.
February 2022: A second deal is struck with US chemical giant CF Industries to continue production of CO2 gas at its Billingham plant, intended to safeguard supply for the foreseeable future. It comes after a three-month pricing arrangement between gas buyers and CF expired on 31 January.
June 2022: CF closes its plant at Ince in Cheshire, where operations had been on hold since the previous September, blaming sky-high natural gas prices.
July 2022: Talks to bring the Ince plant back into British ownership, led by the UK Nitrogen consortium and backed by private equity investor Endless LLP, collapse.
August 2022: CF announces plans to halt production of fertiliser at Billingham, claiming it is "uneconomical" in the current energy landscape.
Production unviable
This followed the shuttering of the US-owned company's plant at Ince in Cheshire in June, where operations have been on hold since last September. It also followed a warning from CF that production was becoming economically unviable, which resulted in the first of two multimillion-pound government bailouts – leaving Billingham at the very centre of a precarious and, it now seems, unsustainable supply chain.
By April, demand for fertiliser at the remaining plant, estimated to supply 42% of the UK's CO2, plunged to just 30% of its usual levels – with farmers baulking at prices that had "gone through the roof".
Then, in July, there was a breakdown of a bid by the UK Nitrogen consortium, backed by private equity investor Endless LLP, to bring the 153-acre Ince site back into UK ownership.
Leading food industry sources say last week's twist boils down to the lessons of 2018 having never been learnt.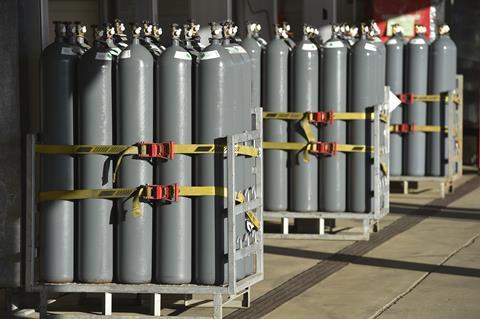 "Nobody has been able to actually address the question of how you get supply of CO2 and ammonia stabilised in the UK," says outgoing Food & Drink Sector Council chair Ian Wright. "Over the last 20 years, CO2 supply has devolved to let the market decide and reduced to a small number of suppliers.
"That was fine until that number became so small that any withdrawal from the market had a disastrous impact on availability.
"What no single organisation could do was find an alternative source of supply. CO2 is such a difficult thing to produce."
Sources say ministers have continually turned a blind eye to warnings over the semi-monopoly held by CF, which has left its owners in a strong bargaining position – despite their complaints over prices.
"They must have in the back of their minds that the UK government will come back with cap in hand again," says one source, despite insistence from Defra that it is down to the market to find solutions this time.
Perfect storm
Quite what those solutions will be remains a subject of fierce debate. After all, it's not just CF whose supplies have proved far from dependable. A source describes a "perfect storm" of events across Europe conspiring to cause the latest shortages.
Imported CO2 accounts for around 25% of the UK's supplies. A chart from global commodities experts ICIS shows, as of 18 August, more than 20 CO2 -producing fertiliser and chemical plants across Europe were either shut or operating at reduced capacity due to gas prices. That eliminates millions of tonnes of production across Germany, the Netherlands, Spain, Italy, Poland and other countries.
Last week, Environment, Food & Rural Affairs (Efra) Committee chair Robert Goodwill wrote to environment secretary George Eustice warning of a "serious threat" to food suppliers and animal welfare, and demanding to know what ministers were doing.
However, sources say Defra officials were "very relaxed" about the situation in this week's talks, which also involved a raft of gas wholesalers such as Nippon, BOC and Air Liquide.
"They take the view there's plenty of other CO2 out there, predicated on importing it, and the fact that some of the hand-to-mouth CO2 users [the food industry] have commissioned extra capacity," says a source.
"It's meant they have five to six weeks of capacity typically, which is better than one to two as it was before, but Defra might have a false view. There's a danger they all run out at the same time."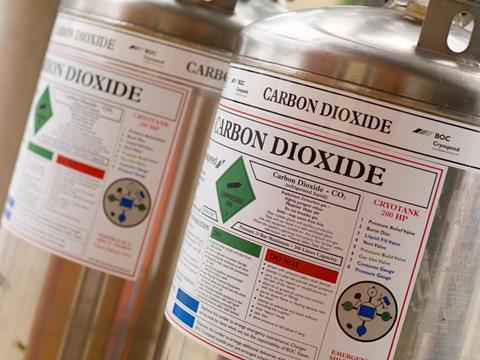 Reliability
Nick Allen, CEO of the British Meat Processors Association (BMPA), says the time has come for the UK to end reliance for CO2 on fertiliser manufacturers.
"If we didn't already know it, this situation makes it clear the writing is on the wall," he says. "Fertiliser plants are going to be less and less reliable and we simply have to capture it from other supplies. We cannot keep going on like this."
In the future, a far bigger role is expected to be played by the anaerobic digestion industry, though much will depend on how much the government is prepared to spend on incentives for taking part in CO2 capture.
Data from the Anaerobic Digestion & Bioresources Association (ADBA) suggests the UK's 122 biomethane plants already produce nearly a billion tonnes of CO2 per year – almost double the demand from industry.
Yet as of March, just 11 sites captured that CO2 from the biogas upgrading process, meaning it supplies only about 15% of the industry's needs.
Many argue that if the government is to avoid going cap in hand again to the likes of CF, that figure has to change – though like everything else in the energy market right now, it will not come cheap.