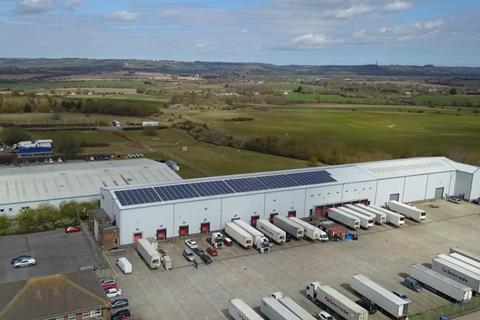 Heathrow-based food logistics specialist PML has unveiled plans for a satellite operation in Kent after revealing in March it was facing "crippling" disruption due to London's new emissions rules.
The company has invested £3.5m in purchasing and renovating hamper supplier Spicers of Hythe's former 100,000 sq ft warehouse facility in Lympne, Kent – just two miles from the M20 and 15 miles from the Port of Dover.
Once an initial 16-week phase of refurbishment has taken place, the site will become a 24/7 operation handling daily consignments of fruit, vegetables, meat, fish and flowers for packing, loading and unloading for distribution to the mults.
A second phase, which is due to be completed by the end of 2022, will add ambient cargo capabilities. In all, about 30% of PML's business would ultimately be transferred across to the new Kent facility, creating 40 to 50 new jobs for the local area.
MD Mike Parr said his company had been forced into the move by London's new low emissions rules and Brexit, adding that PML would seek to secure Border Control Post status for the warehouse ahead of the introduction of import checks in January 2022.
"The reasons we're opening up in Kent are 1) to alleviate [the need for] vehicles having to come into the low emissions zone and 2) it's very close to Dover so we can actually clear the trucks at the facility in Kent and dispatch them wherever they need to go in the UK," he said.
"In addition to its proximity to the ports and Heathrow, we anticipate that haulage drivers will also appreciate the efficient and seamless service we will be able to deliver, enabling them to leave the trailer on site while they take a rest break, as opposed to sitting in a queue worrying about the lengthy delays which could seriously impact on the condition of their perishable cargo."
Parr said the warehouse would have space for up to 80 trailers once it became fully operational.
Asked whether this was the beginning of the end for PML's Heathrow HQ, Parr added that it would continue to operate for goods flowing in and out of the airport. He said the airport was still at 60% to 70% of its pre-pandemic capacity for food owing to a lack of air passenger services.
It comes after Low Emission Zone standards were brought into force by the Mayor of London in March.
The rules require lorries or vans weighing more than 3.5 tonnes to meet Euro VI emissions standards within the Greater London area. HGVs not meeting the standards face a daily charge of up to £300.
According to PML, this move had seen European hauliers halt deliveries to PML's Heathrow HQ as many of them did not meet the standards.
This issue has also been reported by other food businesses operating in the city.
"Certain hauliers will deliver to our depots outside London but are refusing to come in to London because of the new emissions rules," said CEO and co-founder of New Covent Garden Market-based company Menu Partners, Jason Tanner.
Tanner added London's Direct Vision Standard was also dettering European hauliers from entering the capital as it meant large lorries needed to be retrofitted with surround cameras or they would "risk facing substantial fines". He said many European vehicles did not carry such features.
In response, a spokesperson for Mayor of London Sadiq Khan described toxic air pollution as a "national public health crisis" and said Khan had set up a fund to help Londoners scrap polluting vehicles. However, they did not say whether this support extended to foreign hauliers which had previously frequently entered London.
"Sadiq is proud to be a pro-business Mayor, and research from the CBI has shown that cleaner air could boost the UK economy by £1.6bn per year, including almost £500m per year for the local London economy," they said.
"The Government should match the £52m the Mayor has spent in London helping people, charities and businesses to replace their polluting vehicles with greener ones."
Meanwhile, PML said it had been unaffected by the driver shortages experienced by haulage operators and other logistics providers, though Parr said getting external hauliers to do work at the moment was "virtually impossible".