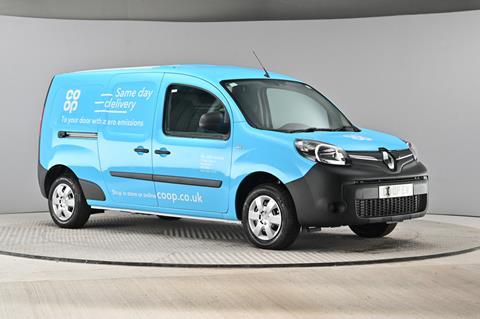 Co-op plans to replace its entire home delivery fleet of more than 200 diesel vans with electric vehicles by 2025, it announced today.
While the retailer has partnerships with multiple third-party delivery firms, a significant proportion of its online orders are delivered by its own drivers and fleet.
Having committed last year to halve its total greenhouse gas emissions by 2025 last year – having previously halved them in the 10 years from 2006 – Co-op is now seeking emissions savings from its vehicles.
Stores in Hebden Bridge, Holmfirth and Hove will take delivery of the convenience retailer's first electric vehicles this month, followed by stores in Ryde, Isle of Wight and Whitby early next year.
Renault Kangoo EVs will be used initially, but the choice of model could change as the rollout progresses.
"Our focus is to continue to innovate and look for new and better ways to do business in our communities and to expand access to our products and services," said Chris Conway, Co-op head of e-commerce. "In addition to offering quality and value quickly, easily and conveniently, we need to do this sustainably, and by replacing all our own vehicles and working collaboratively with partners with shared values we can ensure we further reduce greenhouse gas emissions, which is essential if we are to have a healthy and sustainable natural environment to pass on to future generations."
Co-op said that its courier partners were also selected for their low and zero emission credentials. They include Deliveroo and zero-emission robot delivery company Starship Technologies, with which Co-op is working in Milton Keynes and Northampton.
Stuart, which delivers on behalf of Co-op at more than 180 of its food stores, has been trialling green delivery vehicles, including e-mopeds and cargo bicycles. It aims to expand this across the Co-op stores it works with in cities including Birmingham, Liverpool, London and Manchester over the next two years.
Zero-emissions courier startup Pinga is delivering online orders for Co-op from five of its London stores, in Hackney, Stepney and Stoke Newington.