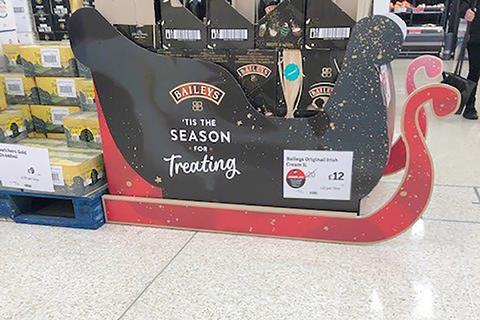 Sainsbury's Marsh Mills superstore in Plymouth was our winner this week with 79 points. The store had a warm and seasonal feel. Our shopper said its seasonal displays were "attractive", while promotional displays, such as those for wine and Baileys, also caught his eye.
This store also offered a wide range of services, including a sushi bar and a clothing & home section. Despite the fact two of our items were out of stock, this branch was well stocked and offered plenty of options.
Staff were busy restocking but did not hinder customers. Checkout queues were managed properly to reduce waiting time. The till assistant was a trainee but there was signage in place to let customers know.
Waitrose's Woking branch came close with 78 points. The store benefited from good stock levels – most shelves were well stocked except some of the ready meals and chilled sections. Only one item from our list was out of stock, with two not stocked. The attractively arranged fresh food counters were brimming with products.
All shop floor staff with whom our visitor interacted were knowledgeable and helpful, contributing to an efficient shopping trip.
The branch was generally clean and organised. On the downside, with several Christmas displays throughout the store, at times it felt cluttered, said our mystery shopper.
Tesco in Ellesmere bagged third place with 68 points, hampered by our shopper managing to buy 26 out of 33 items (only one was out of stock, but six were not stocked). Nevertheless, she pointed out that the fruit & veg area was well stocked.
The Christmas tree and chocolate displays at the entrance impressed our visitor. However, she expected more from the end of aisle promotions. The food-to-go section too was quite small and this store did not have scan as you shop available.
All colleagues were helpful and made sure to check on the system for the required items. Checkout staff were pleasant.
Fourth-placed Asda struggled the most with availability this week – our shopper only managed to buy 18 items as this small branch in Birkenhead did not stock most of the products on our shopping list.
The lack of variety in products affected all sections, from the limited fruit & vegetable selection to the food counters (there was only a small bakery).
Additionally, our visitor was not impressed with the fact there was only one manned till open. The assistant was prioritising trolley customers, which meant everyone carrying a basket was forced to use self-service checkout.
On the other hand, staff were helpful and the store was clean and rather quiet, which made it easy for her to find a parking spot. The store scored 53 points.
Lagging even further behind was Morrisons in Holloway Road, London, which scored just 35 points as it struggled with a "serious lack of staff". Our shopper often had to spend some time looking for staff before finding someone to help her – and most of them were not wearing appropriate uniforms. She was also not happy with her checkout experience, as the till assistant was chatting with a colleague the entire time and "did not acknowledge" her at all.
The lack of staff resulted in a messy shop floor – there were several unmanned shopping and restocking trolleys throughout the store, giving it an untidy look. Moreover, the food counters were nearly depleted of options and five of our required items were out of stock.