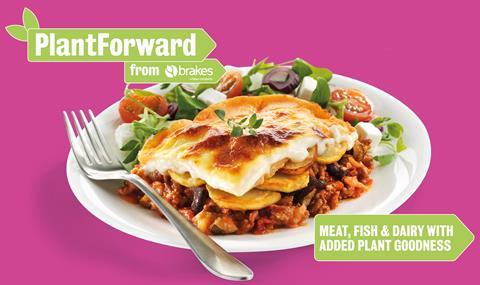 Brakes has launched a new campaign to support caterers across schools, colleges and universities capitalise on the 'plant forward' eating trend.
Plant forward cooking places a greater focus on plant-based foods, without strictly limiting the consumption of animal products.
For example, meat may feature in a plant forward meal, but is usually not the main component.
The wholesaler said that the trend is now growing in popularity across the world, and consequently it was helping customers to understand and capitalise on the opportunities it presents.
As part of the initiative, Brakes has launched a series of resources, including a new section on its website which provides nutritional information on the benefits of a plant forward approach, alongside cost-saving tips, simple recipe ideas and menu suggestions.
It also highlighted its continued support of 'Menus of Change', an initiative started by The Culinary Institute of America, which establishes the principles of plant forward catering.
It is increasingly being adopted in UK universities.
"A plant forward approach is a virtuous circle providing a sustainable, healthy and cost effective way of catering," said Brakes sector marketing manager for education Lisa Johnson.
"There is a lot of pressure on food operations to keep costs down and plant forward is a great way of doing that, as it can cut down on the need for expensive, centre-of-plate protein options.
"Simply removing meat from menus is challenging, both in ensuring that you can meet nutritional standards, but also because the food is unfamiliar and therefore not always welcomed by students.
"By creating a hybrid with our plant forward solution, we are able to help address cost, nutrition, and hungry students!"
Last month Tesco capitalised on the growing trend, launching a series of vegetarian ready meals as part of its plant forward strategy.
According to the supermarket giant, 34% of UK consumers now choose to exclude meat in some form by following either vegan, vegetarian, flexitarian, pescatarian or 'climate conscious' diets.